Highlights:
Large hardwood trees to attract birds and provide shade
Right next to the Rio Grande River
Great bird activity in the mornings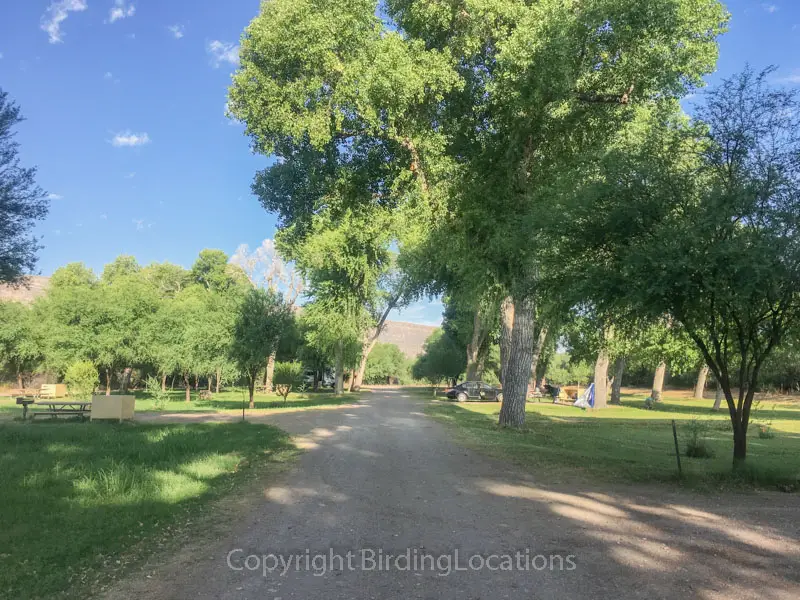 About the Location
As its name suggests, the main features of this hotspot are the large cottonwood trees that grow here. Paired with the Rio Grande river only several hundred yards away, and this certainly qualifies as a desert oasis.
Birds occur here in relatively high density, and it's a fantastic place to spend an hour or two during the morning. The Castalon store is conveniently just up the road, where you can buy snacks and simple lunch foods like sandwiches.
This is also a wonderful place to camp. The campsite is very quiet, clean, and has bathrooms with running water. Other wildlife are regulars here like Javelina. Armadillos, Raccoons, and various lizards. Owls roosting in the tall trees will begin to call shortly after nightfall.
Birding Recommendations
Walk the perimeter along the fence
Bird around the dirt path to the river and the small amphitheater
Walk the entrance road while listening for movement in the shrubs and watching for flyovers
Optional: Camp overnight for high chance of calling owls
Morning birding here is strongly recommended. Because this campground is nearly an hour from the headquarters at Panther Junction, camping overnight is the best way to get an early start here.
Slowly walking the fenced perimeter of the campgrounds is a great way to bird this area. The north fence line is mostly thick shrubs, which birds will flit in and out of. Birds like Curve-billed Thrasher, sparrows, and Spotted Towhee can be heard rustling through leaves on the ground beneath the vegetation.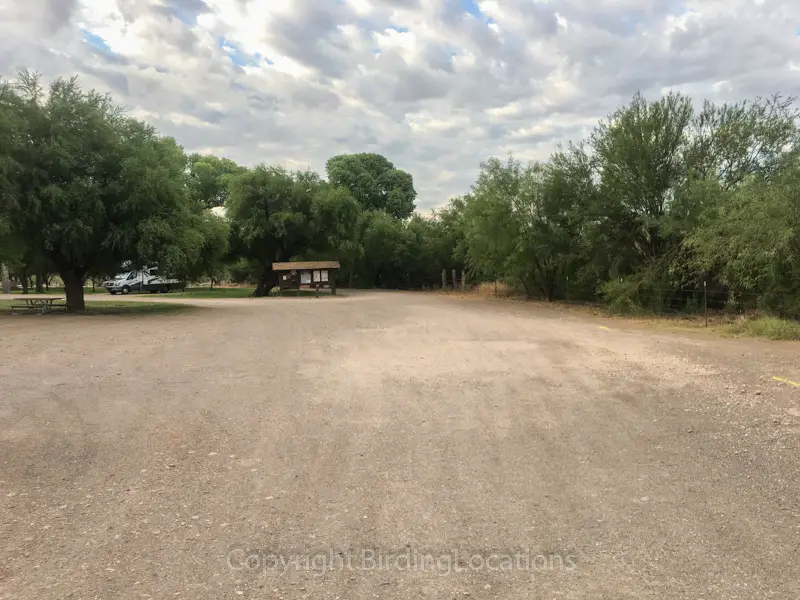 The southern fence line is more open with scattered shrubs and small trees. Watch for raptors flying overhead. Red-tailed Hawk is by far the most common, but exciting species like Zone-tailed Hawk and even Golden Eagle are possible.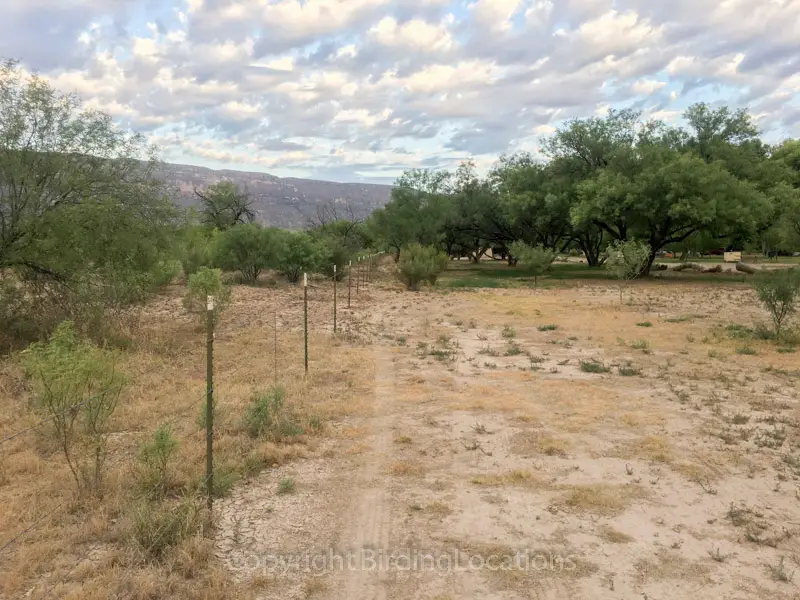 Where the entrance road curves in to the campgrounds, there's also a path that continues straight to the river. This is also where the amphitheater is. This area can be good for flycatchers, sparrows, Yellow-breasted Chat, and sometimes warblers during migration.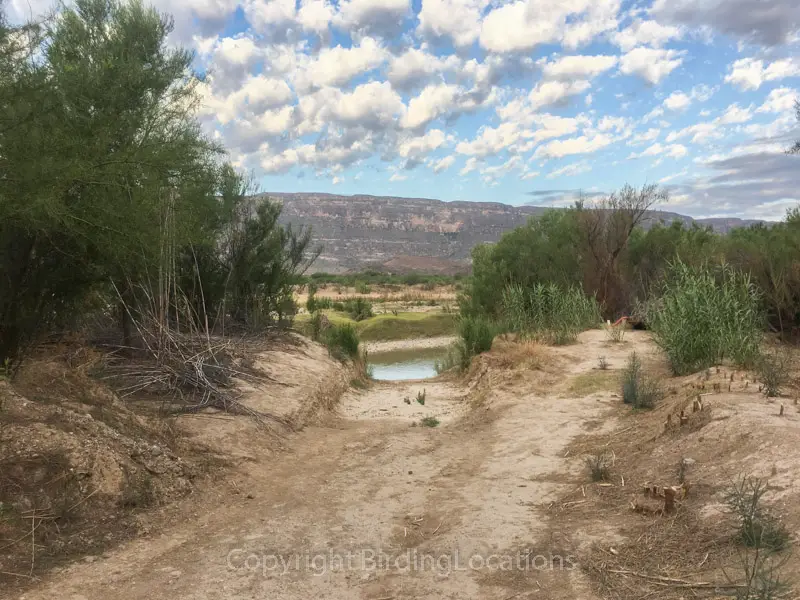 The entrance road is well vegetated and is worth walking up and down. Keep your ears open for birds moving around and calling within the shrubs. This is also and easy place to watch for flyovers like vultures and hawks.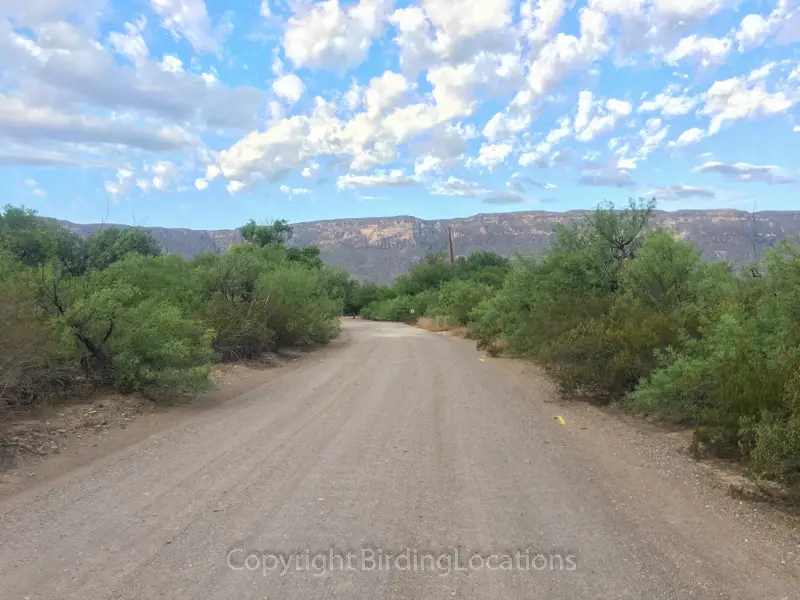 Regulars here include Say's and Black Phoebe, Vermillion Flycatcher, Golden-fronted Woodpecker, Hutton's Vireo, Greater Roadrunner, Black-tailed Gnatcatcher, Black-throated Sparrow, and Pyrrhuloxia.
Spring and Summer brings Yellow-breasted Chat, Orchard Oriole, and Summer Tanager.
Winter brings Red-naped Sapsucker and sometimes Green-tailed Towhee.
Owls
There's pretty much always at least one owl species here. Great Horned Owls are heard year-round. Western Screech-Owl is most active April through early June. Elf Owl can be heard as early as late March, and will call well into June. They also get reported the first two weeks of October.
All owls are typically most vocal in the two hours after sunset. If you've got a campsite here and are sitting outside, you're sure to hear at least one species.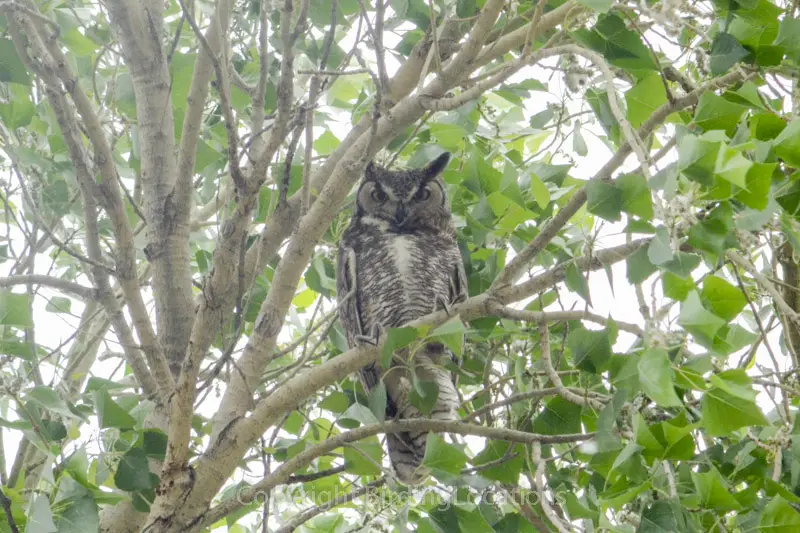 Other Important Info
Beware of spring break during the second and third week of March. This is by far the busiest time of year for Big Bend National Park, and campsites throughout the park fill quickly. If you find yourself without a place to stay, Terlingua just to the west of the park usually has options (both motels and campsites).
This campsite is occasionally and intentionally closed and flooded by park employees. Water is pull from the river to saturate the ground, which keeps the Cottonwood trees alive. Check their website ahead of time for current conditions.
Need more ideas for your Big Bend trip?
Check out the Hotspot Map for other great birding options, like the Chisos Mountains and Dugout Wells.