Highlights: 
Fantastic variety of birds in a relatively small area 
Tropical Zone with large tropical hardwood trees 
Shallow wetlands that always have bird activity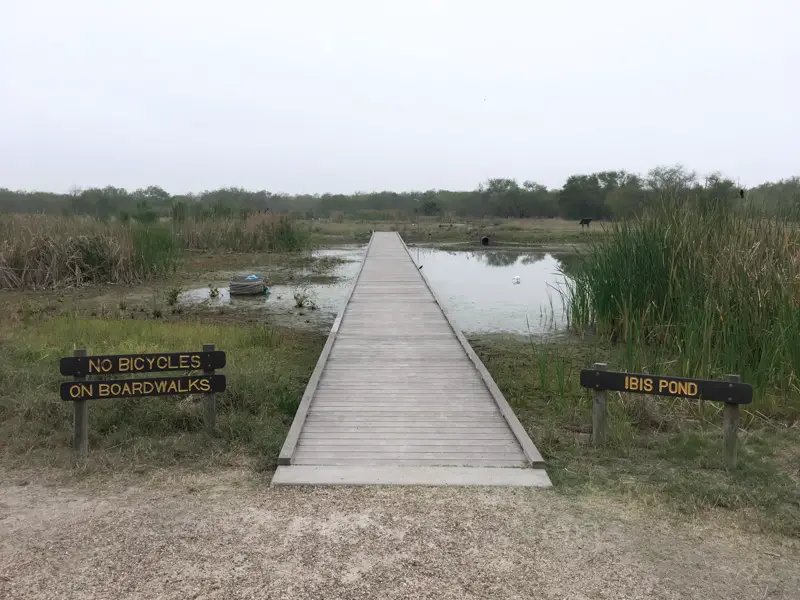 The Location 
This state park may just be the best "bang for your buck" hotspot in all of South Texas, meaning you don't have to do much walking to see an impressive variety of species. If fact, some birders will simply grab a chair and camp out of the visitor center back deck overlooking the wetlands and score 50+ species in 2.5 hours.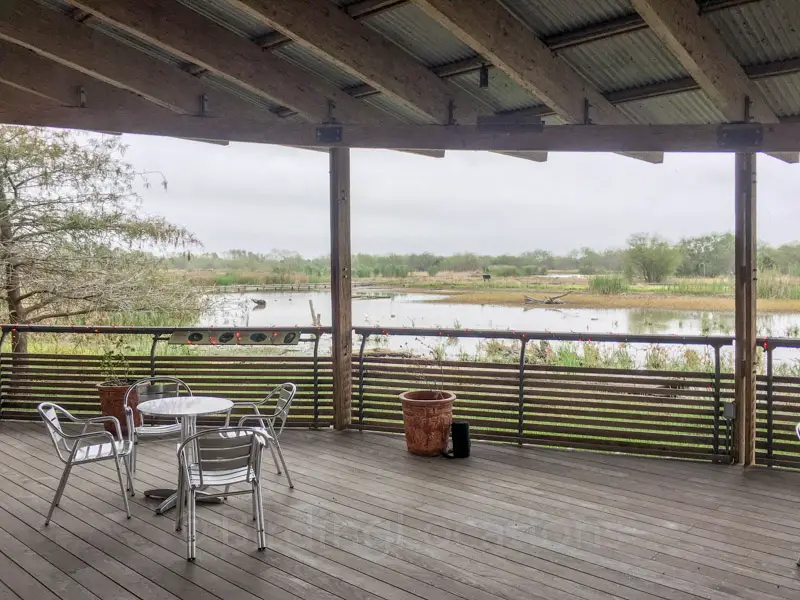 If you're willing to really work the park and carefully explore the different habitats, seeing 75+ species in a full morning is typical. Staff and locals that know the park well consider a "great" morning here to be 100+ species. 
This park is a newer addition to the Texas state park system, having opened in 2006. It only took a short 5 or 6 years afterwards for it to earn a reputation as a must-visit for birders traveling to the Rio Grande Valley area. 
Birding Recommendations 
To get effective coverage of the park, the most simple strategy is to walk a clockwise loop starting at the Visitor Center, as shown by the orange below.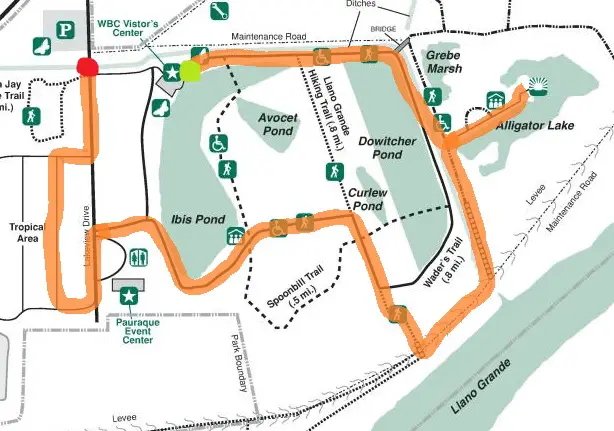 Highlight Areas include: 
1. Visitor Center Observation Deck 
2. Dowitcher Pond 
3. Alligator Lake
4. Llano Grande 
5. The Tropical Zone 
Obviously you can deviate from this path, but this will get you access to all habitats within the park, plus all the areas of high bird activity. 
Visitor Center Observation Deck 
This is the first major stop as you walk in from the parking lot. It is connected to the office where you pay the $5 entrance fee. 
The observation deck is arguably the best spot in the whole park to just sit and watch for birds, so don't hit the trails just yet. Consider spending 15-30 minutes enjoying the show. A few ducks and waders are always present, blackbirds and songbirds move between the surrounding trees and water edge, and raptors fly overhead.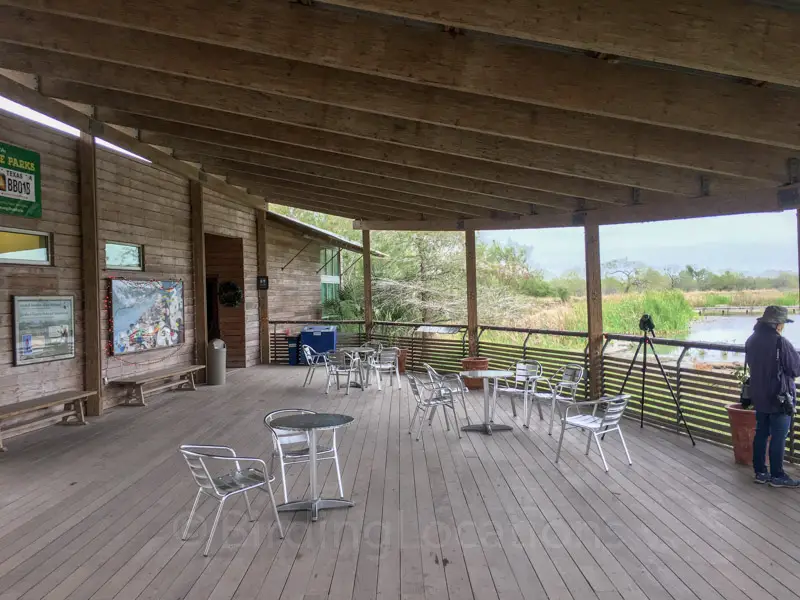 A full morning in fall, winter, or spring here at the deck typically yields 50-60 species in about 3 hours. 
Dowitcher Pond & Alligator Pond 
Dowitcher Pond is shallow, and often holds good numbers of ducks, plus waders like herons and ibises. The shrubby thornbrush surrounding the water can be good for South Texas species like Altamira Oriole and Long-billed Thrasher. Great Kiskadee can often be heard calling enthusiastically somewhere close by. 
Alligator Pond is much larger and deeper, with taller vegetation surrounding it. Yellow-crowned and Black-crowned Night Herons love to roost here, along with cormorants. All three kingfisher species (Belted, Green, Ringed) can be found here.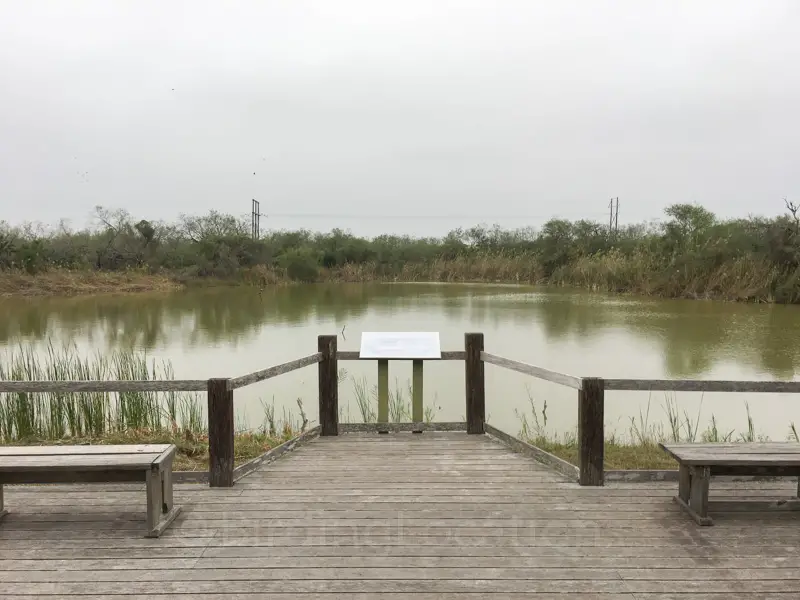 Llano Grande & The Levee 
As you hike up on top of the levee you'll have good elevated views of the Llano Grande.
This water way may have ducks, shorebirds, American White Pelicans, Least and Pied-billed grebes, and occasionally a kingfisher.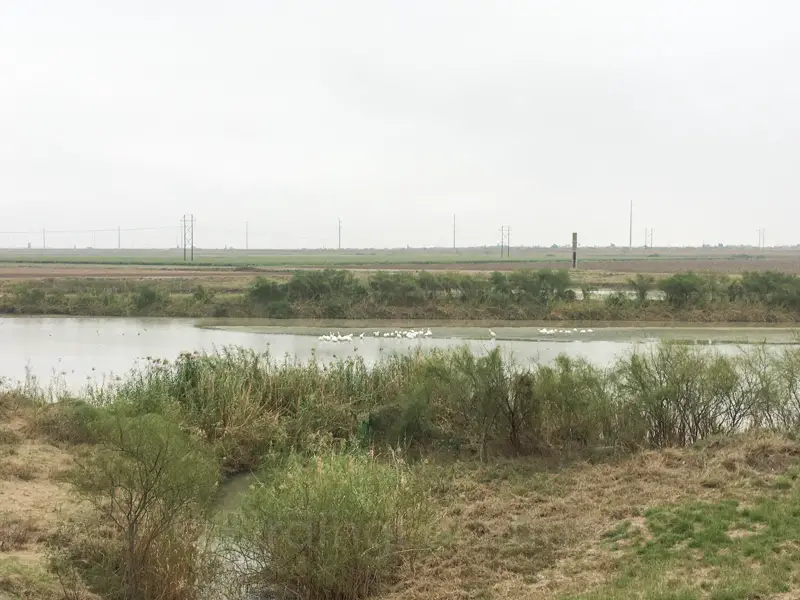 If you scan the field on the other side you can often find Crested Caracara, White-tailed Kite, and hawk species.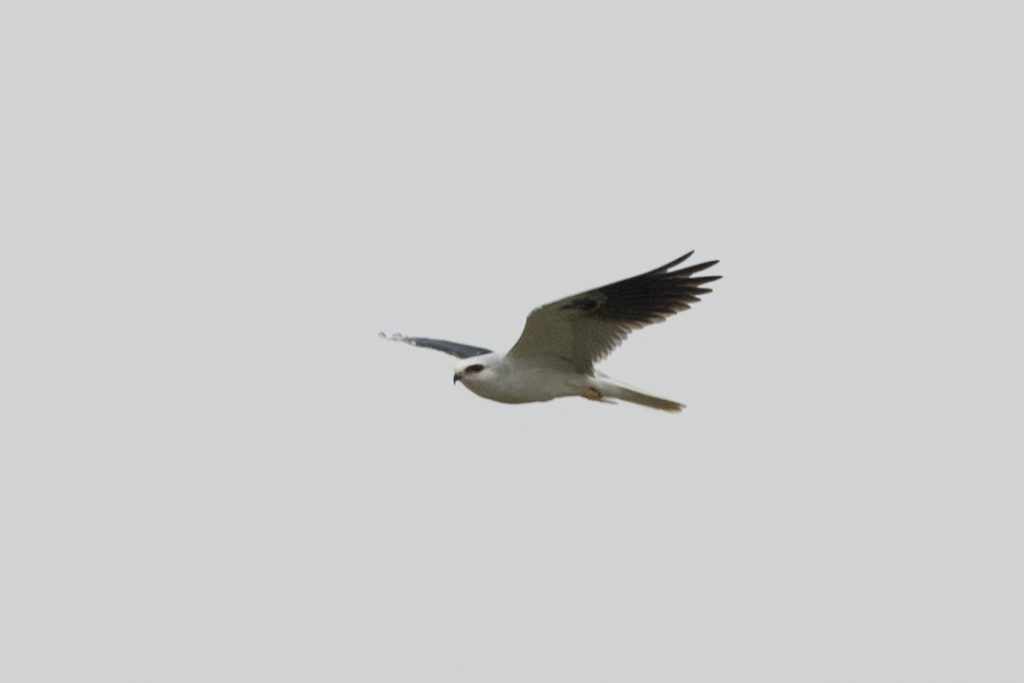 The Tropical Zone 
This area is very unique in that it is dominated by tall, mature woody species. You can't help but imagine this is what most of the Rio Grande Valley looked like 200 years ago, before people began clear cutting the area to make room for agriculture. Now only tiny remnants like this are left, which make them very special and interesting. 
As you walk up and down the old paved roads you'll find bird blinds. Some are covered, some are simply a bench placed in front of feeders. All of them can bring in birds and are worth a short stop.
Birds that you'll likely find here include Green Jay, Curve-billed and Long-billed Thrasher, Plain Chachalaca, White-tipped Dove, and Golden-fronted Woodpecker.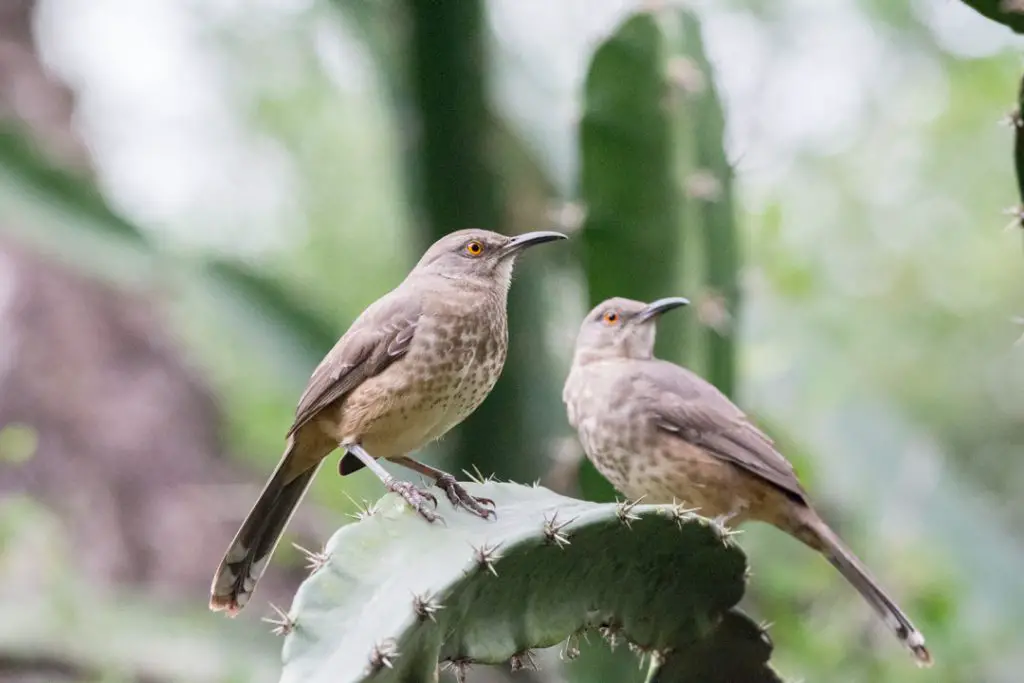 Migration periods can bring warblers, vireos, and tanagers. Even during winter months birders will often find one or two warbler species here. 
Once every few years a Rose-throated Becard will show up here, the most recent one being March 2017 as of writing this. 
Visiting other South Texas hotspots?
Check out the Texas Hotspot Map for more birding guides like this one.