The easiest locations to find a Golden-cheeked Warbler near Austin are:
Balcones Canyonlands
Emma Long Park
Wild Basin Preserve
St. Edwards Park
Pedernales State Park
Barton Creek Wilderness Park
To increase you chances of success, follow these tips:
-Know their buzzy song
-Search for them in March, April, or May
-Go early in the morning
-Look for rocky slopes covered with Ashe Juniper and Live Oak
The warblers are concentrated in areas with great habitat
How to Find a Golden-cheeked Warbler
First, know their buzzy song.
This is a difficult bird to find by sight, but easy to find by sound.
They have two different songs, usually called their A song and B song. It doesn't matter which is which, but be able to recognize both.
This is what their more typical song sounds like:
Second, know what months they're in Texas.
March 15th is a safe date to begin looking, although some males have been known to arrive from Central America as early as late February.
Late March and April is the peak of male Golden-cheek activity when they're singing up a storm. The first two weeks of May are decent too. In great habitat these birds are almost easy to find if you spend at least an hour searching.

Once late May comes, things really start to slow down. Texas summer heat begins to settle in, and the males greatly decrease their singing frequency. The warblers take to the shade and tend to hide within tree canopies all day.
During June you can still get a singing warbler, but you have to be out early, shortly after sunrise. It's also going to take a bit of luck even in ideal habitat.
In July the birds begin migrating back south. It's not impossible to find one in July, but your chance of success is probably less than 20%.
Third, know that time of day and weather affect their activity levels.
Mornings are by far the best time, between sunrise and approximately 9:30am. The hour before sunset can be ok too, but it's not nearly as active as early mornings.
Overcast weather with little to no wind will extend their singing later into the day. Use this to your advantage. Sunny, clear weather or strong winds will cut their singing window short. Sun is fine if you're out early, but avoid windy days if possible.
Finally, know what their preferred habitat looks like.
This is huge. Knowing their habitat can be the difference between your first bird taking an hour to find, or only taking 10 minutes to find.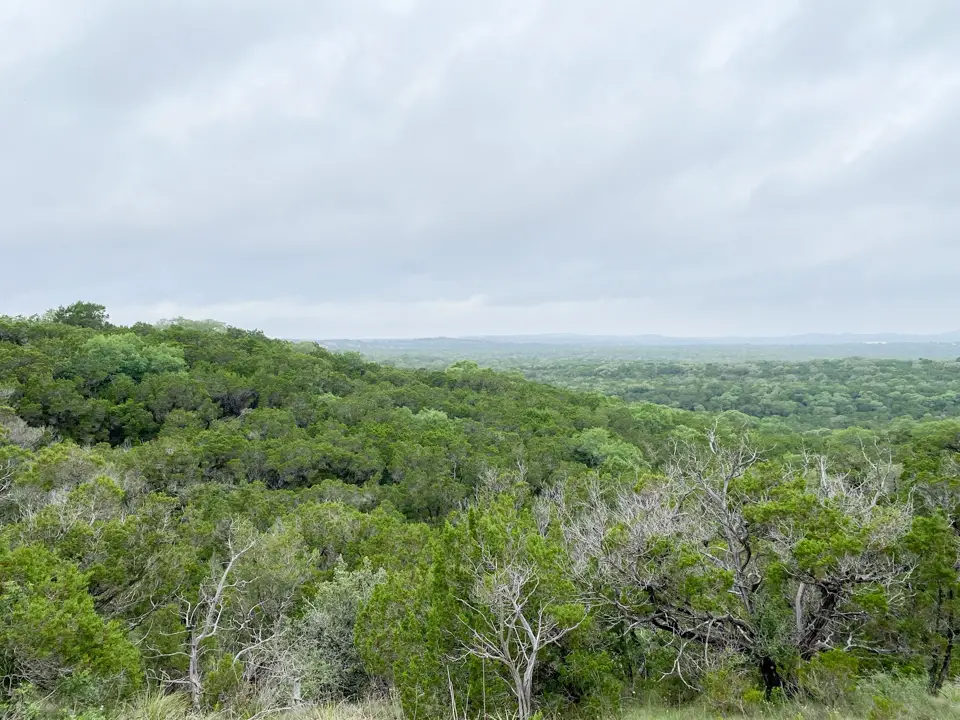 Golden-cheeked Warblers love a mix of Live Oak and Ashe Juniper (a.k.a. Cedar), and they want it on a rocky slope. Sometimes it's a gentle slope, sometimes it's dramatic, but it has to be rocky and it has to have oak and juniper.
Look for an area with 70%-80% large Ashe Juniper trees and 20%-30% large Live Oaks. It needs to be fairly densely wooded, with few open spaces. If an area has an abundance of this tree mixture, then congratulations- you're in Golden-cheeked Warbler territory.
So, where are the best parks around Austin to find this habitat? Below are six places where Golden-cheeked Warblers can be reliably found.
Balcones Canyonlands NWR
This national wildlife refuge is different than most because it's not this untouched expansive wildspace. It's actually split into segments by busy roads, gas stations, and even has houses and private property mixed in.
Regardless, large swaths of ideal Golden-cheeked Warbler habitat can be accessed by car and a short hike, making this refuge one of the best and easiest places to see these little gold, white, and black warblers.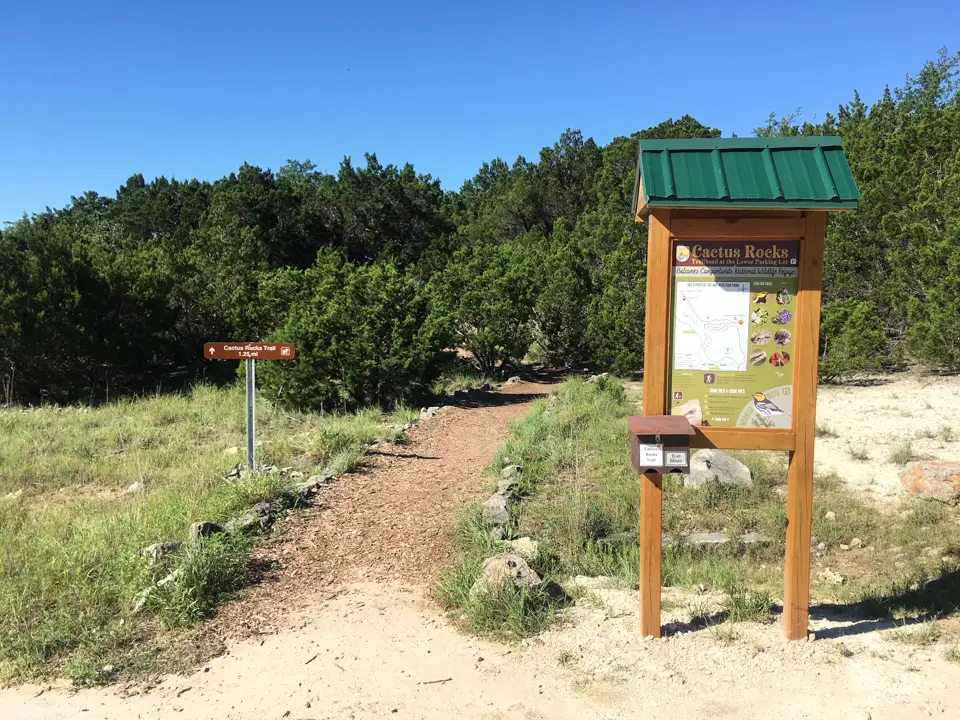 One of the easiest spots on the refuge to find a warbler is Cactus Rocks Trail. Drive up early on a morning between March 15 and May 15, park, and hit the trails. Within 15 minutes you'll likely hear you're first singing male Golden-cheek.
You may actually have more luck walking along the road that continues past the parking lot, rather than walking the narrow, shaded trail.
St. Edward's Park
This park is much closer to central Austin than Balcones Canyonlands. It doesn't have the numbers of warblers that the national wildlife refuge has, but your chance of hearing and seeing multiple birds is still high. Plus the convenient location makes this park an appealing choice.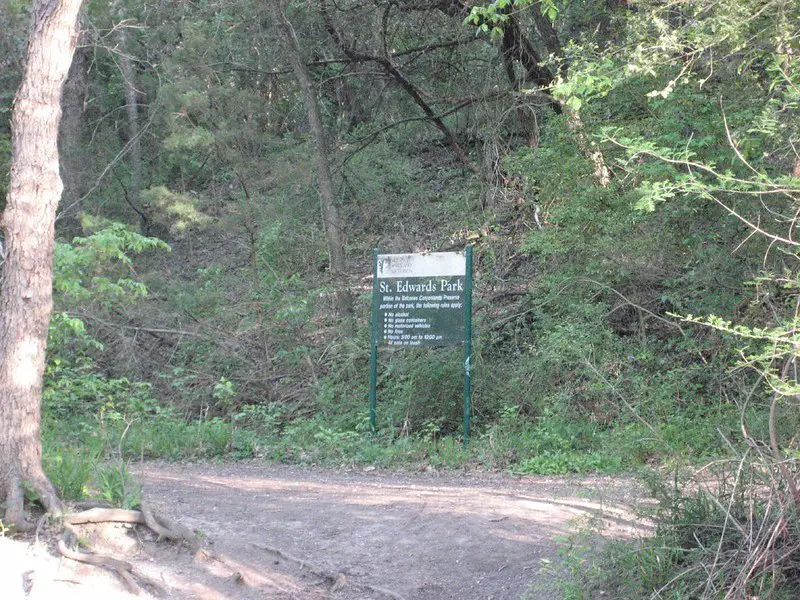 Golden-cheeks can be found throughout the property, but getting up high on the bluff is ideal. Hike the trail that goes up high on the bluff and overlooks the creek. This is where you'll hear the most warblers.
This park is popular with the locals, so be sure to arrive early to beat the crowds.
Emma Long Park
This is another park that's great because of the location. It's actually closer to downtown than St. Edwards Park, plus it has access to the Colorado River at the bottom of the hill. The Golden-cheeks, however, will be up on the hillsides.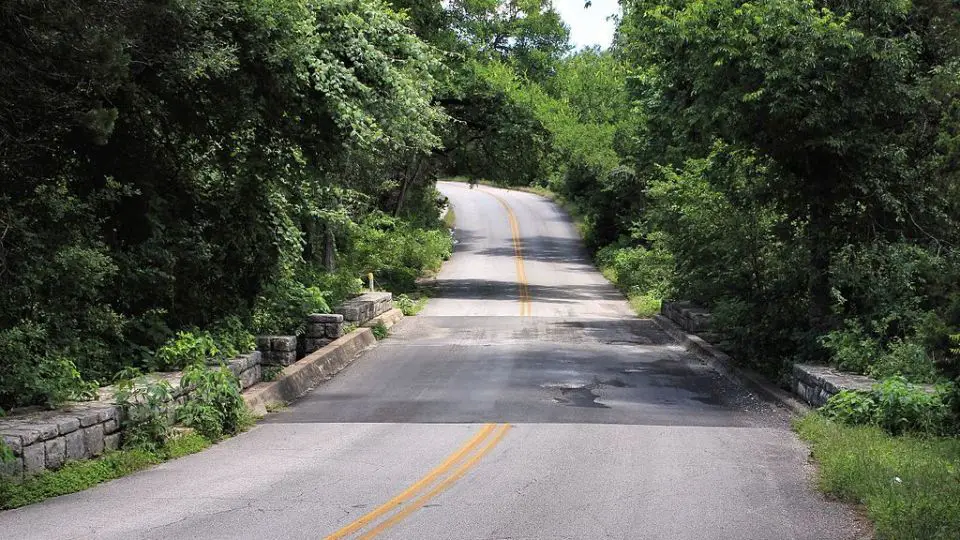 Turkey Creek Trail is a great choice here. It will put you in the most ideal habitat in the park and your chances of hearing multiple singing warblers is high. As you're driving in, there will be a trailhead for Turkey Creek Trail right on the main road. You can park at this trailhead and hike in from there.
If you plan to do some additional birding down along the river banks, be aware that this is a popular area with local Ausinites and will be busy on weekends by 9:30am or 10am.
If you're in central Austin and you only have an hour and a half in the morning, making a quick run on Emma Long Park for the warbler is likely your best option, and your odds of hearing at least one is high (assuming mid-March through early May).
Pedernales Falls State Park
This one is a good 30-40 minutes outside of Austin, but it's likely the best overall birding hotspot on the list if Golden-cheeks aren't your only target.
If you want a full morning of birding then you'll enjoy the fantastic bird blind here, plus some unique spots like the gently sloping falls on the river, and lush spring-fed Twin Falls Creek.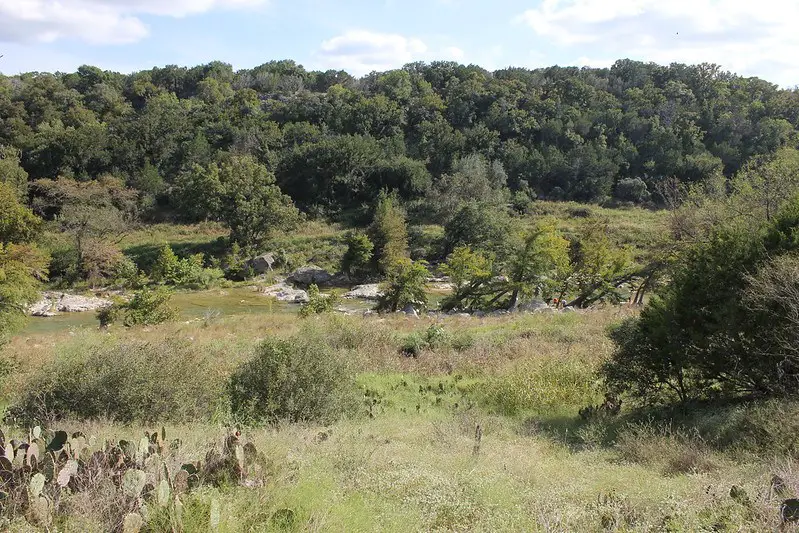 One effective plan is to arrive at or shortly after sunrise and drive the main road all the way to the back of the park. The office won't be open yet. You can either do the self pay with cash or check, or you can just come back after 8am and pay with a credit/debit card.
The main road will eventually dead end at a large circular parking lot, which is where the Pedernales River Trailhead is. The parking lot itself can be quite birdy, so take a few moments to see what's flying around before hitting the trail. You may even get a Golden-cheek without having to leave the parking lot!
Once on the Pedernales River Trail, be listening very carefully for the buzzy song of the Golden-cheek. The first 500 feet or so of the trail is where you're most likely to hear one. Your odds decrease as you get closer to the river.
Regardless of if you get a Golden-cheek here, hike down to the falls overlook because it's worth seeing, and the hike really isn't very far.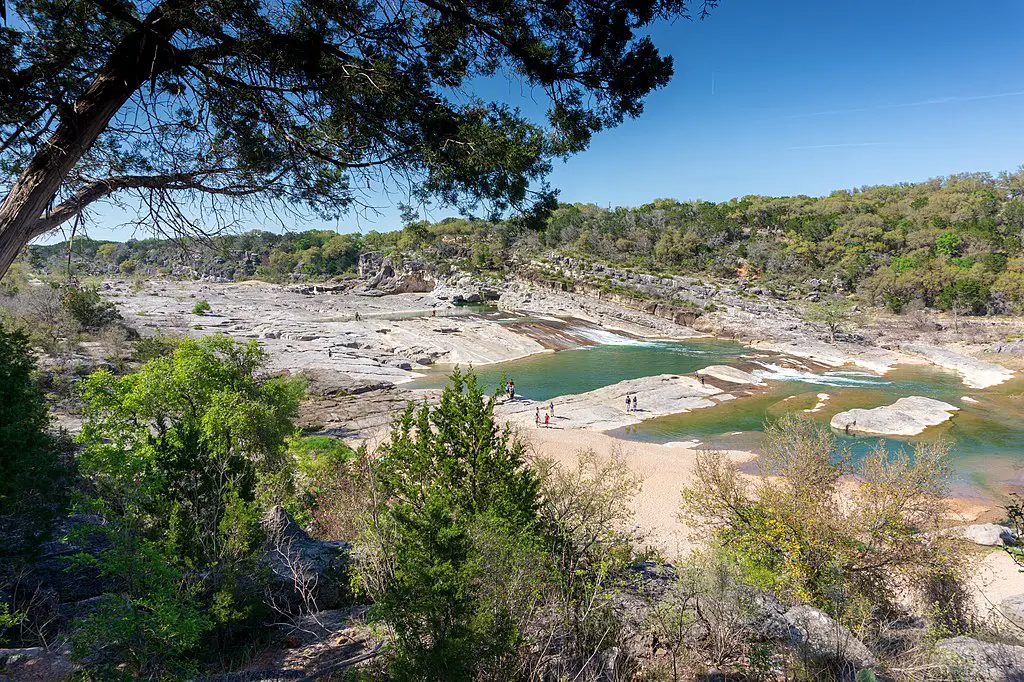 If you struck out and didn't find your target bird, not to worry. Jump in your vehicle and drive back toward the office building. Before you get to the office, turn left on the road to the camping area (the one with electrical hook-ups for RVs and campers).
Find a spot to park where you're not in the way, preferably close to the Twin Falls Trailhead, and begin walking the camping area. There's often at least two or three Golden-cheeks in this area, and they can usually be heard and seen from the pavement.
Twin Falls is worth checking out. It's about a 10 to 15 minute hike one way, and is one of the more interesting places in the park. You can get a Golden-cheek along this trail, but you'll see and hear other birds too, both along the trail and at the wooden deck overlook at the small trickling waterfall.
Likely Golden-cheek spots are highlighted in orange below: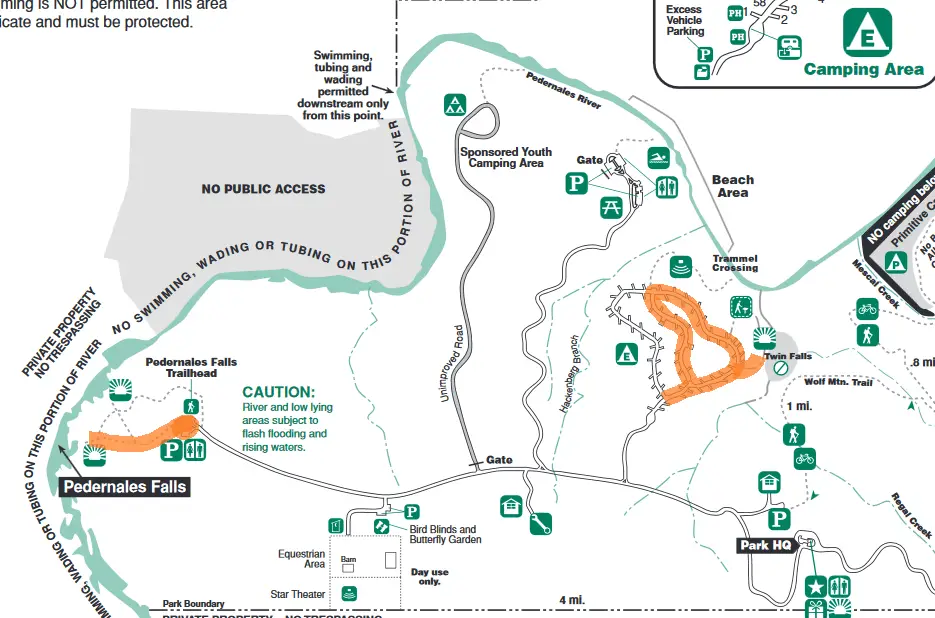 Be sure to visit the bird blind before you leave (back toward the main falls and Pedernales River). You probably won't get any Golden-cheeks there, but you'll get great up close views of plenty of other birds.
Other Austin Locations
If you still need more options, look at Wild Basin Preserve, Barton Creek Wilderness Preserve, and Barton Creek Habitat Preserve. All are west of downtown, within city limits, and aren't likely to draw weekend crowds like other parks. You'll find good habitat in all three locations.
Best of luck, and happy birding!