High Island is one of the most exciting places in America to be a bird watcher during spring migration. Fantastically colorful migrants like orioles, buntings, and warblers move through the region by the millions, and the coast is the easiest place to see them.
This guide will help birders see more birds during their trip, and to have the most memorable experience possible. First time visitors should read carefully – it will save you from slow, birdless days and from spending too much time in the car driving.
A Quick Guide to Birding High Island
Tips for bird watching at High Island during spring migration:
Plan your trip between April 15th and April 25th
Typically, bad weather = good birding
Avoid days with clear skies and a southern wind
Nearby Anahuac NWR is also fantastic for spring birding
Mosquito repellant is a must-have
Rollover Pass & Bolivar Flats are perfect for the midday lull
The Boyscout Woods kiosk lends out binoculars if you forget yours
Free birds walks led by experienced guides occur daily
Saturdays are busiest – avoid if possible.
When to Visit High Island for Birding
Spring migration peaks at High Island around the third weekend of April. Pick a time between April 15th and April 25th, ideally when the wind is blowing from the north.
Dates at the end of April and first days of May can also be good, but migrant diversity on the coast declines once May starts.
A Fail-Proof Plan To Birding High Island
The key to having a great trip to High Island no matter what is knowing how to navigate and adapt to the weather.
The weather you hope for:
Clear skies with a southern breeze are overtaken by dense clouds, northern wind, and maybe even rain. Even better if the shift in wind direction and the rain happens at night. Northbound migrants are stopped in their tracks and seek shelter in vegetation. You arrive at the sanctuaries to trees teeming with birds.
The weather you don't want:
The weather is clear and sunny, with a southern wind. No change in weather is forecasted. It's a beautiful day. You arrive at the High Island sanctuaries and all is silent and still. You can barely even find a cardinal.
The weather will determine how many migrants you see more than anything else, and you just don't have any control over that. But you can adapt to it by utilizing excellent hotspots surrounding High Island that aren't so reliant on passerine migrants (vireos, orioles, warblers,…). You just have to know where to go.
A Great Schedule to See Tons of Birds
| Time | Location |
| --- | --- |
| Early – Mid Morning | Anahuac N.W.R. |
| Late Morning | Boyscout Woods |
| Noonish | Lunch |
| Early Afternoon | Bolivar Peninsula |
| Late Afternoon | Smith Oaks |
If migrants are abundant at High Island, you might choose to skip the Bolivar Peninsula. 
If migrants are few and far between, the Bolivar Peninsula hotspots will be much more active and exciting than the woodland sanctuaries at High Island.
Anahuac National Wildlife Refuge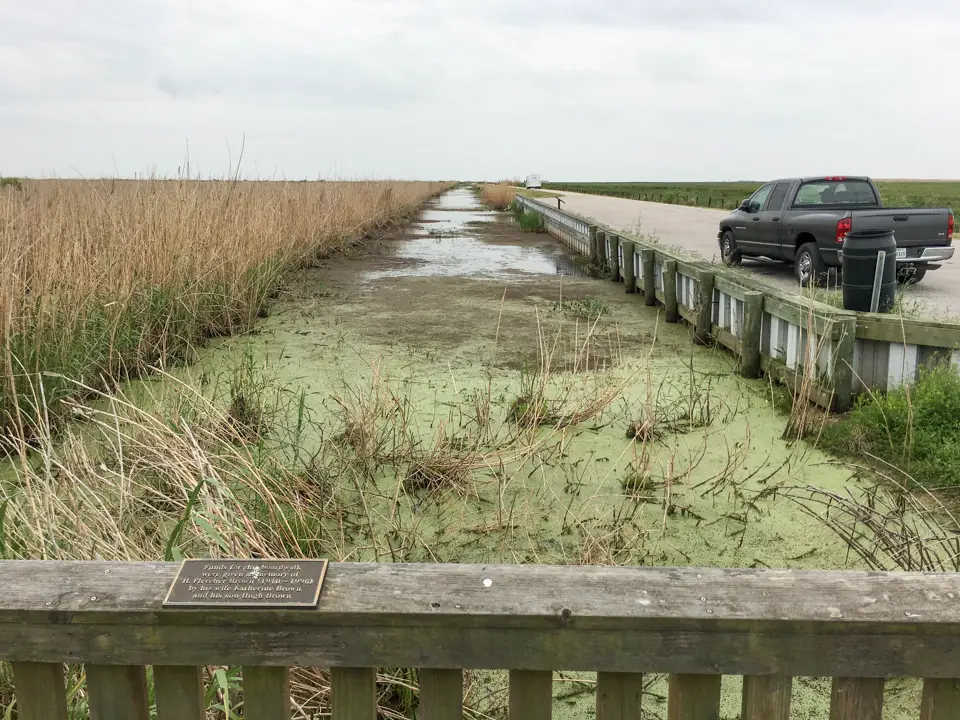 Anahuac is the perfect place to be at sunrise. It's 25 minutes from High Island, and the birding is always good. 
It's mostly marshy wetlands, with some shrubby walking trails, and birds are everywhere. There's no such thing as a slow day at Anahuac during April.
After spending the first hours of your day at Anahuac, you'll get a feel for both weather and migrant activity. If the weather is favorable for seeing passerine migrants (cloudy, north wind), and you're already seeing a good mix of migrants at the refuge, that's a good sign. Plan to spend the rest of your day at High Island.
But if you're walking and driving around Anahuac in the morning and not seeing hardly any passerine migrants (like orioles, buntings, warblers), and wind is blowing from the south, that's a sign that the High Island woodland sanctuaries will be slow. Plan to spend more time at active spots on the coast, like Bolivar Flats.
High Island Sanctuaries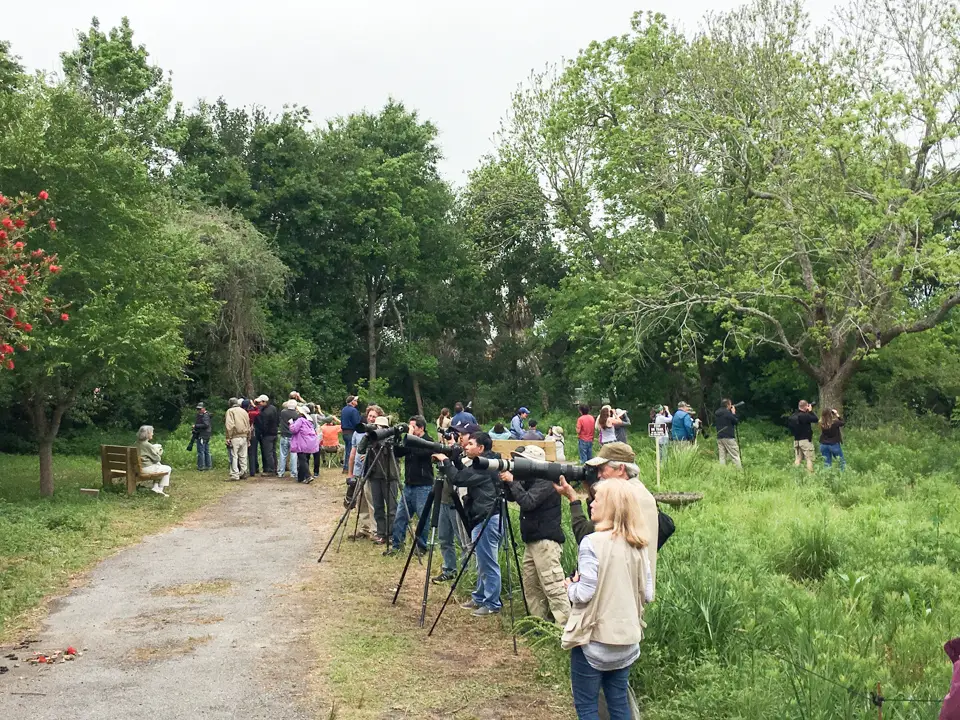 Boyscout Woods and Smith Oaks are the two big destinations here. 
Boyscout Woods is the headquarters of the High Island sanctuaries. It features kiosks at the front where you can purchase day passes, ask for information, use the bathroom, borrow binoculars, and test binoculars for sale. 
The bird watching at this small sanctuary is heavily impacted by weather conditions and overall migrant numbers. It can be fantastic with birds everywhere, but can just as easily be straight up boring. You'll know within 20 minutes of being there which kind of day it's going to be.
Smith Oaks Sanctuary is nearly three times the size of Boyscout Woods, and features both mature woodland and large ponds where the rookery is located. Take a map with you (or Google Maps satellite view on your phone), it's easy to get turned around in here.
Due to its size, Smith Oaks can still be ok even on slower days. There's more places for birds to hide here, so you'll always find at least a few things if you put in the time to walk around.
The Bolivar Peninsula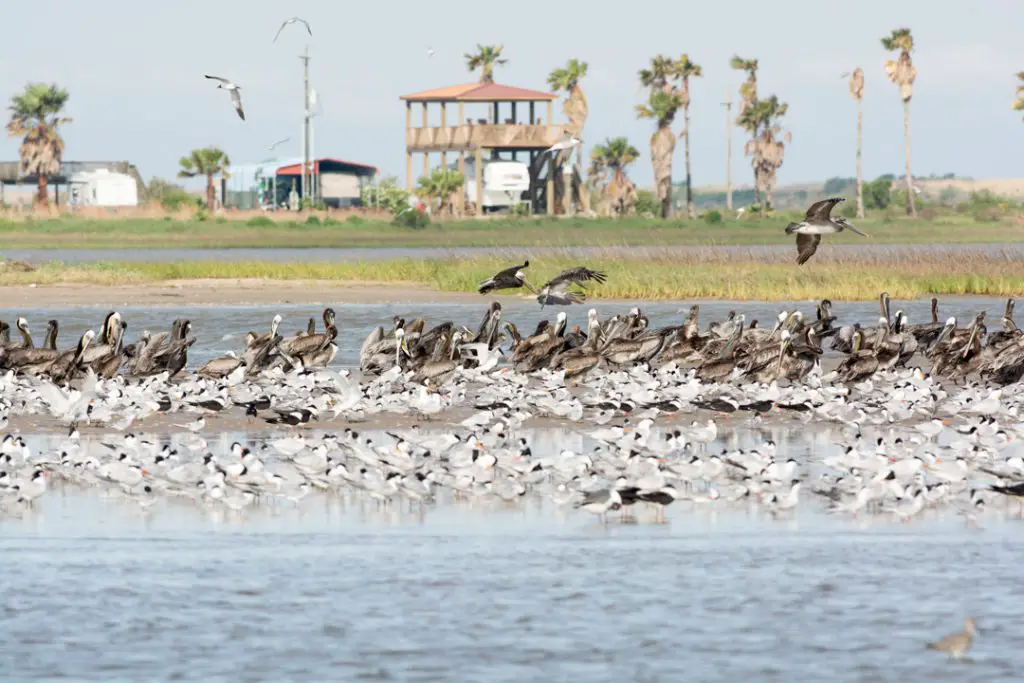 This thin stretch along the coast contains Texas Highway 87. Several excellent birding hotspots exist here, which are great for waders, terns, rails, and sometimes falcons. 
Bolivar Peninsula Hotspots 
Rollover Pass
Yacht Basin Road
Tuna Road
Bob Road
Bolivar Flats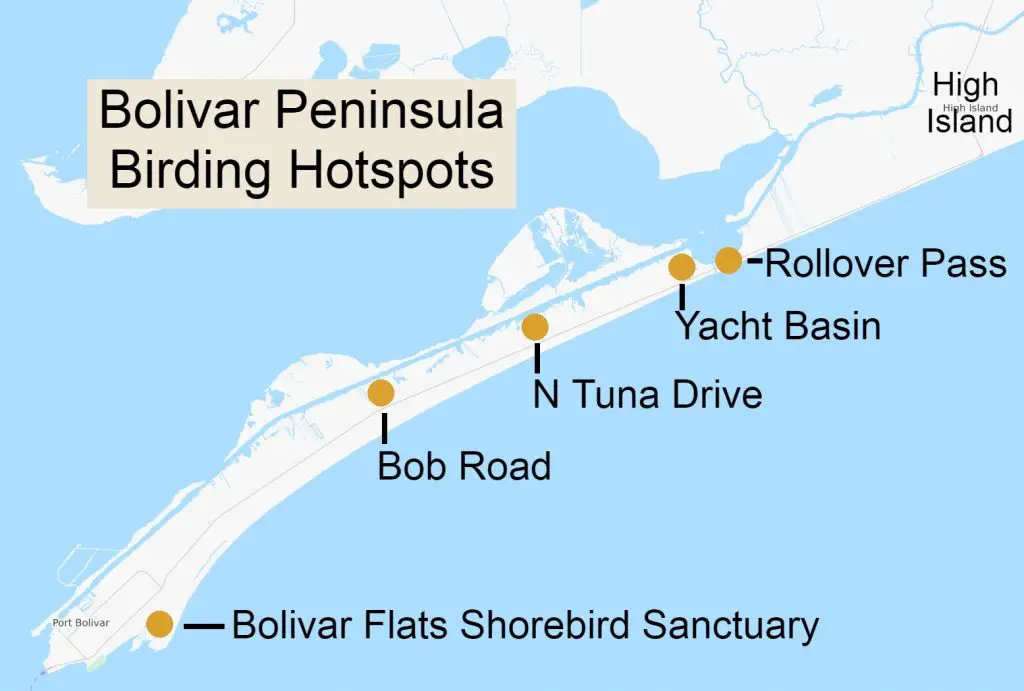 If High Island is slow and lacking birds, the Bolivar Peninsula might just save your trip. 
Rollover Pass and Bolivar Flats are the two big hotspots on the list. Shorebird numbers can be impressive at both locations.
If time is short, Rollover Pass and Yacht Basin road are only a 10 minute drive from High Island.
Rollover Pass
Hosts hundreds of waders, terns, and gulls flying around. Fantastic for bird photography. Weekends attract fishermen, which disturb the birds and push them further out. Weekdays are better for this reason, but it's a great spot regardless.
Just drive on the hard packed sand and park your vehicle, then walk toward the water edge and enjoy. A spotting scope is useful here but not required.
Yacht Basin Road, Tuna Road, Bob Road
These caliche roads are surrounded on both sides by coastal marsh. Expect herons, egrets, shorebirds, and a few ducks. Clapper Rails sometimes run out in the open, while Seaside Sparrows flutter through the reeds as they sing.
You can bird them from the car, or pull over and walk short distances along the road. Stopping and standing in one spot while watching a marshy area with plenty of water is often the best way to see different species.
These three roads are all between Rollover Pass and Bolivar Flats (the two major hotspots). If choosing between them, Bob Road is usually the best. Yacht Basin Road is second, and Tuna Road is your lowest priority.
Bolivar Flats
This bird sanctuary is a stretch of beach often hosting hundreds of shorebirds including American Avocets, Dunlin, plover species, Black Skimmers, gulls, terns, and often a Peregrine Falcon.
It's a half hour drive from Boyscout Woods at High Island, but it's an easy straight shot down the highway and is worth the drive if you have time.
Turn down Rettilon Road ("no litter" spelled backwards). Plan to spend 45 minutes to an hour here, or more if you enjoy picking through groups of birds to maximize your species list. A scope is useful here but not required.
Final Recommendations
The weather really determines your experience with High Island birding. 
If possible, plan a longer stay to maximize your chances of getting at least one day with north winds or rain. Alternatively, clear your schedule for both the third and fourth weekend of April (although weekdays are much less crowded), and then decide during the days prior when to travel based on the weather forecast.
Bring mosquito spray, don't forget your binoculars, and happy birding!