Texas officially has 17 documented species of owls. 
Several owl species can be seen and heard in your local parks and neighborhoods. Others require a more adventurous spirit, with hours of travel and mountain hiking.
The good news is that with the right knowledge and enough persistence, it's possible to see at least 10 of the 17 owls on this list.
Owls in Texas
Below are all 17 owl species documented in Texas:
Great Horned Owl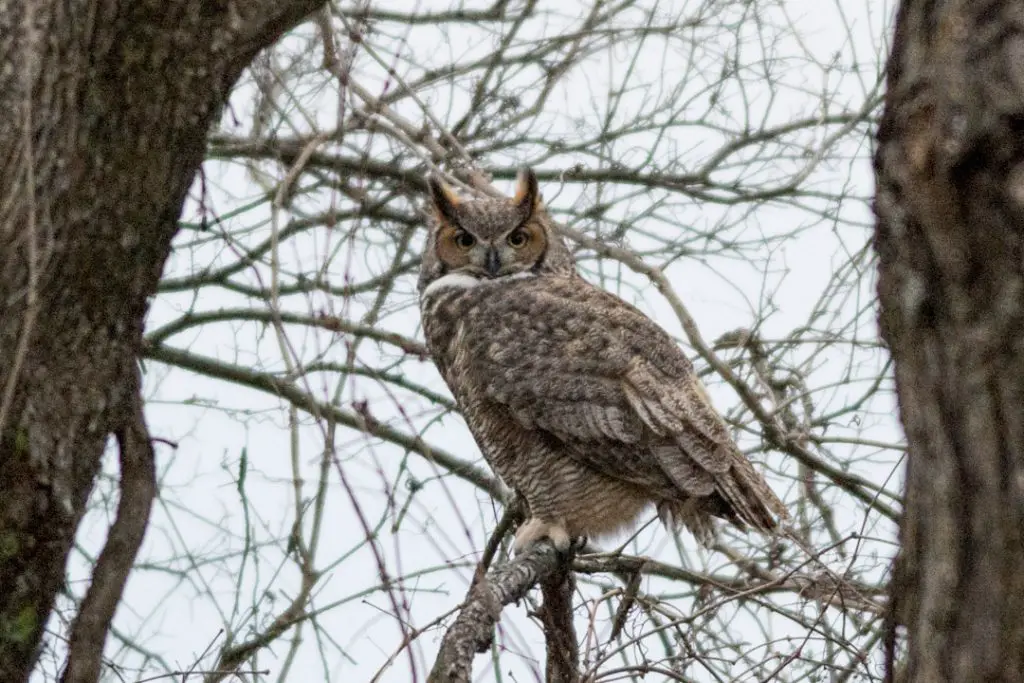 The largest and probably most well-known owl in Texas, Great Horned Owls are usually seen and heard as the last light of day fades or shortly after dark. They are common throughout most of the state.
They give the classic slow and deep "Hoooo….Hoooo…." call. It's often soft and easily missed if you're not listening. But they've also been known to perch on house rooftops and really get going, waking up the people inside.
They love large trees and prefer to hunt in open or shrubby grasslands and fields. Often the easiest way to see them is to drive back country roads through swaths of grassy or agricultural fields and look for them perched on telephone poles at first or last light.
If you see a large brown owl that's the same size as a big hawk, it's almost guaranteed to be a Great Horned Owl.
Good Places to Look for Great Horned Owls:
Woodland edges near shrubby grasslands.
Larges trees in local parks and neighborhoods, especially near water.
Agricultural fields with groups of trees nearby.
Barred Owl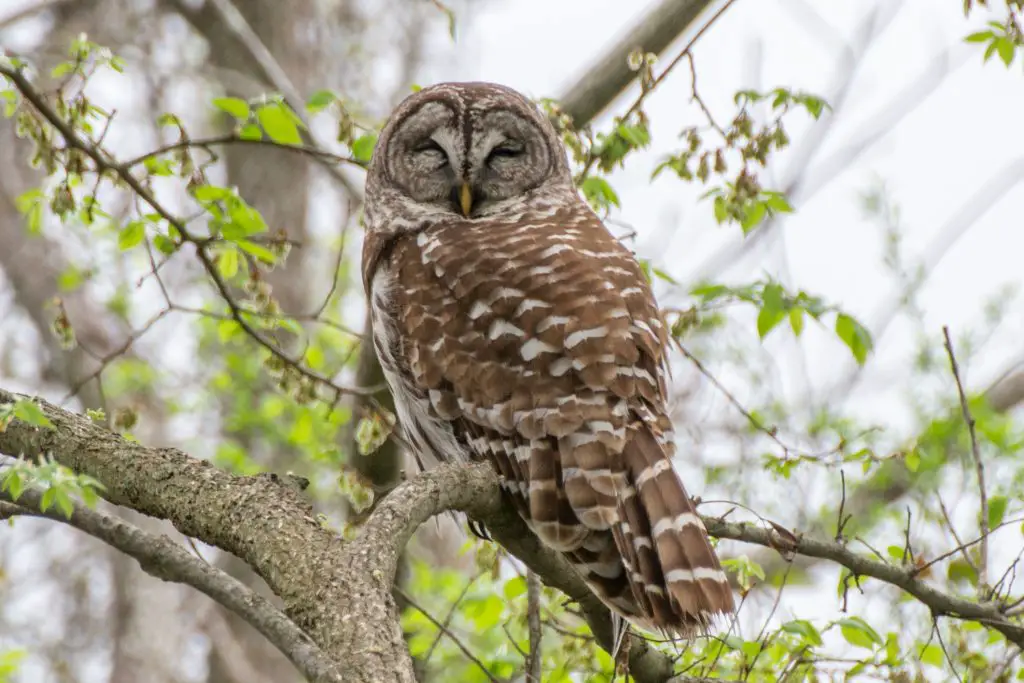 Barred Owls love dense trees and woodlands, especially along creeks and rivers. If you have large trees  around your house it's also possible to see them in your backyard.
Only the eastern half of Texas has the right habitat for them. If you live west of Abilene, Austin, or San Antonio then you probably won't find one nearby.
Their appearance is light gray with dark streaks all over. Their eyes are solid black with no visible pupil, which tells you these are strictly nocturnal animals that don't do well with bright light.
Sometimes under the dark canopy of a wooded area you may hear them calling during morning or evening hours. They also make a "Hoo" sound, but are more quick and energetic than Great Horned Owls.
Good Places to Look for Barred Owls:
State and local parks with big groups of tall trees like Oak and Pecan.
Areas with tall hardwood trees, especially near water.
Woodlands with full canopy cover.
Eastern Screech-Owl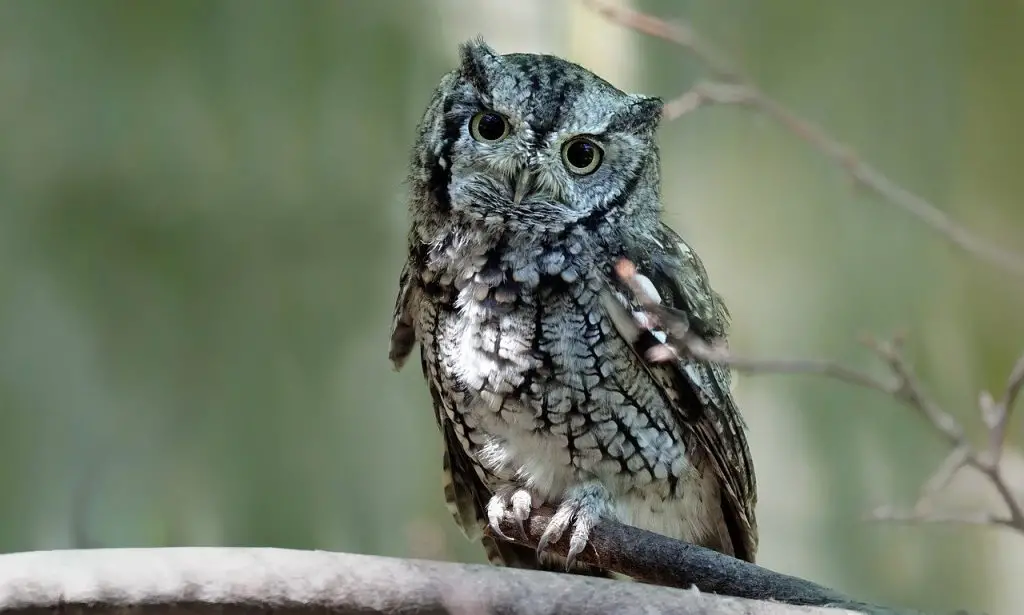 Screech-Owls are small. Much smaller than most people expect. 
Sometimes they're mistaken for baby owls since the adults are only slightly larger than a cardinal. But like all owls, they're capable predators and highly successful rodent hunters.
Common throughout the eastern two-thirds of Texas, you can actually attract these owls to your yard with an owl nesting box. The boxes range in price from $40 to $80, or you can build your own for less.
According to Barn Owl Box Company:
"Screech owls actually have been shown to prefer the gardens and yards we create around our homes. Partly wooded areas with shrubs and open areas are their favorite habitat. Screech owl nest boxes should be erected approximately 10 feet off the ground on medium to large sized tree trunks, beneath the shade of foliage."


Barn Owl Box Company
Screech Owls will also sometimes come to bird baths during the night or very early morning at first light.
If you see a very small owl in your yard at dusk or dawn, it's almost certainly a Eastern Screech-Owl.
Good Places to Find an Eastern Screech-Owl
Areas with a mix dense trees and open grassy spaces
Old neighborhoods with big trees
Populations are especially high in the Hill Country and South Texas.
Western Screech-Owl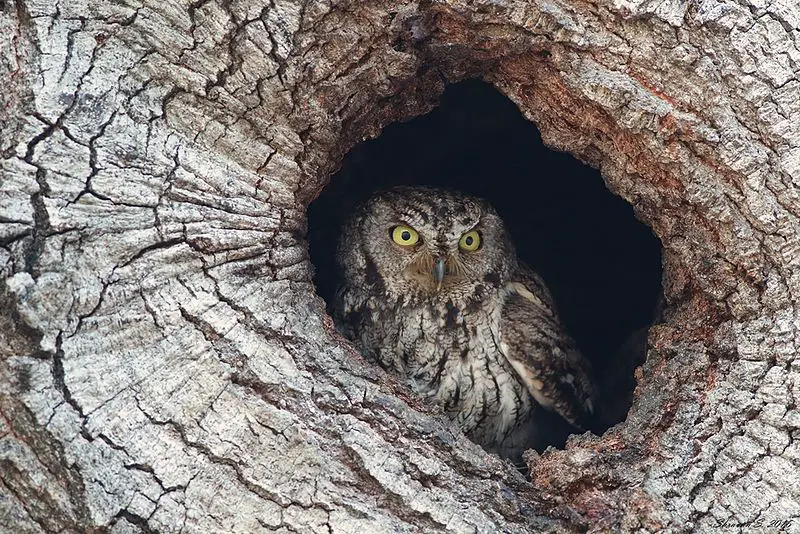 Extremely similar to the Eastern Screech-Owl, this western species is found in far west Texas. 
While common in this area, the very rural and remote nature of this part of the state means these owls just aren't seen nearly as often as their eastern counterpart.
They prefer stands of large trees like oaks, pecans, or cottonwoods, all of which grow well along water.
Locations to look for Western Screech Owl in Texas:
Big Bend National Park – Cottonwood Campground, Rio Grande Village
Davis Mountains – Davis Mountains State Park, Lawrence Woods Picnic Area
El Paso – Rio Bosque Park
Barn Owl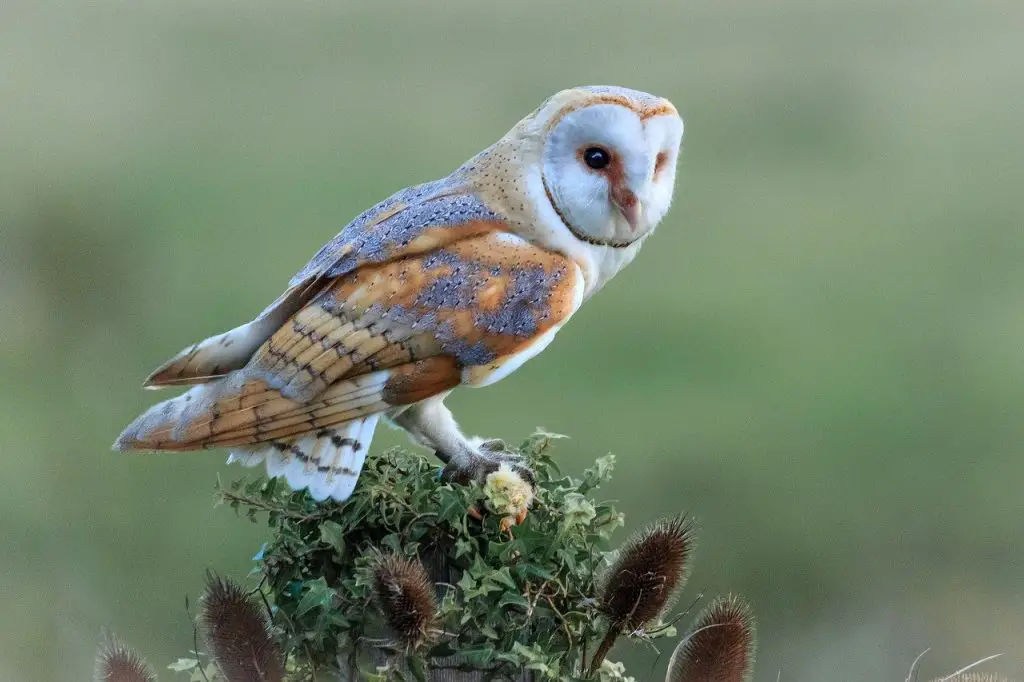 Although the Barn Owl is one of the more well-known and widely recognized owl species, they're often difficult to find. 
Like a pale ghost in the night, sometimes vocalizing with a harsh shriek, Barn Owls are strictly nocturnal. It's very unusual to see one active during the day. They also tend to retire for the night earlier than most owls, returning to their daytime roost by 5 or 5:30am. 
Good areas in Texas to search for Barn Owl include:
Katy Prairie Conservancy – Northwest Houston
Granger Lake – roads along the open fields in this area.
Rio Grande Valley – especially around Bentsen State Park, Estero State Park, and Laguna Atascosa.
Lubbock Area – County roads outside city limits, especially early before 6:30am.
Far West Texas – Marathon (Gage Gardens), Dell City agricultural fields, around Balmorhea after dark.
Greater Corpus Christi Area- back roads from Kingsville, to Three Rivers, and over to Goliad.
Dallas – Ft. Worth also has Barn Owls in the area, but sightings are sporadic and scattered.
Short-eared Owl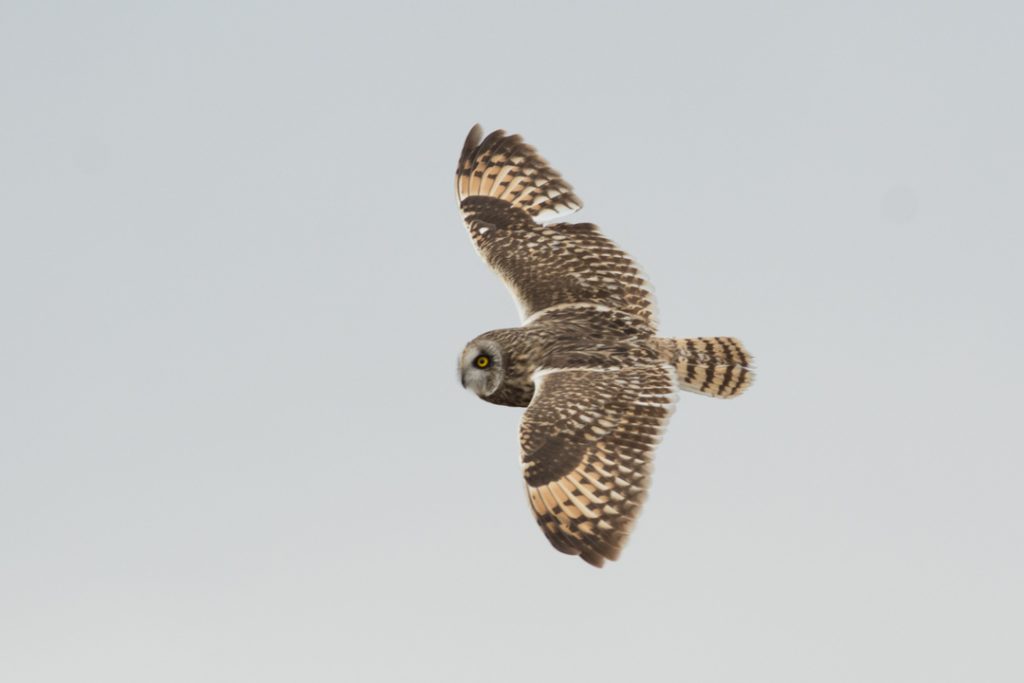 Wide open grasslands attract these graceful hunters of the prairie. They can be seen flying low, sweeping back and forth over grassy fields shortly before sunset and at sunrise.
These owls are not strictly nocturnal, but are actually crepuscular, meaning active at dawn and dusk. On overcast days they may even come out to hunt in the middle of the day.
Short-eared Owls are tricky to find because of their relatively low numbers in Texas, and because they tend to stay away from any urbans area. They love swaths of open and undeveloped areas without too many trees.
This species is only in Texas during winter months.
Areas to try for Short-eared Owl in Texas:
Attwater Prairie Chicken National Wildlife Refuge – west of Houston
Katy Prairie Conservancy – west side of Houston
Granger Lake Area – north of Austin. Check the many open fields, especially on the west and north side of the lake.
The panhandle has plenty of good habitat, with numerous one-off sightings in the greater Lubbock area in past years. Muleshoe National Wildlife Refuge near the New Mexico state line is reliable.
Burrowing Owl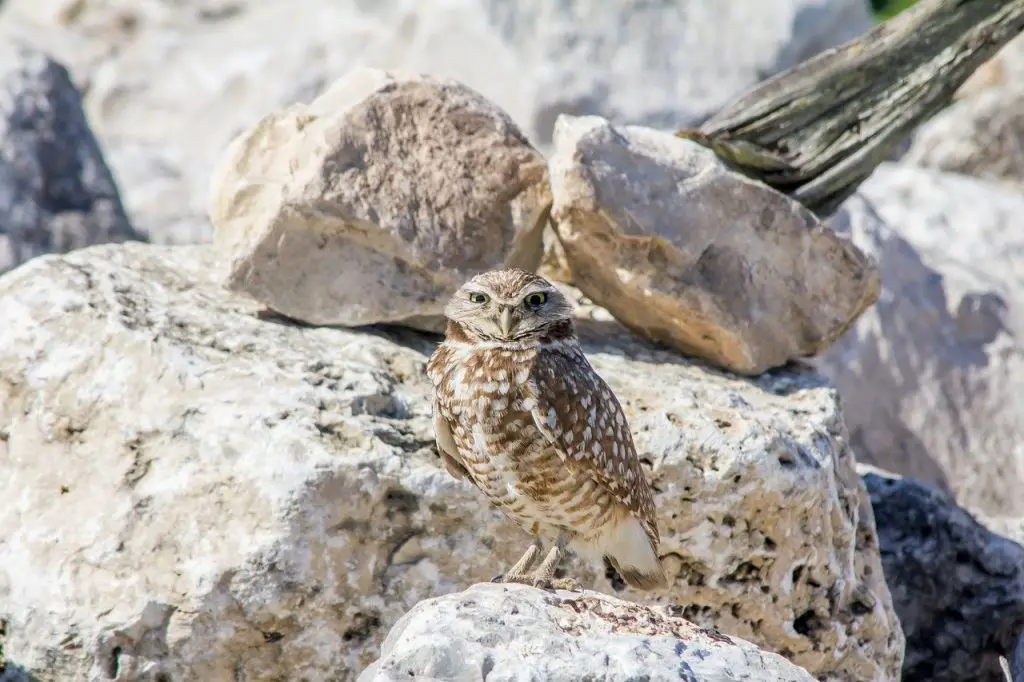 These ground-dwelling owls aren't actually uncommon, they just don't live near any major Texas cities (except El Paso). This species does really well in the panhandle and west Texas.
Because these small owls love small tunnels and burrows, prairie dog towns are especially attractive to them. If you come across an area with plenty of prairie dogs, it may be worth looking around to see if a Burrowing Owl appears.
Burrowing Owls are one of the few owl species that can be highly active during the day. Combine this with the open habitat they prefer, with few trees or vegetation to hide them, they're actually one of the easiest owls to find in Texas if you know where to look.
Areas to see Burrowing Owls in Texas:
El Paso – Ascarate Park, Rio Bosque Park
Midland – Rose Acres on S CR 1150
Lubbock – McAllister Park, Lubbock Lake Landmark, CR 2800 north of FM 835
Amarillo – Greenways Park, McGee Lake
Marathon – prairie dog town on Hwy 385
San Antonio – Mechler Lane south of Hwy 90
McAllen – Anzalduas Park, Granjeno along Sharyland Road, Border Road north of Santa Ana NWR
Elf Owl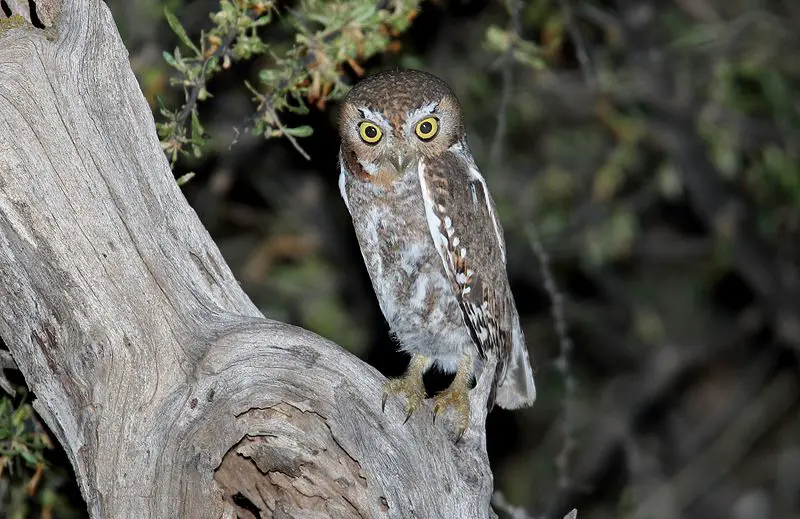 The Elf Owl is the smallest owl in the world, and they breed right here in Texas.
Elf Owls are a desert and dry scrub species, so you'll have to travel to west or south Texas to find them. They often inhabit old woodpecker holes in sycamore, oak,  and cottonwood trees.
These tiny owls are migratory and breed in Texas during the spring and summer, but then fly south in the fall. So be sure to look and listen for these guys in the warmer months, starting in late April.

Wait until evening at last light when they begin poking their heads out of tree cavities can start vocalizing. 
Locations to see Elf Owls in Texas:
Bentsen Rio Grande State Park – hole in a telephone pole just before La Familia Nature Center
Kickapoo Caverns State Park – around the campsites
Fort Pena Colorado Park (Marathon, TX) –
Davis Mountains State Park
Big Bend National Park – Dugout Wells, Chisos Mnts. Basin, Rio Grande Village, Cottonwood Campground
Ferruginous Pygmy-Owl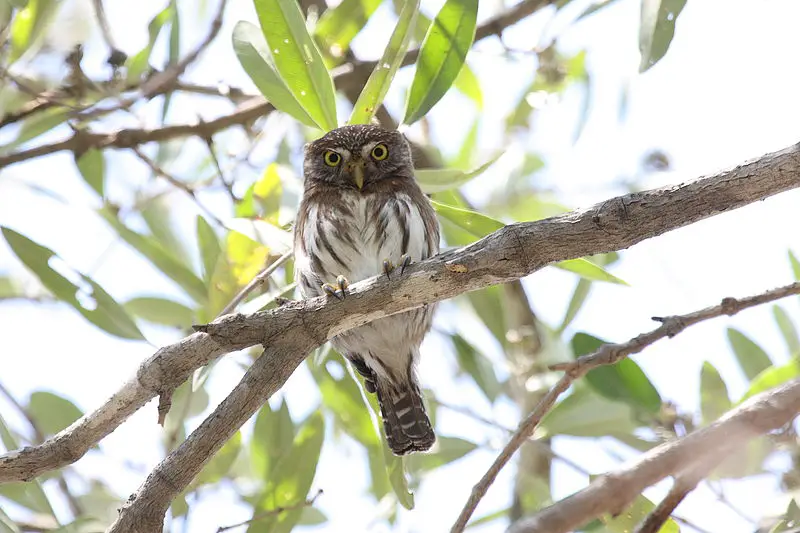 Although common throughout Central and South American, this small owl just barely makes it up to Texas. You'll have to travel to far south Texas to see them.
This species used to be more common in south Texas in the 1980s and 1990s, but habitat loss due to recent development and city expansion has pushed them out of the area. They can still be found, but in fewer places than past decades.
These owls are diurnal, meaning active during the day. They like somewhat dense and expansive thorn scrub, so think lots of mesquite trees.
The King Ranch is the go-to place for these owls. The Norrias Division of the ranch hosts the largest known population of Ferruginous Pygmy-Owl in the United States. It's private property, but they offer day-long birding tours where a guide will take you right to the owls. The cost for the 9 hour tour is $135.
Locations to see Ferruginous Pygmy-Owl in Texas:
King Ranch (Norrias Division) – requires a paid birding tour
Brush Line Road – north of Edinburg. North side of Hwy 186.
Hwy 186 – east of Raymondville, along the road between San Perlita and Port Mansfield.
Snowy Owl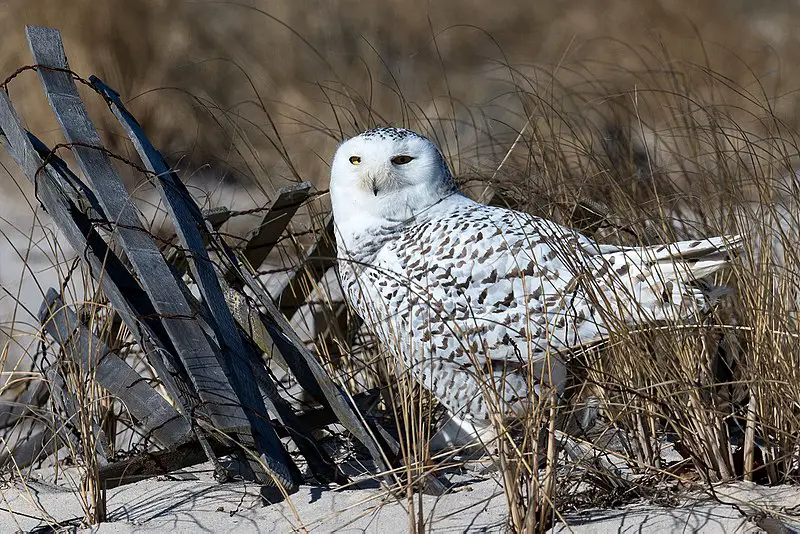 This northern species is usually only seen in Canada and the far northeastern state. But during special years, a natural phenomenon called an irruption will occur where these owls will fly much further south than normal. Once or twice a decade, a Snowy Owl will even stray into Texas.
Winter of 2017 – 2018 was a record setting winter in Texas for this species, when 5 Snowy Owls were found during the same winter. This was previously unheard of in Texas. 
Locations of Snowy Owls in Texas during unprecedented 2017 – 2018 outbreak:
Fort Worth – seen by many, present for three days.
Odessa – seen by many, stayed for about two weeks.
Amarillo – seen & photographed by several people, only present for 1 day.
Gruver – north of amarillo, seen and photographed by only one person.
Pottsboro – near Sherman/Lake Texoma. Found injured on the ground next to the airport. Was taken to a raptor rehabber.
The only way to see this owl in Texas is to wait until a good winter when this species makes a big push south out of Canada. When one is reported somewhere in the state, go chase it down before it leaves!
Flammulated Owl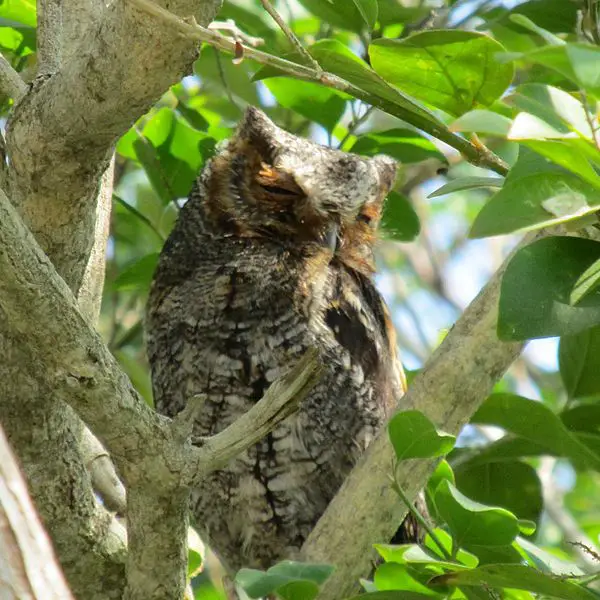 Venture up high into west Texas mountains after dark and you may hear the low, hoarse hoots of a Flammulated Owl.
This small, red and gray owl loves to perch in Ponderosa Pines and Douglas Fir trees, both of which can be found at high elevations in Texas. From their perches they swoop back and forth hunting insects like moths and beetles.
They're summer breeders, here from early April to mid-October, and gone for the winter.
Although these owls occur regularly in state, their remote and difficult to access habitat means that few Texans have heard or seen one.
Locations to find Flammulated Owls in Texas:
Big Bend National Park – Boot Canyon Trail and Boot Springs
Davis Mountains Preserve – Limpia Chute. Restricted access, only open several weekends each year.
Guadalupe Mountains National Park – up high in The Bowl. Sometimes heard at Tejas Backcountry Campground.
Long-eared Owl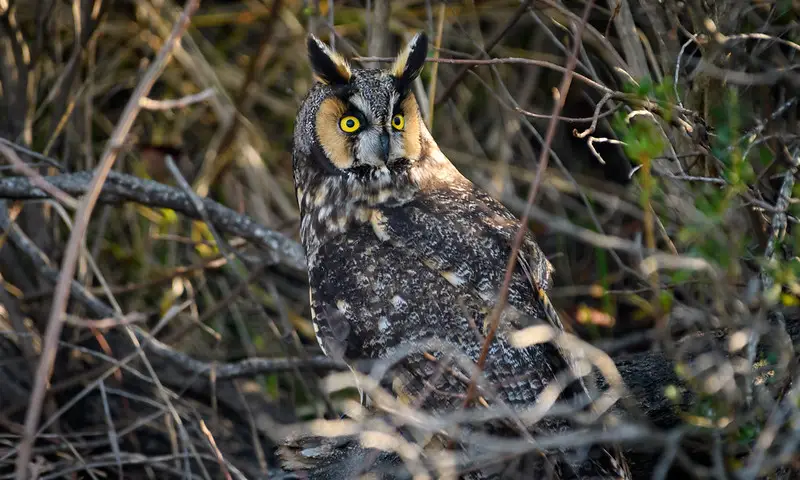 This northern owl species moves south during winter, with a few individuals visiting Texas during the cooler months.
Sightings of Long-eared Owls are scattered throughout the state, but are concentrated in the panhandle. 
These nocturnal hunters prefer open grasslands as the hunt for rodents.
Occasionally someone will find a daytime roost, usually within a thick shrub or tree. Visiting a reported daytime roost is the most reliable way to see these birds in Texas.
Spotted Owl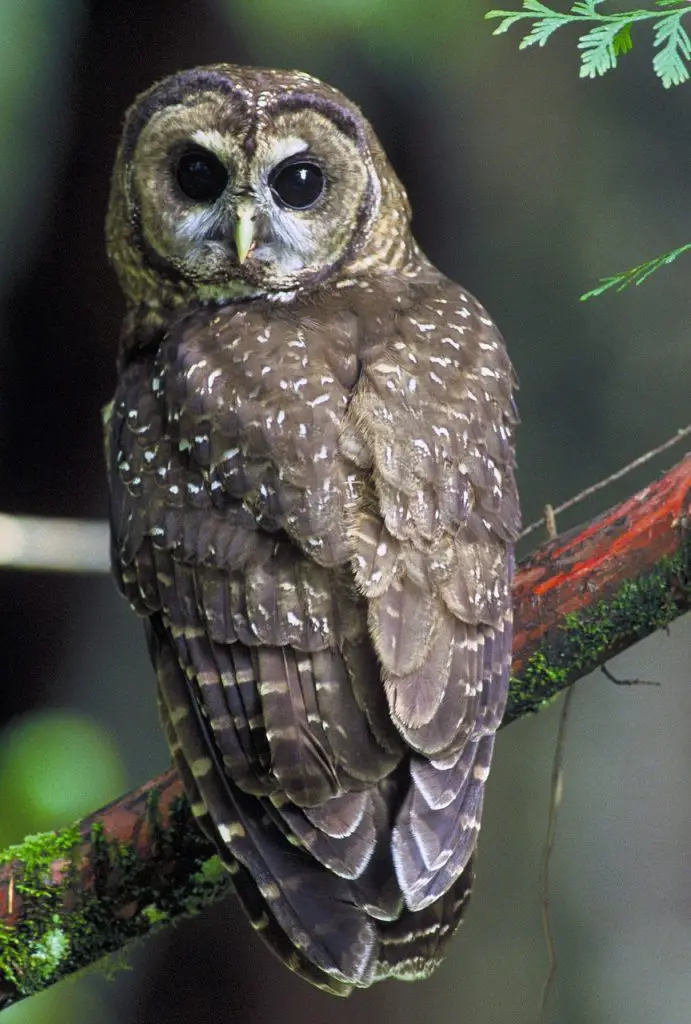 Similar in appearance to the Barred Owl, Spotted Owls prefer rocky and wooded canyons found in mountainous areas.
This species is a conservation concern due to falling populations. Habitat disturbance and destruction is especially harmful to these sensitive and secretive owls.
Expanding Barred Owl populations are also harming Spotted Owls, either through the Barred Owl's aggressive and territorial behavior, or by hybridization.
Texas has a very small but consistent breeding population of Spotted Owls. They have been documented in the Davis Mountains, but the rocky canyons of the Guadalupe Mountains is the go-to place in Texas to search.
When at Guadalupe Mountain National Park, hike back into Devil's Hall and listen at last light for their calls. Bring a flashlight with you for your return hike.
Northern Saw-whet Owl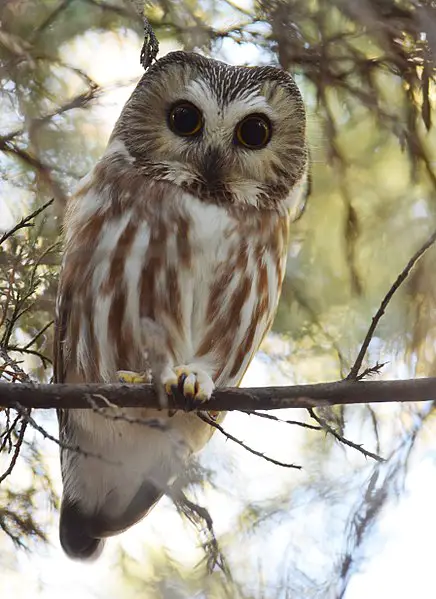 This small owl can be semi-reliablely found at a single location in Texas: Guadalupe Mountains National Park.
There's an area high in the Guadalupe Mountains called The Bowl, and it's thick with high elevation tree species like Ponderosa Pine and Douglas Fir. Just what the saw-whet owls like.
While these owls prefer to feed on mice, they will hunt small birds like chickadees and titmice when food is scarce.
Staying overnight at the remote Tejas backcountry campground is the best way to try for this species. But take note, this requires a three to four hour hike one way.
Northern Pygmy-Owl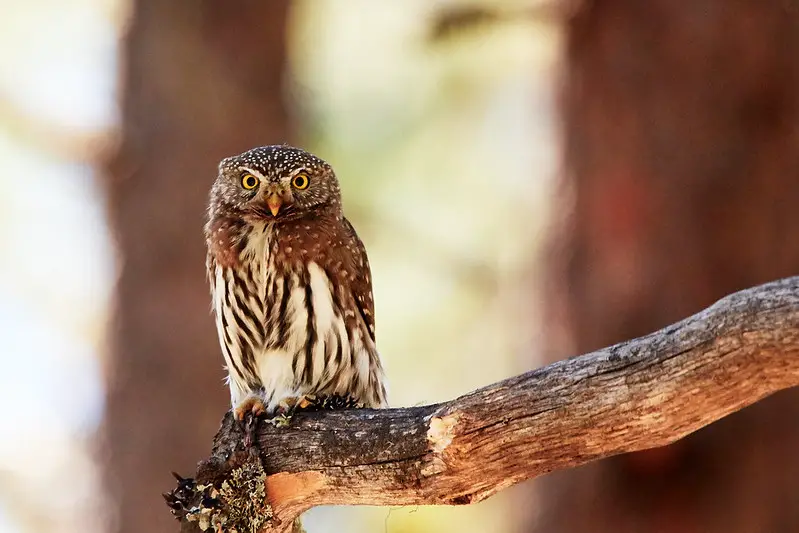 At only five known individuals ever seen in Texas, this is certainly one of the rarest owls on the state list.
These owls have always been found at high elevations in west Texas, and during migration periods.
The next time one of these owls are found in the state, it will almost certainly be during April, May, August, or September (spring and fall migration). And it will almost certainly be in the Chisos Mountains in Big Bend National Park, or in the Guadalupe Mountains.
Stygian Owl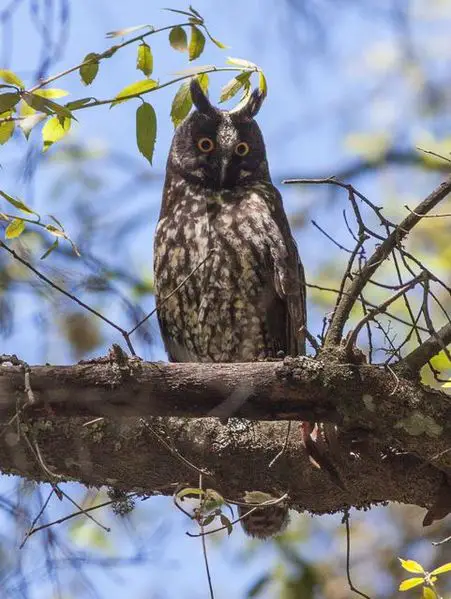 With only two individuals ever seen in Texas, this species is referred to as "accidental", meaning it was never expected to show up in this region.
On December 9, 1994, an odd owl was found in a tree at Bentsen Rio Grande State Park, about one mile from Mexico. After obtaining a photograph, it was later identified as Stygian Owl, shocking the Texas birding community. 
This species is widespread in Central and South America, but was never expected to wander into the United States.
Possibly even more surprising, this species was seen and photographed again almost exactly two years later in the same park. It's impossible to know if this was a different bird, or the same one.
Both instances were one day wonders, meaning they didn't stick around for more than 24 hours, and only a lucky few got to see it that second time in 1996.
Mottled Owl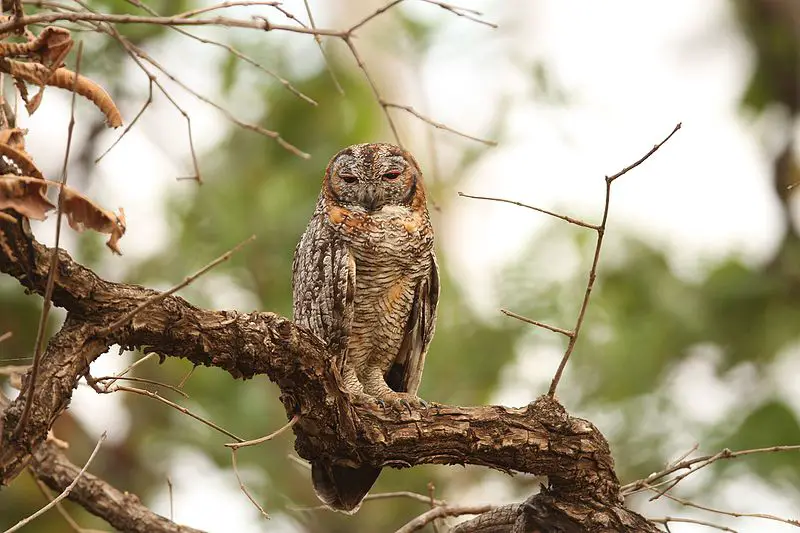 This is it, technically the rarest owl ever documented in Texas. "Technically" is an important word here, considering it was discovered dead on the side of a road.
In 1983, a man found a dead owl along the entrance road to Bentsen Rio Grande State Park, just north of the Mexico border. Unsure of what it was, he placed a quarter next to it for size comparison and took a photo.
Three years later, a state birding expert heard about the photo and after seeing it, thought it may be a Mottled Owl.
After sending the photo to several experts at universities, multiple authoritative figures confirmed the identification. Texas (and the United States) now had its first record of Mottled Owl.
This tropical owl species has never been found again in Texas, dead or alive.