Ah, October in Texas. Fall is finally here, the summer heat is beginning to fade, and birds are on the move. 
Here's what's happening in Texas in October:
Migration is still well underway. Many early migrants like shorebirds have already moved through, but there's still plenty to see.
The coast acts as a physical barrier that funnels many southbound species along its edge. Passerine migrants like warblers are much easier to find here than they are inland.
Broad-wing Hawk migration is at it's peak the first week of October. Thousands can move over a city in a single day.
By late October, winter residents are beginning to arrive. This includes ducks, geese, Sandhill Crane, sparrows, and late season raptors like Northern Harrier and Bald Eagle.
If you can position yourself in a major migratory path, like along the coast or in far south Texas, the birding action will be fantastic. Major migratory stopover points that occur inland will also be hot with activity during October.
The Best October Birding Hotspots Include:
1. Hazel Bazemore Hawkwatch – Corpus Christi
2. South Padre Island Birding Center – South Padre Island
3. Santa Ana National Wildlife Refuge – Alamo (near McAllen)
4. Anahuac National Wildlife Refuge – Anahuac (east of Houston)
5. Mitchell Lake Audubon Center – San Antonio
6. Hornsby Bend Bird Observatory – Austin
Santa Ana National Wildlife Refuge
Of all the wonderful birding locations in Texas, Santa Ana is certainly one of its crown jewels.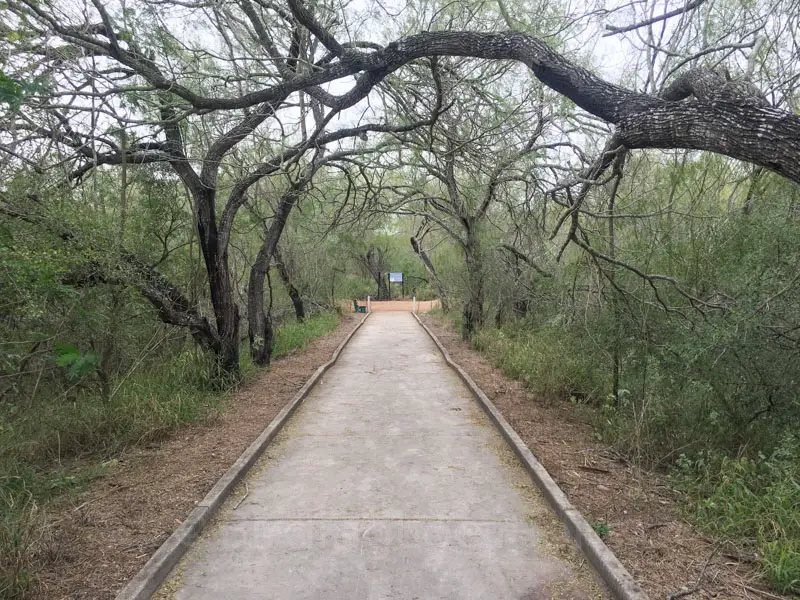 This is where the Tex meets the Mex, where familiar American species collide with colorful tropical species. Be sure to give yourself at least 3 hours here, if visiting for the first time. 
Start early if at all possible. Although summer has passed, mid-day temperatures can still push 90°F (32°C), and the bird activity will decrease with the heat.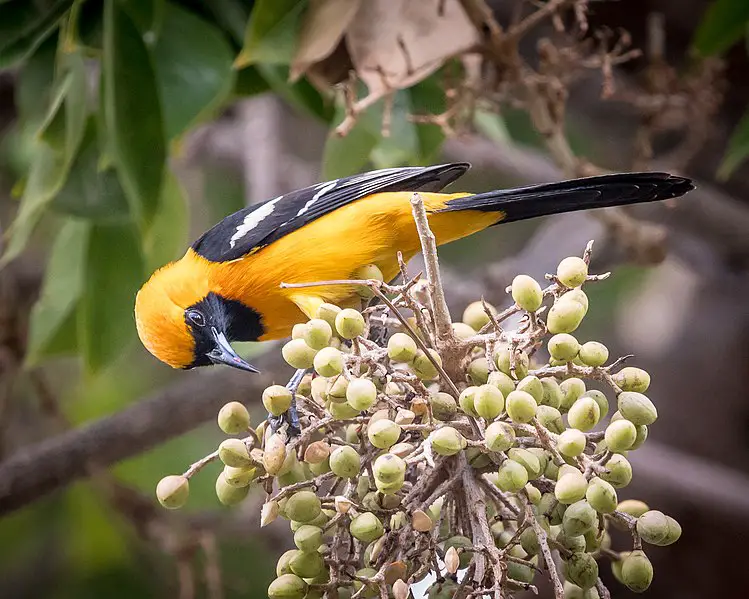 The number of species you might see here can vary wildly. Familiarity of the location and the of the local birds makes a big difference. Some birders manage 30 species, while others that begin early (before 8am) can pull off more than double that. On a great day with good birding weather, 90+ species isn't impossible.
Entrance is $3 per vehicle. Free bird walks are held several mornings each week. Call the office for up-to-date information on upcoming bird walks, as it changes with season and from year to year.
This PDF on the Fish & Wildlife Services website is a great resource. It provides some insider info on where to see different species, what each trail has to offer, and the differences between each season.
South Padre Island Birding & Nature Center
Most people don't spend more than 2 hours here because it's just not that big. But what this birding center lacks in size, it makes up for in bird activity. 
Birds are everywhere: flying overhead, in the water, in the trees, perched on the boardwalk railing, and in the distance over the gulf salt water. You'll be well entertained throughout your visit, especially during a morning visit.
Shorebird diversity is good here considering the small area. Expect 8 to 12 species in under 2 hours. Tons of gulls, terns, herons, and egrets. Pelicans and Osprey are also common.
Hummingbird numbers can be good early in the month, and the hummingbird feeders that are kept full can bring in several dozen hummers on a good day, most of them Ruby-throated Hummingbird.
Expect a handful of southbound warbler species, likely 6+ species. Rose-breasted Grosbeak are also regulars early in the month.
The birding center is open 7am to 5pm, and costs $8 for general admission. Guided bird walks are offered multiple mornings each week. Check their website for the current bird walk schedule.
This hotspot includes the neighboring South Padre Island Convention Center, which has shrubs and trees around the side and back of the building that attract migrating warblers, vireos, and grosbeaks.
No need to enter the building, simply make your way around the outside, and keep your eyes on the vegetation. There's also a water drip here that often has a bird or two on it.
Hazel Bazemore Park Hawkwatch Platform
The hawkwatch platform is a great place to set up camp for half a day and watch migration happen right before your eyes.
Hazel Bazemore is famous to Texas birders for it's annual fall hawk watch, where counters gather to record thousands of raptors and other birds moving through.
Birders who attend this open event get get free access to the highly experienced and skilled counters, who are always happy to point out birds they see and help others identify them.
The birding here can be very weather dependent, which is typical of migration periods. Some days are slow with only a few dozen hawks over several hours.
But when a north wind hits and the skies clear, buckle up! You may be in for one of the most memorable days of birding you've had in a long time.
Species that can number in the hundreds in a single day include Anhinga, Wood Stork, Neotropic Cormorant, Cooper's and Sharp-shinned Hawk, and swallows. 
Species that can number in the THOUSANDS in a single day include American White Pelican, Black and Turkey Vulture, and Broad-winged Hawk.
Once or twice a year, when the wind and weather conditions are perfect, Hazel Bazemore will see truly spectacular movements of Broad-winged Hawks. When these legendary mega-kettles move overhead, they fill the sky and often take over an hour to pass.
Jaw-dropping Broad-wing Hawk movements in recent years include:
2018: October 4th saw a mega-kettle of 40,000 hawks.
2016: October 1st saw a mega-kettle of 62,000 hawks.
2015: October 2nd saw a mega-kettle of 48,000 hawks.
Falcon numbers can also be very good. High counts on a good day could be
50+ American Kestrel,
20+ Merlin,
20+ Peregrine Falcon,
plus an occasional Prairie Falcon. 
Expect around 40 total species during a 3 hour stay. Put in a full 8 hour day and an average day will get you 55-70 species, with an above average day bringing 80+.
Anahuac National Wildlife Refuge
Anahuac is probably one of the best places to go birding in Texas regardless of month, but October is certainly included.
Your experience here will depend somewhat on your skill level as a birder, and how good you are at simply spotting birds. The expansive marsh here can easily hide birds if you're not going slow and looking carefully.
A 3 hour visit can yield anywhere between 40 species on the lower end, and as many as 70+ species on a good day.
Arrive before sunrise and you'll likely get an owl species. Great Horned is common, but Barn Owl is possible as well.
You'll see the most species by stopping at the visitor center and exploring the walking paths that extend past the butterfly gardens. This is your chance to get woodland birds like flycatchers, cardinals, buntings, warblers, and sparrows.
The rest of the refuge can be easily birded from inside your vehicle. Shoveler Pond Loop is always a great choice, and is a must-visit for first timers.
Go slow, stop and scan with your binoculars often, and be sure to make a quick stop at Shoveler Pond Boardwalk.
By the end of October, overwintering ducks are beginning to show up here and are already numbering in the thousands.
Mitchell Lake Audubon Center
Mitchell Lake is a major inland stopover point for many migratory species, especially shorebirds.
This location provides opportunity to see migrants, waders, and multiple south Texas species, all within easy driving distance of a major Texas city (San Antonio).
During a 3 hour visit you can expect at least 45 species, up to 60+.
The major highlights here are:
The wildlife garden and walking trails behind the visitor center.
Bird Pond and the surrounding shrubby and wooded vegetation.
The lake itself, including the holding ponds adjacent to it.
Birding here typically involves about 40% of your time on foot, and 60% birding from the car.
Bring a scope with you if possible, otherwise identifying many of the shorebird species will be challenging.
There's usually at least one rarity that shows up here each October, be it a Red-necked Phalarope, Surf Scoter, Horned Grebe, or something else.
If you're in the San Antonio area and plan of visiting Mitchell Lake, there's a full birding guide to this location on the Mitchell Lake page.
Hornsby Bend Bird Observatory
Hornsby Bend is a water treatment plant located along the Colorado River, not too far from downtown Austin.
The Colorado River acts as a travel path/funnel for migrants, making this an excellent hotspot of bird activity year-round.
The main attraction here is the water holding ponds, which attract shorebirds, waders, and ducks. There are also woodland trails along the river, and open grassy fields at the front of the property. This diversity in habitat makes for great birding.
Free bird walks are held every third Saturday of the month. Meet at the main building (there's really only one building) in the parking lot at 7:30am. The walk ends by 11am. These walks promise to get 50 species or more.
A 2 hour visit on your own here will likely net you 40 to 45 species, although it's very possible to get over 60 in 3 hours.
For a full birding guide to this location, visit the Hornsby Bend page.
Conclusion
If you're close to any of these six locations, be sure to put them at the top of your "must visit" list. 
For more options around the state, visit our Texas Hotspot Map with birding guides to each location.
Happy Birding!