Easily considered one of the most colorful birds in the Texas, seeing a Painted Bunting is always a treat. So how can you find one of these little beauties? There's three things you need to know: their habitat, their song, and when they're in Texas.
How to See a Painted Bunting:
Painted Buntings in Texas are easiest to find May – July in the eastern 2/3 of the state. Search in areas where grassy/shrubby areas butt up against wooded areas.
Don't bother searching from October through about April 15th, since they migrate south and winter in the tropics. You'll need to wait until spring when they return to breed.
Nearby water sources can help attract them, such as a flowing creek or a pond. As with most birds, they're most active during first two hours after sunrise. Finding one during the middle of the afternoon is significantly more difficult. Listen for their light and fast song, as hearing them sing is key to finding them quickly.
Want Painted Buntings in your yard? Here's how to attract them.
Are There Painted Buntings Where I Live?
While these buntings are spread across nearly the whole state of Texas, their numbers are much higher in some areas than others. This makes a big difference in your chances of seeing one. Take a look at the map below.
Note that this is a density map, not a range map. It shows where Painted Buntings are easiest to find.
Red counties have the most buntings.
Orange counties may take a little more searching.
Light colored counties can be difficult, but possible in pockets of good habitat.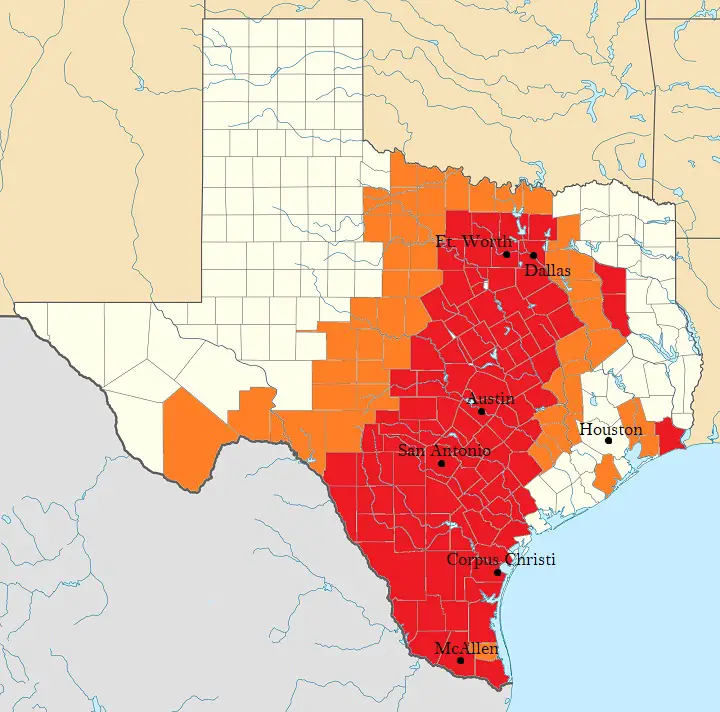 This map was quickly colored in Microsoft Paint, so don't study it too hard. It's just to give you an idea of where Painted Buntings occur in high numbers.
If you live in a red area, congrats. Your odds of seeing this little flying rainbow are looking good.
What does a Painted Bunting sound like?
Recognizing the song of a Painted Bunting is the easiest and fastest way to find one.
When possible you should always be listening first, and looking second. The quick, tweety, jumbled song is often a dead giveaway of their location (or at least the tree that they're perched in).
Have a listen right here:

The best tool for learning the song is a birding app for your phone. Two great free ones are Merlin, made by The Cornell Lab, and Audubon Bird Guide.
Below is a quick walkthrough of how to listen to a Painted Bunting song on Merlin.
After downloading the app, select "Explore Birds".
Use the top search bar to type in "Painted Bunting", and select this species when it appears.
At the bottom bar, select "Audio". Then tap the play button near the upper left. Make sure your volume is high enough to hear.
The Audubon app is also great. It is more of a traditional field guide, with lots of info about lots of birds. Merlin is geared more towards people asking "what's that bird I just saw?", and is more of a learning tool.
As you're walking in appropriate habitat, listen for this song. It is your most effective clue to finding these birds.
Note: Playing the song loudly on your phone while outdoors will alert nearby Painted Buntings and will bring territorial males in close. This is NOT recommend, as it is very stressful on the birds. The male thinks its territory is being invaded and is looking to fight off the intruder. Please use your birding app responsibly and ethically.
Where should I look for a Painted Bunting?
Painted Buntings love an area with mixed trees, open unmowed grass, and some shrubs or smaller trees mixed in.
This habitat is common in Central Texas and along the Blackland Prairie regions. If you look at the density map above, this is where most of the red colored counties are located. South Texas also has plenty of good habitat, with its grassy shrublands with taller trees mixed in.
The ratio of tall trees to open grass doesn't seem to matter too much to the buntings, as long as you have a good mix of both.
Check out the examples of great Painted Bunting habitat below.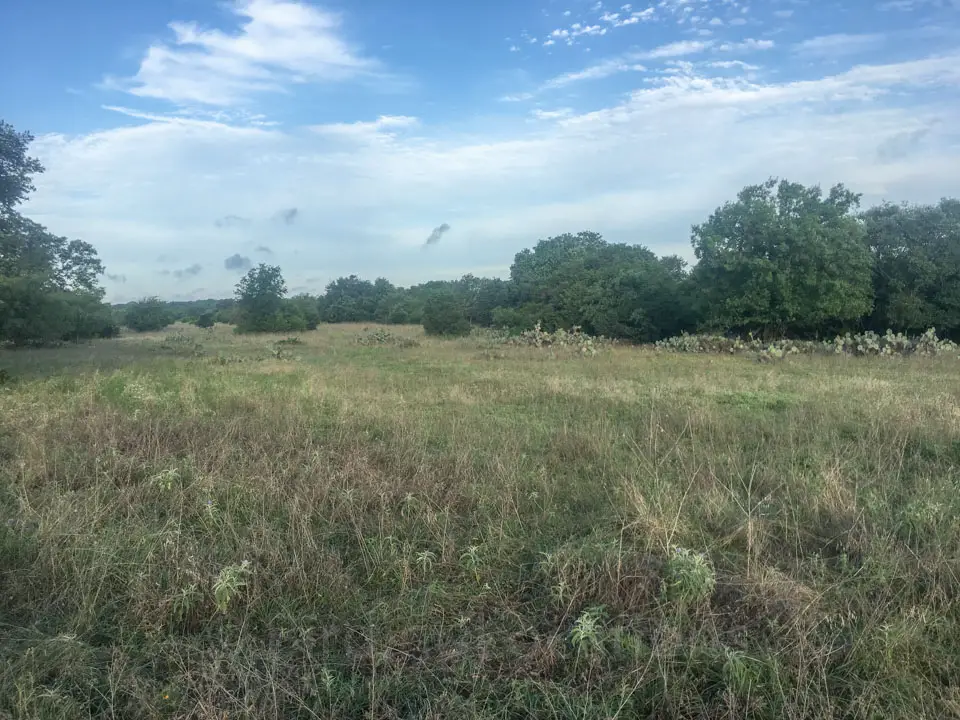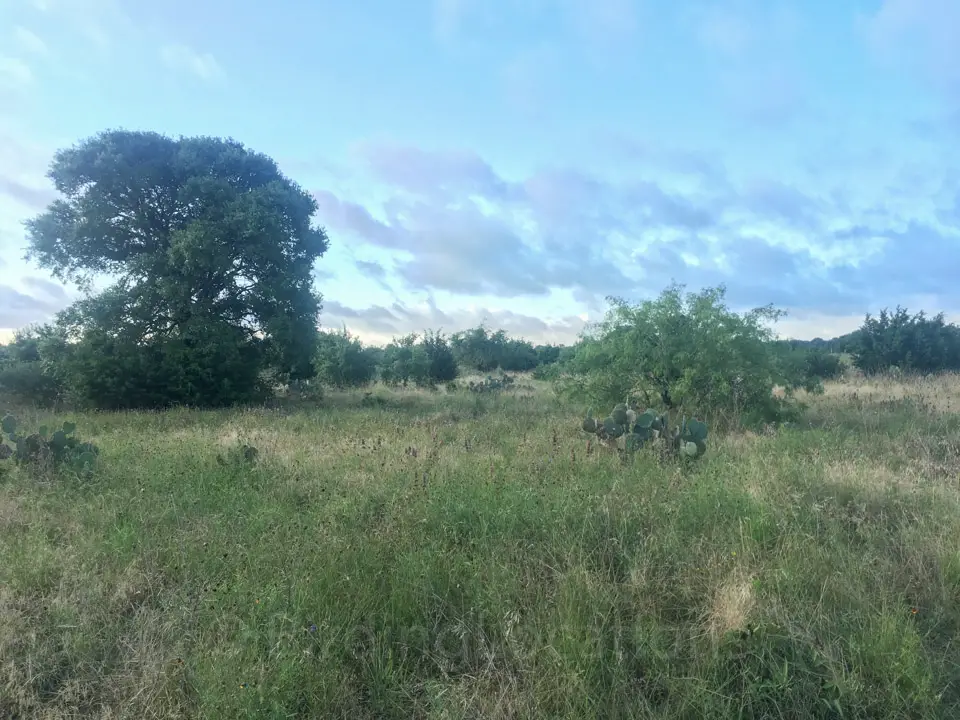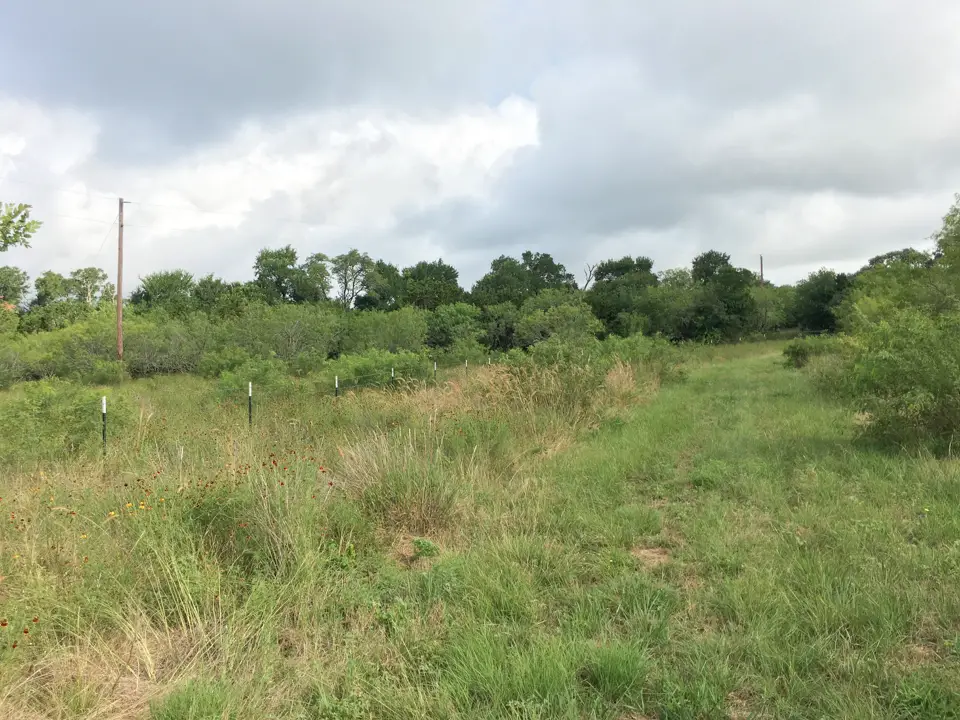 Where is the Easiest Place Near Me to See Painted Buntings?
Here are my recommendations for parks to search around the different major Texas cities. Remember, they're only here late April through October. You won't find any in the winter.
 Austin
Pedernales Falls S.P.
Hornsby Bend
Platt Lane
Webberville Park
Commons Ford Park
St. Edwards Park
Reimer's Ranch Park
San Antonio
Mitchell Lake Audubon Center
Medina River Natural Area
Friedrich Wilderness Park
Stone Oak Park
Government Canyon Natural Area
Houston
San Jacinto Battleground
Brazos Bend State Park
Wallisville Lake Project
Davis Estates Road
Dallas – Ft. Worth
Benbrook Lake
Cedar Hill S.P.
River Legacy Park
Lake Lewisville Environmental Learning Area (LLELA)
The Heard Museum
Oak Point Park
Joppa Preserve
Corpus Christi
Oso Bay Wetlands
(lacking eBird data, but should be easy in appropriate habitat before 9am)
McAllen
Estero Llano Grande State Park
Brush Line Road, plus many of the back county roads in the area.
The best way to find these birds is to get in good habitat, spend 30-45 minutes walking around and listening for the song. Get out early, and don't wait too late in the summer when they stop singing as often.
Now you are fully armed and ready to go find yourself some Painted Buntings!