Where would you guess birders spend the most time actively birding in Texas?
Would you guess the coast, with its barrier islands, abundant marshes, migration mega-hotspots, and shorebirds galore? Or maybe the Rio Grande Valley with its colorful tropical species, plus frequent rarities? Maybe you've got your thinking cap on, and realize that many people simply go birding right where they are, and you would guess that population centers have the greatest effect on birding frequency.
So what is the main influencing factor on where people bird in Texas? After looking at numbers from eBird and U.S. Census Bureau, it seems that predicting where birders spend their time comes down to three main factors:
1. Location of the top 5 population centers
2. The Coast
3. Opportunity for specialty/localized species
Where Texans Live vs Where the Birders Go
People tend to look at birds right where they are. It's one of the best parts of birding; you don't need to travel to see entertaining and interesting bird species. When you also consider how popular backyard bird feeders are, it's no surprise that most eBird checklists are submitted from where people live: the big cities. Higher population usually means higher numbers of reported bird sightings. But just how much weight does population have on statewide birding activity?
Take a look at the following list of the most populated areas in Texas. We'll look at counties rather than cities to help include major suburban population centers. We'll also just focus on the top 15 counties so we don't overwhelm ourselves with numbers.
County Rank by Population
(Largest city in each county included)
Harris County     (Houston)
Dallas County     (Dallas)
Tarrant County   (Ft. Worth)
Bexar County      (San Antonio)
Travis County     (Austin)
Collin County      (Plano)
Hidalgo County  (McAllen)
Denton County   (Denton)
El Paso County   (El Paso)
Fort Bend County (Sugar Land)
Montgomery County (Conroe)
Williamson County (Round Rock)
Cameron County (Harlingen)
Brazoria County (Pearland)
Nueces County (Corpus Christi)
Source: Texas-Demographics.com
The top five on that list probably don't surprise you. For even more clarity, check out the graph below to see how much discrepancy exists between just the top 15 Texas counties. The top 4 most populated counties really outpace all the others.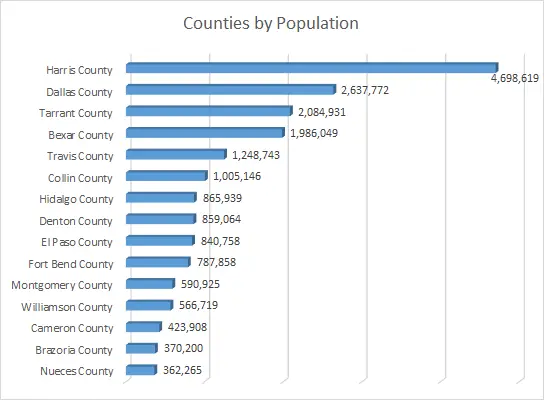 Now check out the top 15 counties ranked by number of eBird checklists submitted.
County Rank by Total eBird Checklists
Harris County
Travis County
Hidalgo County
Cameron County
Galveston County
Jefferson County
Bexar County
Nueces County
Tarrant County
Williamson County
Dallas County
Chambers County
Brewster County
Brazoria County
Aransas County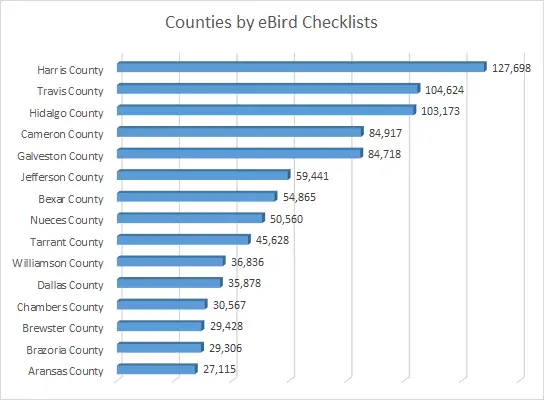 Not All Counties are Created Equal
When you start getting into the numbers and population figures, they reveal that birding in Texas is heavily biased in favor of big population centers.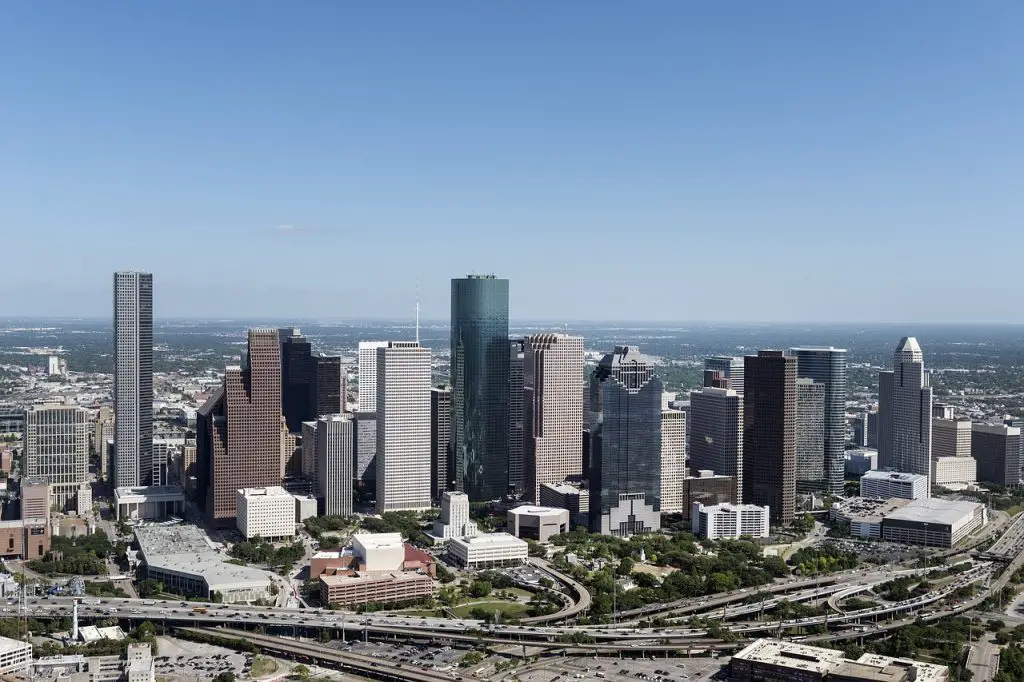 The top 15 counties by population account for 55.5% of all checklists. This means only 6% of the counties account for ~56% of all checklists in the state! Over half the birding in Texas occurs in the 15 most populated counties. If the earth suddenly opened up and swallowed the least populated 94% of counties in Texas, meaning only 6% of the land mass of Texas was left, over half the birding in the state would go on unaffected. (Just ignore the huge inland sea that would suddenly be created from this apocalyptic scenario.)
Another way to put things into perspective is this: the most heavily birded 15 counties are birded more than the other 239 counties combined. How's that for some geographic bias?
At first glance it may seem like big cities are getting all the birding glory. But then a quiet county with no large cities will put up huge checklist numbers and dethrone a top dog county of nearly two million residents. So what's the deal? What's really driving these birding numbers?
When Population Isn't Everything
Of the top six counties by population, four of them don't make the top six by eBird checklists. Apparently population isn't everything, and there's definitely not a one to one correlation between where people live and where people bird. The counties punching above their weight class and putting up huge checklist numbers are Hidalgo County, Cameron County, Galveston County, and from out of left field…Jefferson County.
Hidalgo and Cameron County, at the southern tip of the state, aren't surprising because that's prime Rio Grande Valley birding. Of course Altamia Orioles, Plain Chachalacas, and Gray Hawks are going to attract birders. This presents the idea that areas hosting stellar bird species are able to pull birders out of comfort of their own city. High profile species are a major factor in where birding happens in Texas. Brewster County in west Texas also reinforces this idea, but we'll talk more about Brewster in a minute.
The Pull of the Coast
Galveston County isn't a top 15 by population, but at number 5 in birding activity, it sure does well on the eBird Checklist rankings. What's its secret weapon? Two words: High Island.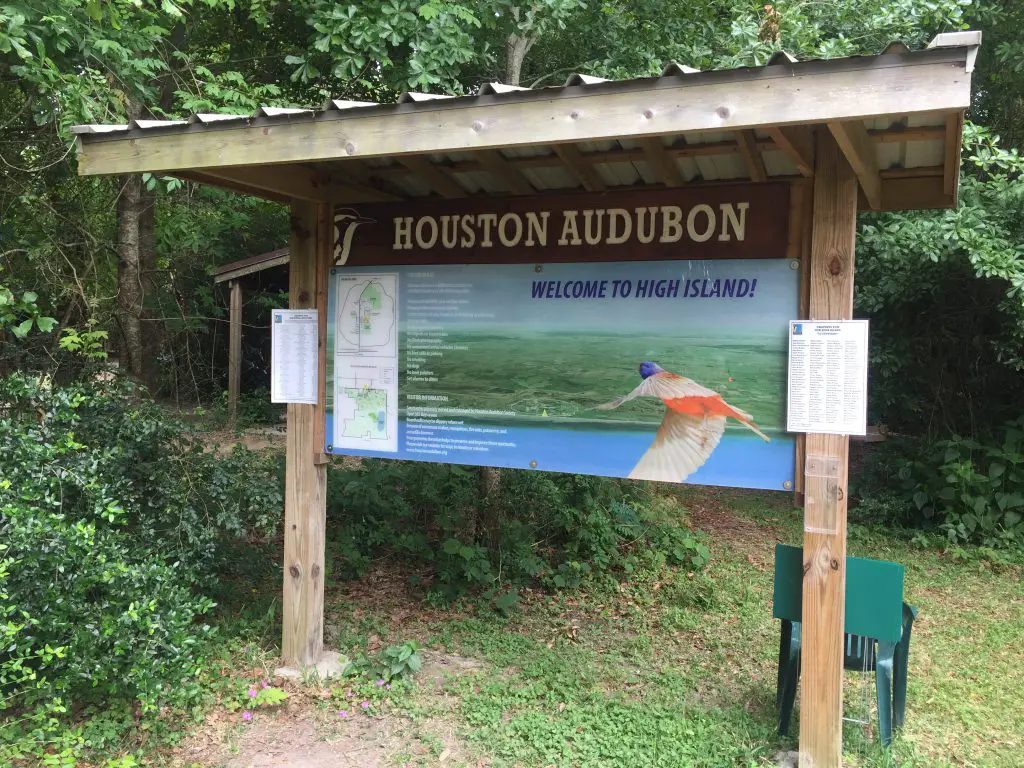 High Island is world famous, and does indeed attract birders from all over the world. On the global birding stage, High Island is Texas' A-List celebrity. When you add nearby Bolivar Flats, Lafitte's Cove, and Galveston Island State Park to the mix, it's easy to feel jealous of our Galveston County resident birders.
Jefferson County, just a few miles east of High Island, likely gets plenty of spillover from all the action in Galveston County. With hotspots like Sabine Woods, Sea Rim State Park, Tyrrell Park, and Texas Point National Wildlife Refuge, it's a great alternative to those that want a similar experience to High Island but without the crowds.
Galveston and Jefferson County teach us that coastal areas within an hour drive of a major population center are prime birding real estate. Top birding counties that re-enforce this idea are Nueces (Corpus Christi), Chambers (by High Island), Brazoria (just south of Houston), Aransas (Rockport near Corpus Christi), and even Cameron County (South Padre Island).
Irresistible Specialty Species
All counties in the top 15 by eBird checklists occur within an hour drive of a major population center. That is, all except one: Brewster County.
Welcome to west Texas. Home of the mountainous Texas sky islands, the summer monsoon season, and high temperatures with humidity so low they'll have you guzzling water like an old ranch truck guzzles gasoline.
Coming in at number 13 in the checklist rankings, Brewster County is a real oddity compared to the other top counties. While being by far the largest county in Texas by area, its population is less than 10,000. With .2% of the population in Harris County, that's like one large neighborhood in Houston. So how in the world does it manage to keep pace with the other top dog birding areas? Well, Big Bend National Park certainly has something to do with it.
Welcome to Big Bend National Park
The grandeur of Big Bend seems to be too much to ignore for most birders. Sure, for a few years you can ignore its distant calls of adventure, jaw dropping scenery, and west Texas species like Golden Eagle, Blue-throated Hummingbird, Elf Owl, and Colima Warbler. But given enough time, most birders can't help but pack up the car and head west.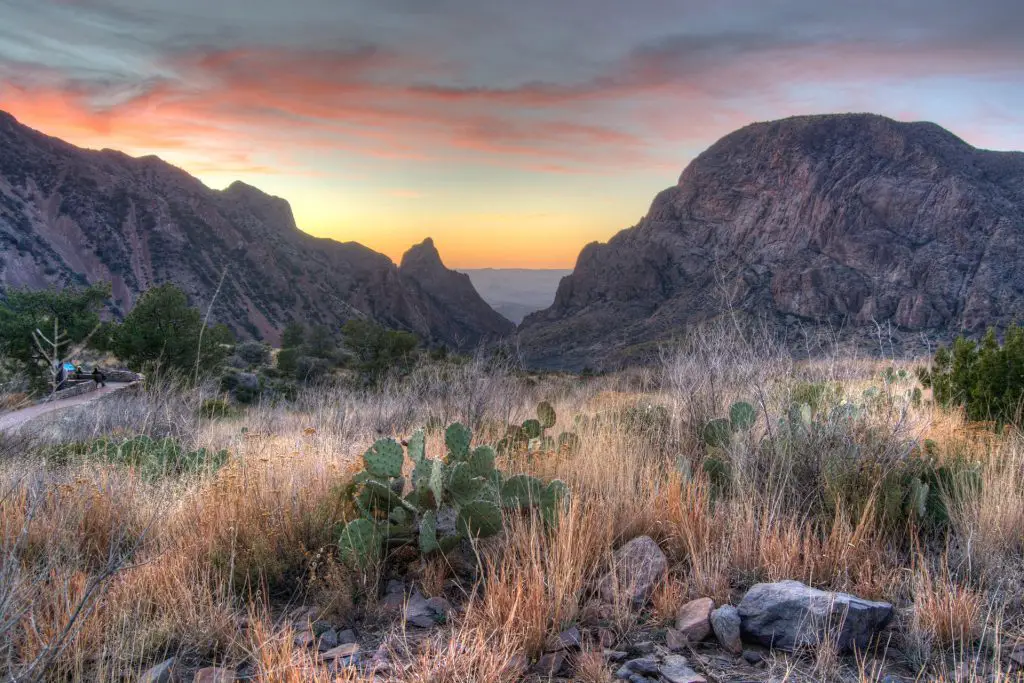 Big Bend actually has more recorded bird species than any other national park in the United States, including much more famous and highly visited parks like Yellowstone and Yosemite. It is the only publicly accessible location in the country to see the Colima Warbler, which nests at high elevations in the Chisos Mountains at the center of the park.
But even with Big Bend, how does Brewster County put up such high checklist numbers? How does it pull in that many birders?
For starters, it has the history past decades working in its favor. Big Bend has been a famous birding location for several generations now. Before the explosive population growth of Texas that has fueled recent birding in other areas, Big Bend has long been an area of interest for biologists. eBird shows the bulk of data beginning in the 1960s, although there is one entry from 1935 of a pair of Mexican Jays guarding a nest. Not many birding areas in Texas have as much documentation and notes dating back to the mid-60s like Brewster County. This head start has helped it remain a top birded county even today.
The Future of Texas Birding Distribution
In the 2010-2019 decade, Texas added more people than any other state, experiencing a larger population growth than at any point in its history. Texas has consistently grown in population every decade since the late 1800s, and really took off after 1940.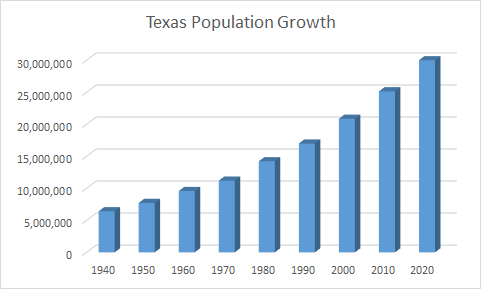 Growth in the past 10 years has been heavily concentrated around major metropolitan areas and currently shows no sign of slowing. So what does that mean for Texas birding in the near future?
As much of an impact that big cities currently have on where people go birding, their influence will continue to increase. Urban centers will continue to be more thoroughly birded, while most rural counties will continue to be severely underbirded.
Here are my predictions for the next decade, through 2029:
Harris County will remain the most birded county in Texas by eBird Checklists
Brewster County and Aransas County will drop out of the top 15 most birded counties
Collin County and Fort Bend County will enter the top 15
The current top 10 counties will go mostly unchanged in ranking, with at least 9 still in the top 10 in 2029.
As the state's major population centers continue to grow, they will have an even larger impact on birding frequency and distribution in Texas than today. The future of understanding state wide bird populations will increasingly depend on birders traveling to more rural counties. So next time you're sitting inside with a cold drink in your hands as you watch your backyard birds enjoying your feeders, remember to dream about far off back dirt roads, highways that only see one vehicle every 10 minutes, and all the birds flourishing in that undisturbed habitat, just waiting to be found by a birder just like you.