Texas officially has 19 documented species of hummingbirds. 
The two most common "types", or species, are the Ruby-throated Hummingbird and the Black-chinned Hummingbird. If you have hummingbirds at your feeder, there's a 99% chance it's one of those two.
Most Texans will only see between 1 and 3 species visit their feeders in a year. The other hummingbirds are most often found in far west Texas mountains, or far south Texas near Mexico.
Texas Hummingbird Species
Quick Comparison Guide
What hummingbird did you just see? Use the chart below as a starting point.
| Species | Breeding Locations |
| --- | --- |
| Ruby-throated | East of I-35. Dallas, Houston, east Austin. |
| Black-chinned | West of I-35 & I-37. San Antonio, Austin, Corpus Christi. |
| Buff-bellied | Within 75 miles of the coast. Common in south Texas. |
| Rufous | West, central, south Texas. Usually seen fall & winter. |
Female hummingbirds are difficult to identify, so it's best to leave those to the experts and only identify the males. Even many veteran bird watchers struggle with telling apart female hummingbird species.
Which Hummingbird Feeder to Use
A quick note on feeding these little birds, we recommend a more flat circular feeder like this one (Amazon link).
It's just as effective at attracting hummingbirds as any other feeder, but easier to clean quickly.
During hot summer months you should be cleaning feeders and replacing the sugar water every two to three days, so faster cleaning becomes a big deal. Especially if you have multiple feeders.
Avoid the color yellow on feeders as it tends to attract more bees.
Ruby-throated Hummingbird
Males show bright red throat
Shiny, iridescent green back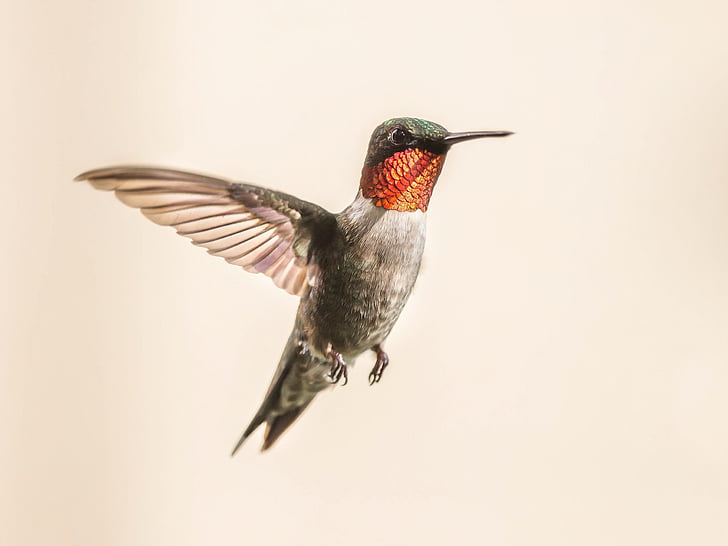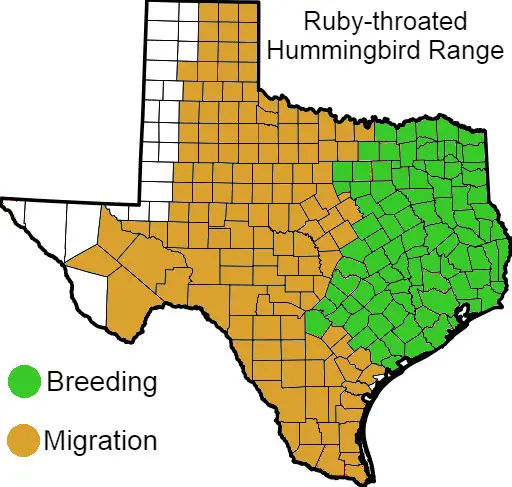 For residents of Houston, Dallas, and everywhere in between, this is your hummingbird.They're very common in north Texas and east Texas during breeding season.
To identify one, look for the shining ruby red on the throat when the sunlight hits it. The throat feathers (called a gorget) will appear black when direct light is not hitting them.
Ruby-throated hummingbirds bob their tails up and down occasionally when feeding, but not as persistently as Black-chinned Hummingbirds.
During migration periods, mostly April and September, Ruby-throats will stray further west. They appear in strong numbers in Austin and San Antonio during these months, and can move as far as the west Texas desert.
Black-chinned Hummingbird
Males show shining purple throat
Green back not as reflective as Ruby-throated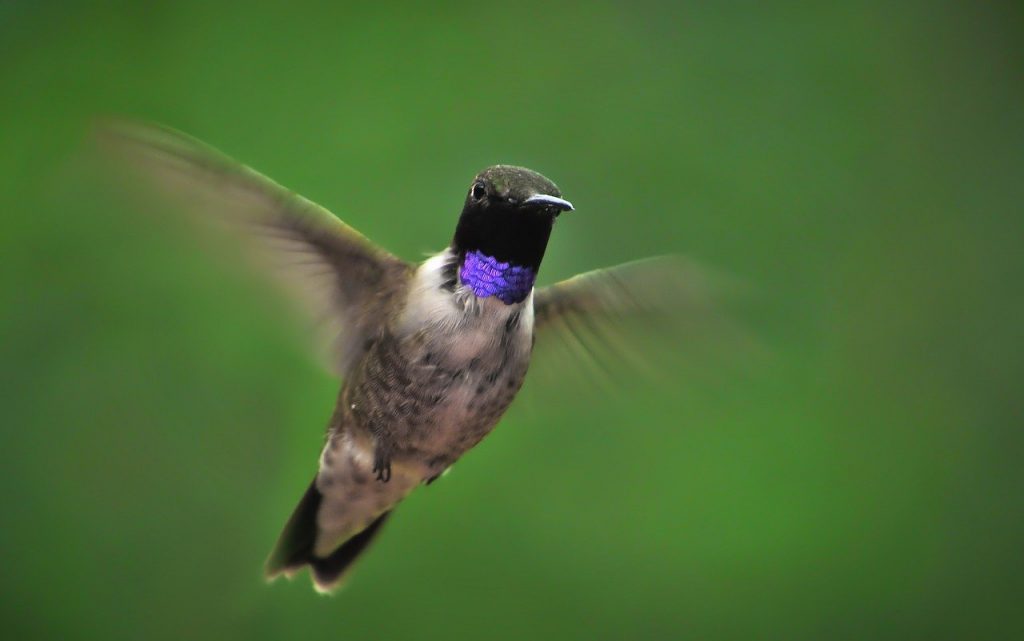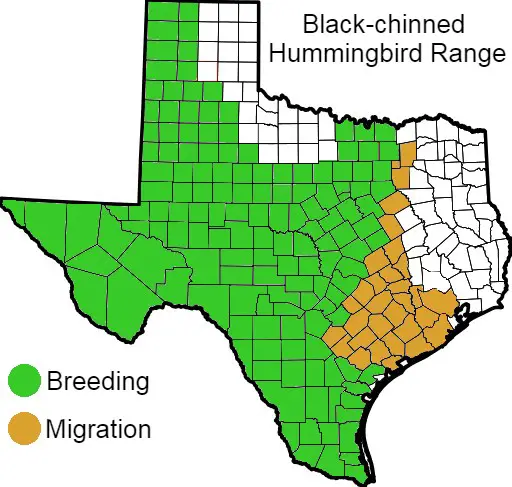 Residents of San Antonio, Austin, and Ft. Worth will have mostly Black-chinned Hummingbirds at their feeders. This species is common and widespread in the western half of the state.
Those in south Texas and central Texas may see an adult male Black-chinned Hummingbird show up as soon as early March. During fall migration they may linger as late as November.
Black-chinned Hummingbirds will also bob their tails while hovering, but not nearly as much as the Ruby-throats. 
Buff-bellied Hummingbird
Green head & red bill
Likes well shaded areas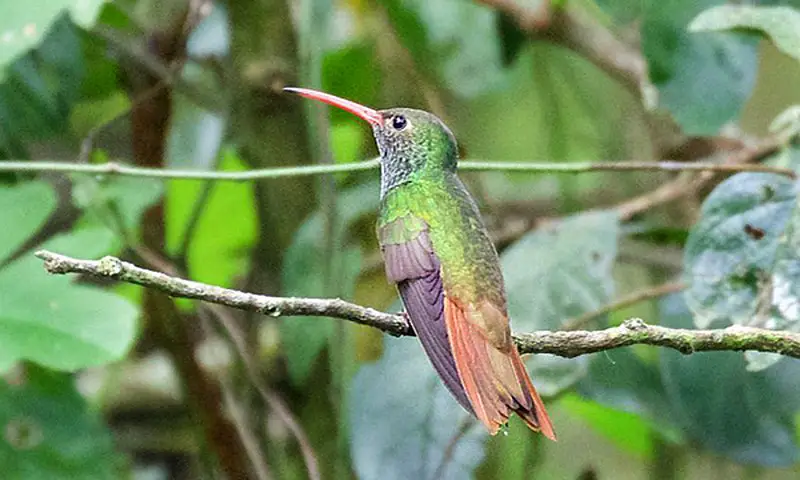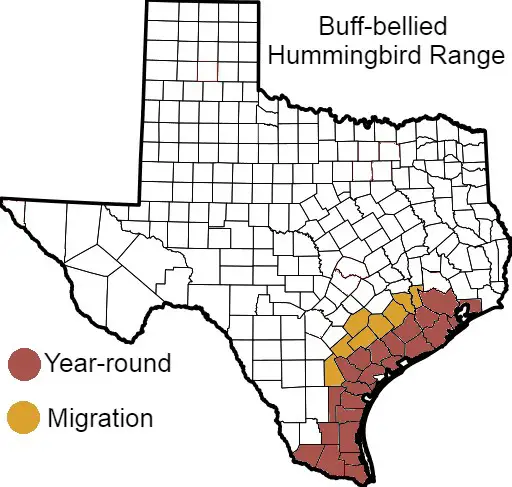 Buff-bellied Hummingbirds are almost always seen within 75 miles of the coast, and most common in the Rio Grande Valley at the southern tip of Texas. They're also seen semi-regularly as far east as Houston and into Louisiana.
You'll find these hummingbirds flying under groups of large trees, using the canopy as cover. They don't stray out in the open as often as Black-chinned and Ruby-throated Hummingbirds.
Rufous Hummingbird
Males show orange all over
Fall and winter visitor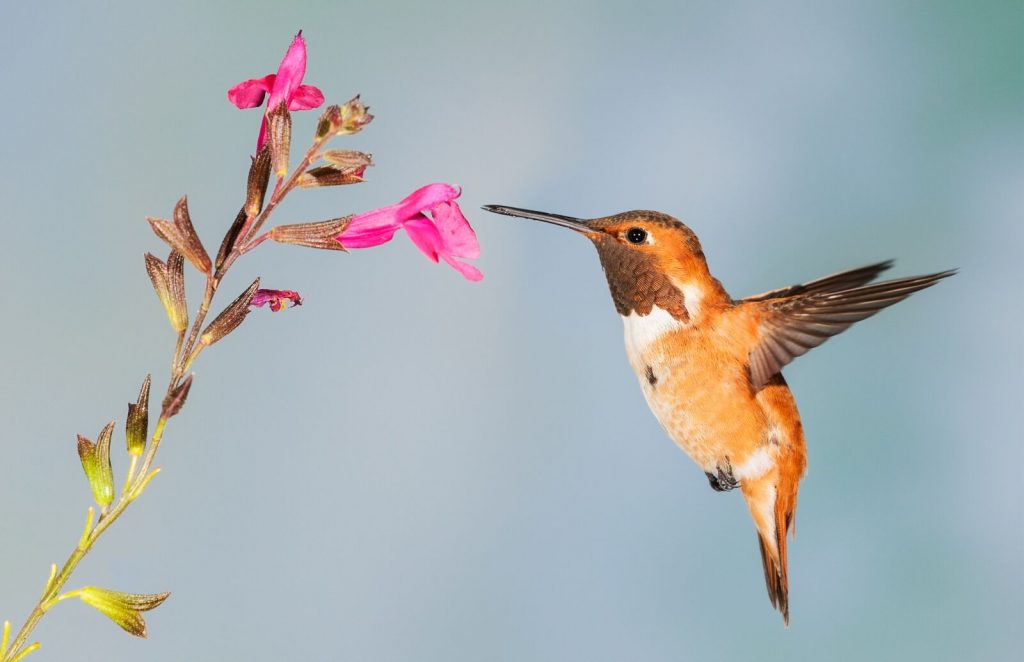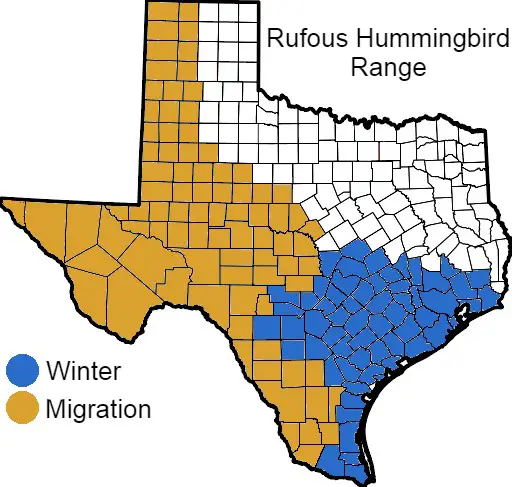 Rufous Hummingbirds can be seen anywhere in Texas, but are most common in the west, central, and coastal regions.
They're most noticeable during migration periods, with fall numbers being the most abundant. Some individuals will spend the winter in Texas, and will visit feeders left hanging through the cold months.
Allen's Hummingbird
Males show orange all over
Nearly identical to Rufous Hummingbird
Rare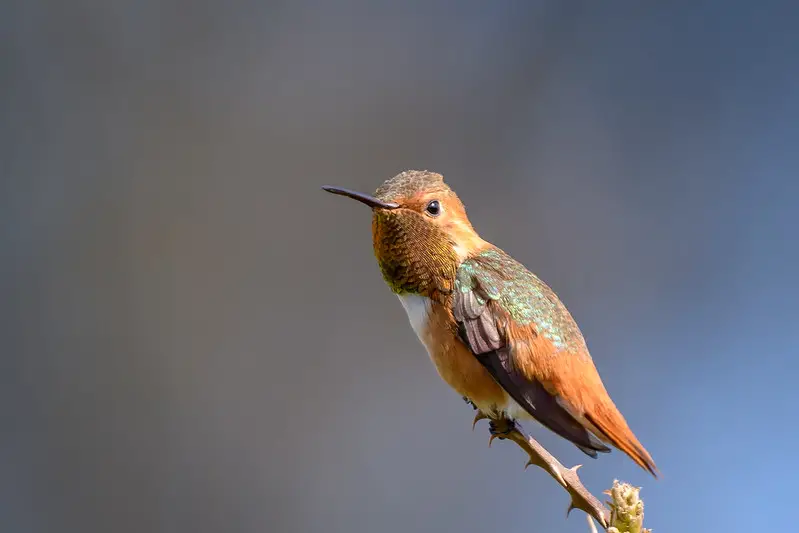 Closely related to the Rufous Hummingbird, Allen's Hummingbirds are mostly found along the west coast. California has tons of them.
Small numbers of Allen's Hummingbirds will stray Texas each year, anywhere from far west Texas all the way to Houston and south Texas. They're always rare, and some reports are just misidentified Rufous Hummingbirds.
Separating them from Rufous Hummingbirds requires clear photos of the individual tail feathers as they're spread out. The R2 tail feathers (adjacent to the center tail feathers) are visibly notched in adult Rufous Hummingbirds. Allen's R2 feathers are even along both edges, and nearly symmetrical.
West Texas Hummingbirds
In the desert of far west Texas is a special habitat called sky islands. They're small cluster of mountains that provide high elevation habitat, and they're great for attracting migrating hummingbirds. This is where most of the hummingbird diversity in Texas is.
The three big Texas sky islands are:
Chisos Mountains in Big Bend National Park
Davis Mountains just west of Fort Davis
Guadalupe Mountains along the New Mexico border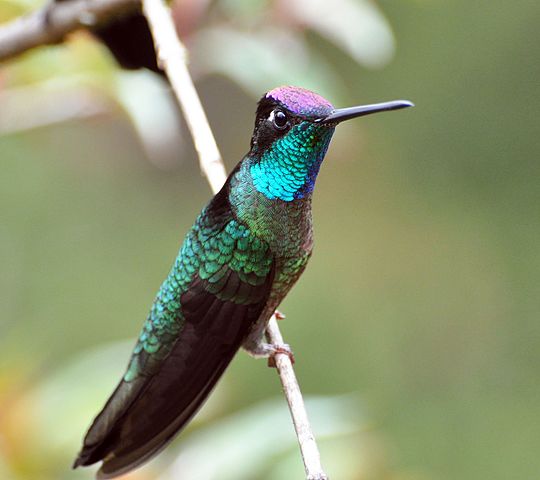 Rivoli's Hummingbird
Large hummingbird
Easiest to find in the Davis Mountains during fall
Name recently changed from "Magnificent Hummingbird"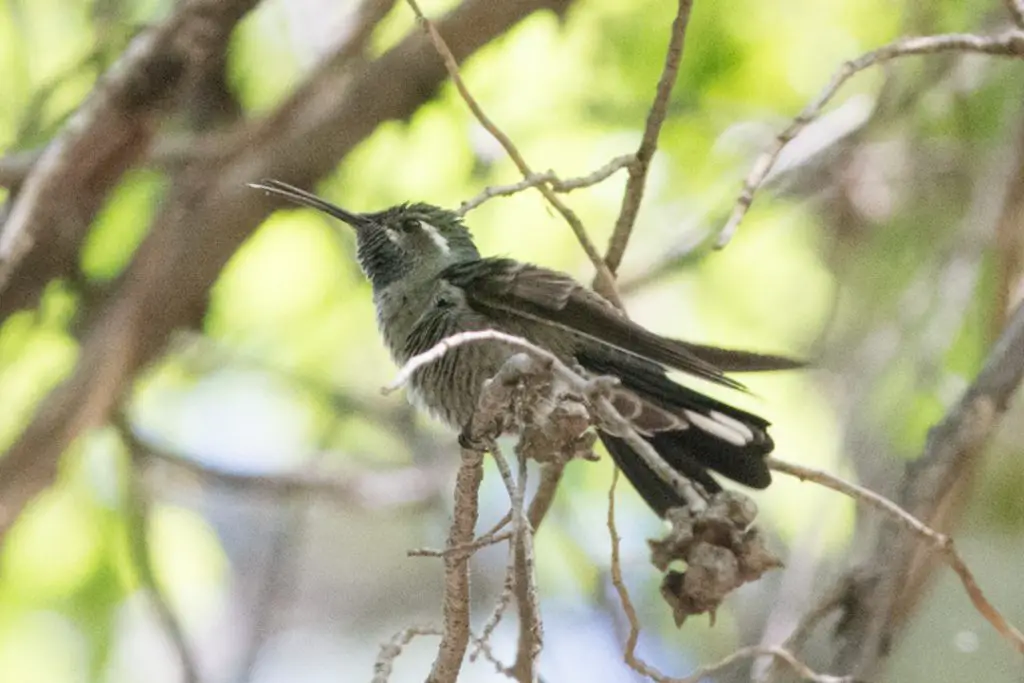 Blue-throated Mountain-gem
Largest Hummingbird in North America
Most often seen in Big Bend N.P.
Breeds in Texas
Name recently changed from "Blue-throated Hummingbird"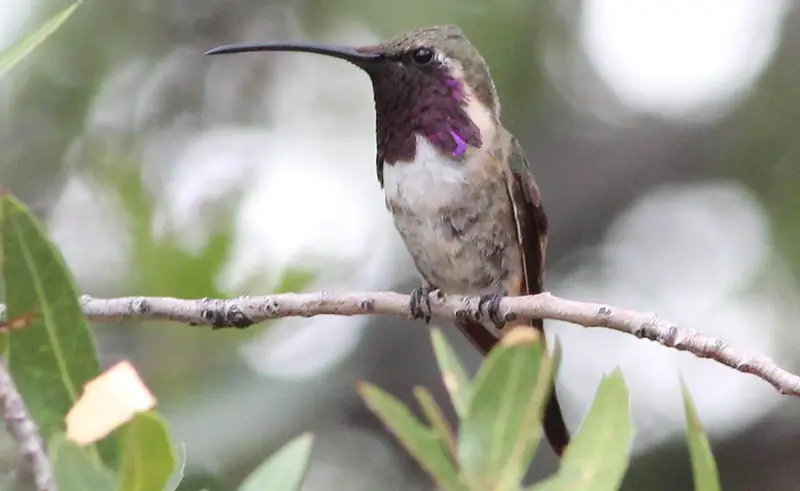 Lucifer Hummingbird
Mostly in the Chisos & Davis Mountains
Can be found at lower elevations
Breeds in Texas
photo by Gary Leavens
Anna's Hummingbird
Fall & winter visitor
Sightings are uncommon and scattered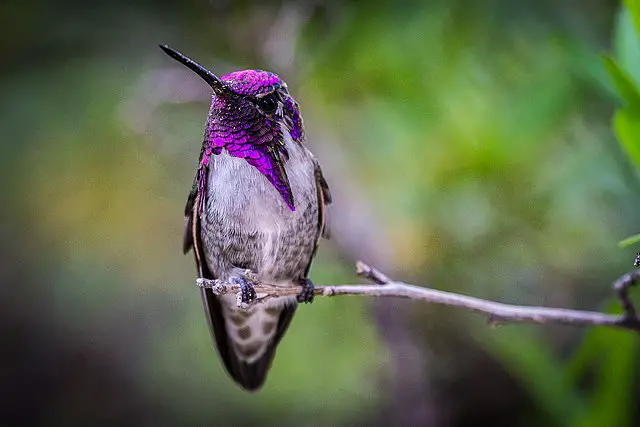 Costa's Hummingbird
Fall rarity
Most sightings in Big Bend & El Paso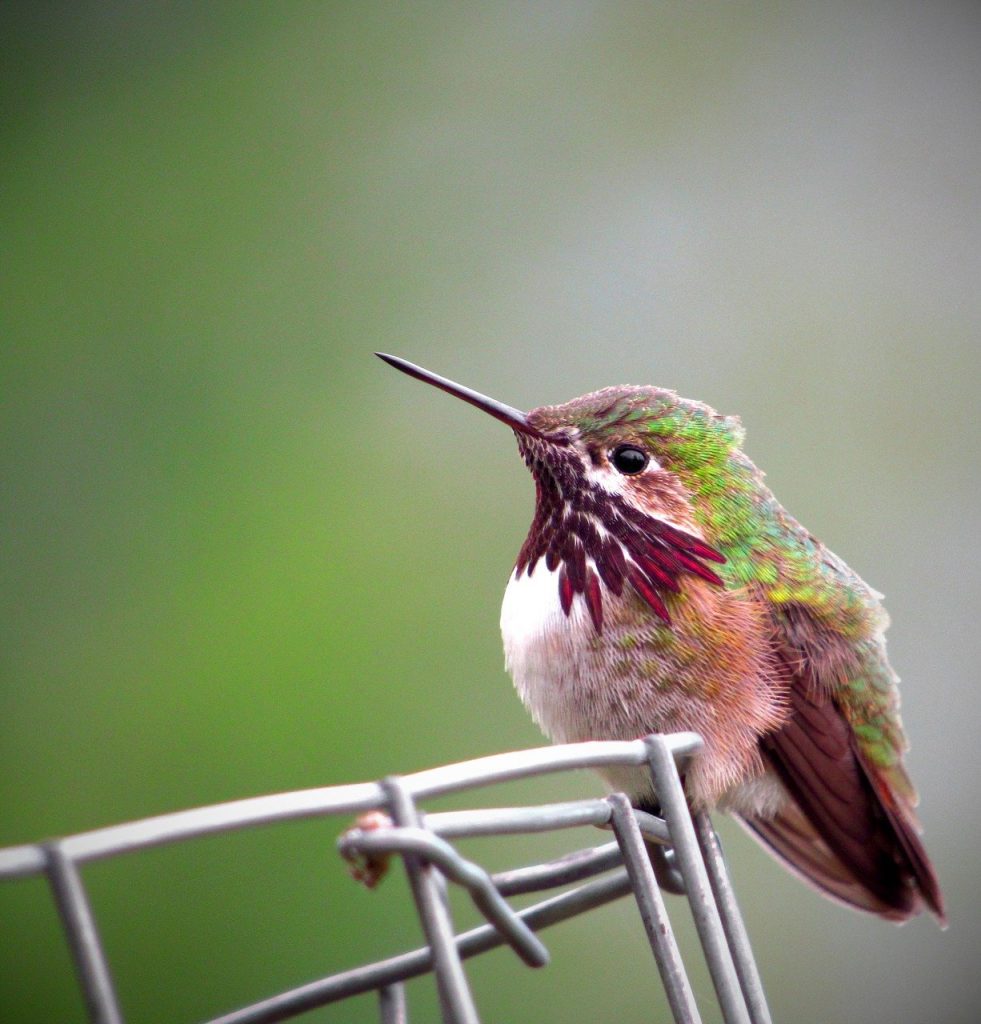 Calliope Hummingbird
Smallest hummingbird in North America
Fall migrant – Late July through October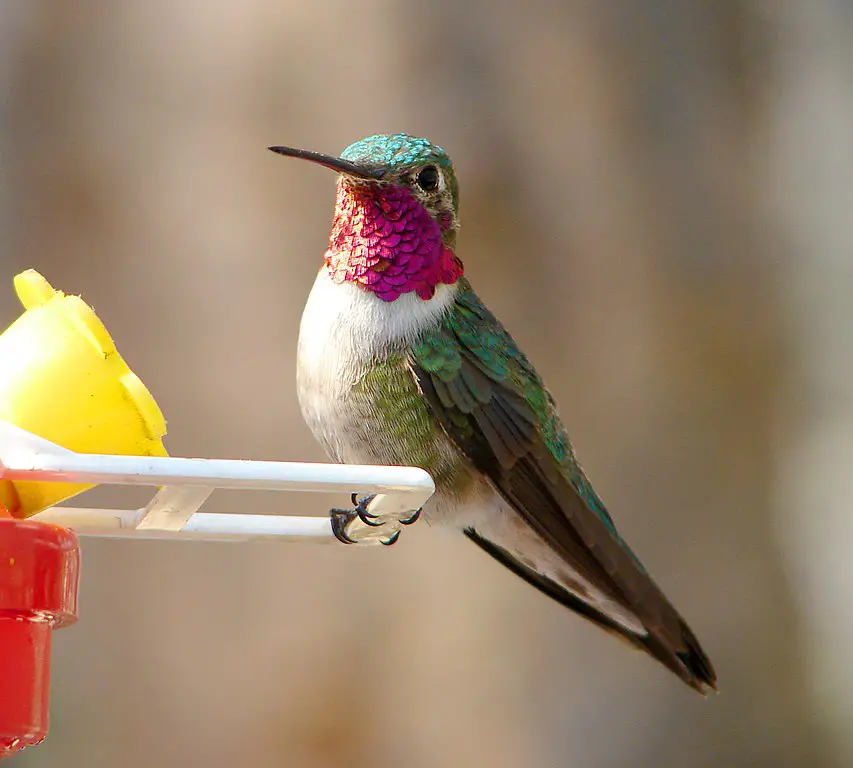 Broad-tailed Hummingbird
Present year-round, except January – February
Most abundant July through October
Small numbers winter in central & coastal Texas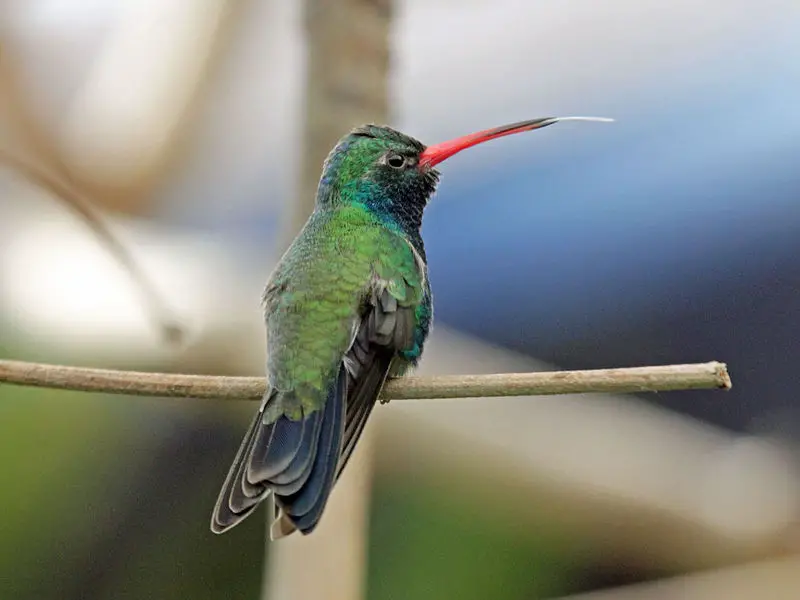 Broad-billed Hummingbird
Rare fall & winter visitor
Davis Mountains have the most sightings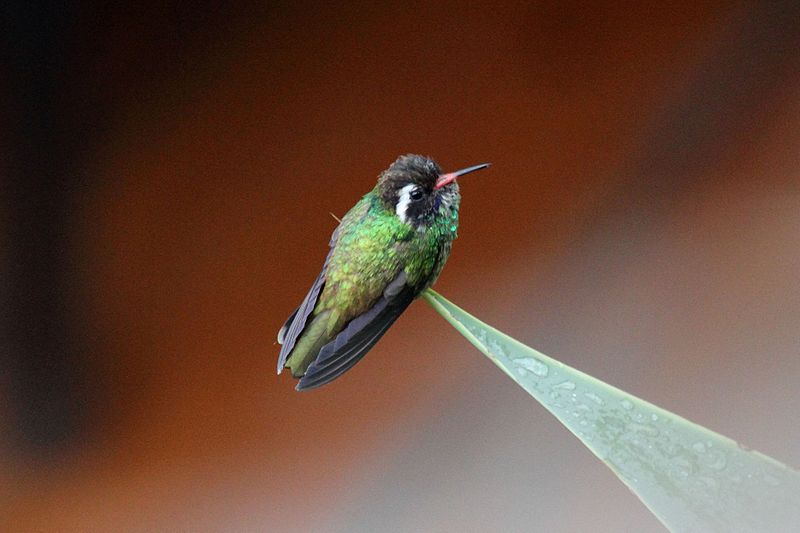 White-eared Hummingbird
Rare visitor in July – August
Restricted to mountain habitat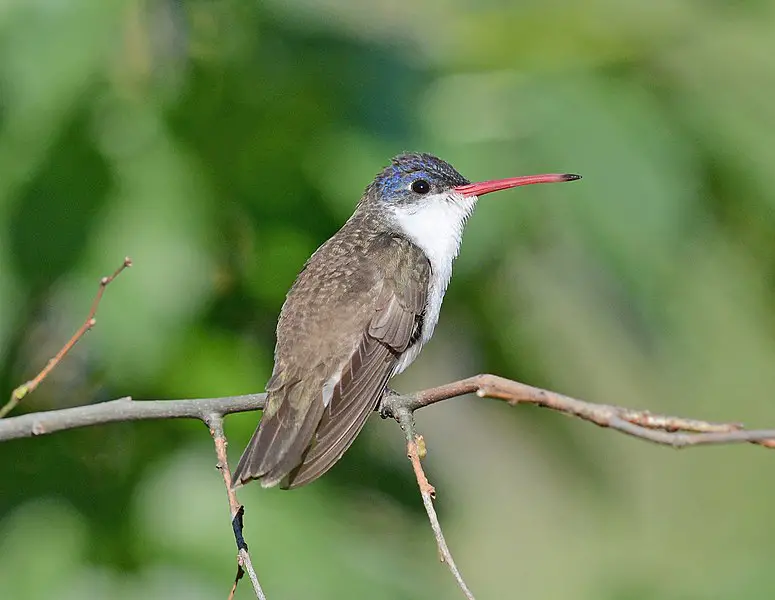 Violet-crowned Hummingbird
Rare visitor July – December
Most records in the Davis Mountains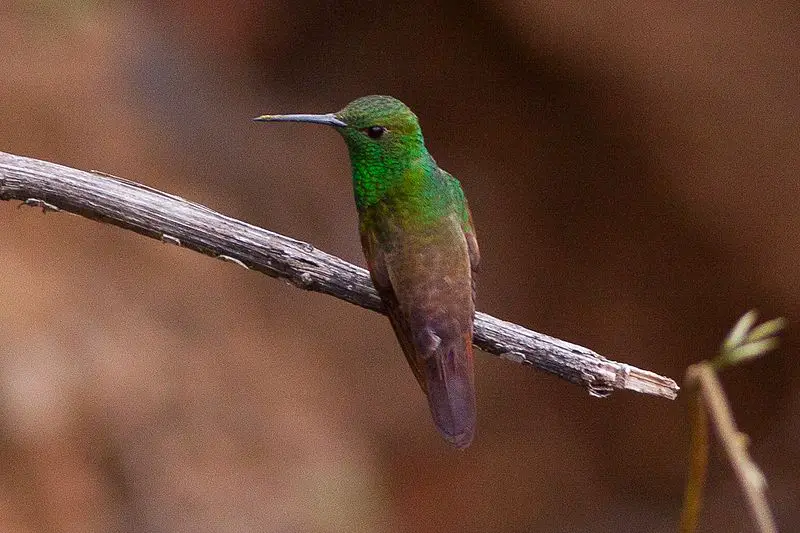 Berylline Hummingbird
Fewer than 5 Texas records exist
Restricted to mountain habitat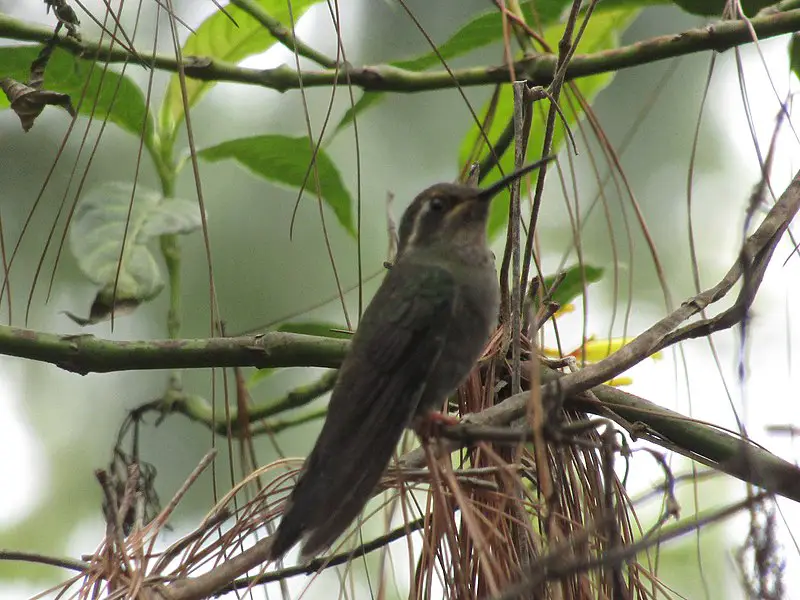 Amethyst-throated Mountain-gem
Only one Texas record exists
Seen October 2016 in the Davis Mountains by the Cornell Lab Feeder Cam
The Davis Mountains are generally the go-to place for birders wanting to see hummingbirds.
Mid to late August is the time to go. Publicly accessible hummingbird feeders are located at the McDonald Observatory, and the Davis Mountains State Park. The Nature Conservancy property also has feeders, and is open to the public every second weekend of August.
South Texas
The sub-tropical climate and habitat of the Rio Grande Valley will sometimes pull in tropical species not normally found in the United States. It's very possible that more tropical hummingbirds in Mexico will wander into Texas in the coming decades and add to the species list.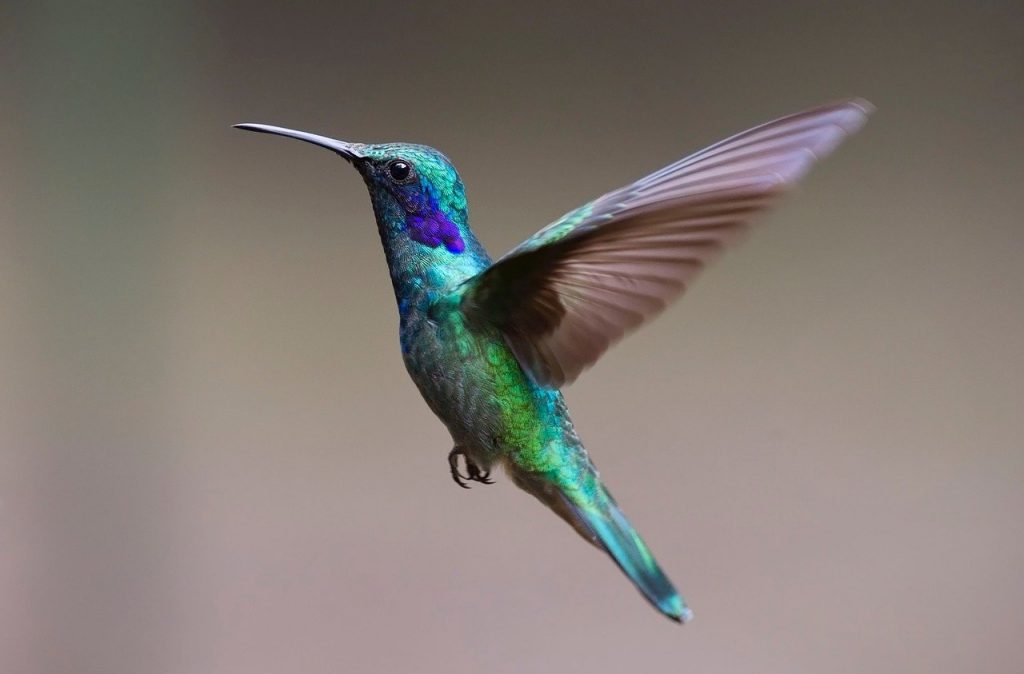 Mexican Violetear
Summertime rarity
Less than 1 sighting per year statwide
Green-breasted Mango
Fewer than 10 state records
Fall & winter rarity
When to Hang Your Feeder
Excited to see some hummingbirds? Use this Hummingbird Timing Guide to perfectly time your feeder hanging based on where you live in Texas.
It will tell you when to hang your feeder in the spring to be ready for the first hummingbird, and when to take it down in the fall without removing it too early. It even let's you know which regions can keep feeders up during winter months to attract Rufous and Buff-bellied Hummingbirds.