Fort Worth, Texas is along the Central Flyway, a bird migration route that runs through the United States from Mexico to Canada. This makes Fort Worth a great place to see birds during the fall and spring migration. 
If you are planning a trip to Fort Worth, check out one of these great birding spots.
The Best Fort Worth Birding Hotspots:
Village Creek Drying Beds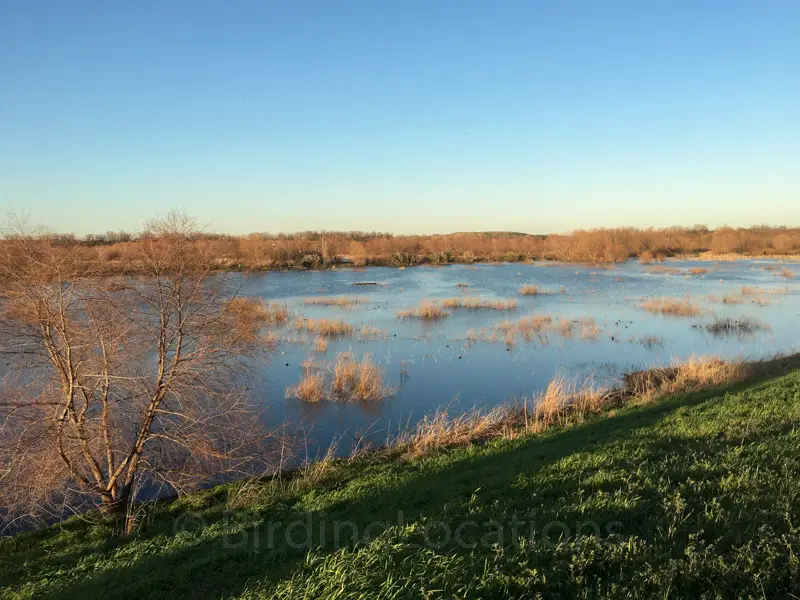 Where: 1500 NW Green Oaks Blvd, Arlington, TX 76012
Hours: 7:30am – 4pm
Cost: Free
The Village Creek Drying Beds in Fort Worth was originally used as a water reclamation site, and now provides wetland habitat for many bird species. The drying beds are beloved by birders in North Texas, with many areas within to explore. 
Although there is parking inside the property, the Fort Worth Water Department may close or open the gates at any time. To avoid this, some birders choose to park at the J.W. Dunlop Sports Center, and walk across Green Oaks Blvd. to the Beds. 
The entrance of the Drying Beds is heavily wooded, and is a great path (blue on above map) to see small songbirds. Peak through the trees to see secretive water birds, like ducks and grebes, in the shallow pond on the left.
Exciting species to see on the blue path:
Nashville Warbler
Lark Sparrow
Northern Flicker
Savannah Sparrow
Yellow Warbler
White-eyed Vireo
Sedge Wren
Wilson's Warbler
Yellow-rumped warbler
There is also a red-shouldered hawk pair that returns to their nest each year (light blue dot on map). The nestlings are best seen in the last few weeks of May. The large nest is in the fork of a large eastern cottonwood tree, about 25 or so feet high.
Use the purple path to see the Great Horned Owl nest in late March to early April (pink dot on map). Visit before the trees grow their leaves and block the amazing view.
Look for the Great Blue Heron rookery in the woods, and you will see an extra-large nest, occupied by the Great Horned Owl and her large, fuzzy chicks. 
The orange path is open with few trees, and many hawks can be seen along with birds that land on the telephone wires for our viewing.
Species to look out for on the orange path:
Wilson's Snipe
Savannah Sparrow
Eastern Meadowlark
American Kestrel
Painted Bunting
Indigo Bunting
Vesper Sparrow
Scissor-tailed Flycatcher
Dickcissel
Loggerhead Shrike
Cooper's & Sharp-shinned Hawk
And during some years, the rare vermillion flycatcher can be seen in October.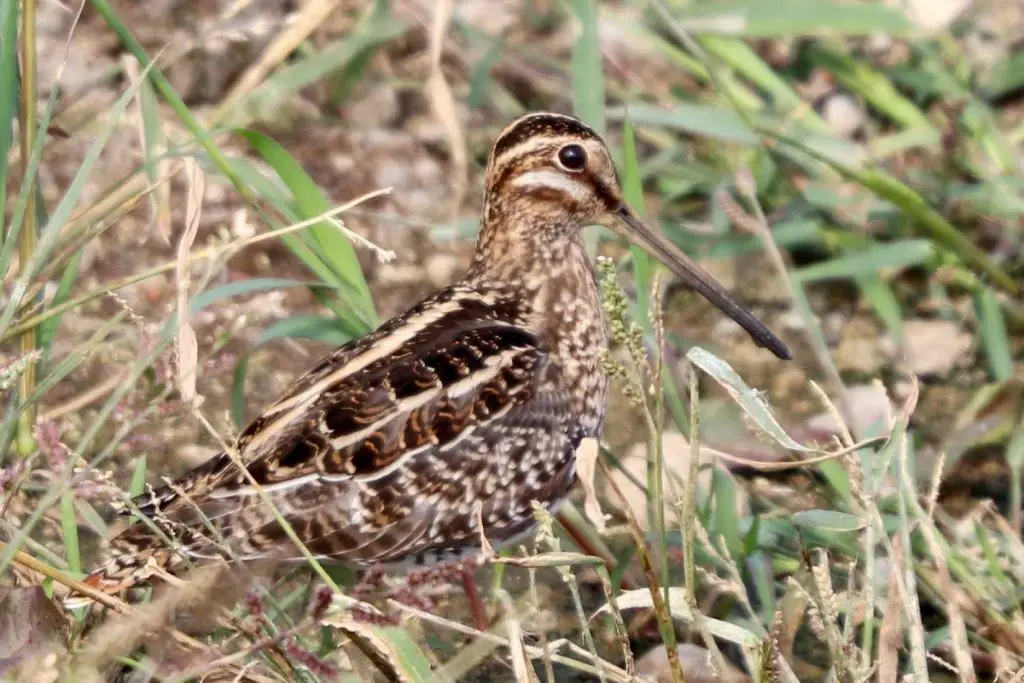 In the winter months, the largest ponds in the front host many duck species. These birds can best be seen on the orange path, or on the grid trails that branch left and right. Blue-winged Teal, Wood Duck, Northern Pintail, Northern Shoveler, Gadwall, and Bufflehead can be found in the ponds. Northern Harriers fly low over the ponds, unlike most other hawks. 
Migratory shorebirds are found in the ponds and along the water's edge, and large groups of White-faced Ibis reside here during the winter. Least Sandpipers, Black-necked Stilts, and Lesser and Greater Yellowlegs are also common at the drying beds. 
Next to the Village Creek Drying Beds is River Legacy Park. If you have time, definitely stop by. There are many birds that overflow from the Beds into the park and the surrounding trail system, making it another great birding hotspot. 
Summer Tanagers, Song Sparrows, Brown Thrashers, Baltimore Orioles, and several warbler species can be found in the woodland park. The River Legacy Park south entrance is located at 701 NW Green Oaks Blvd, Arlington, TX 76006.
Benbrook Lake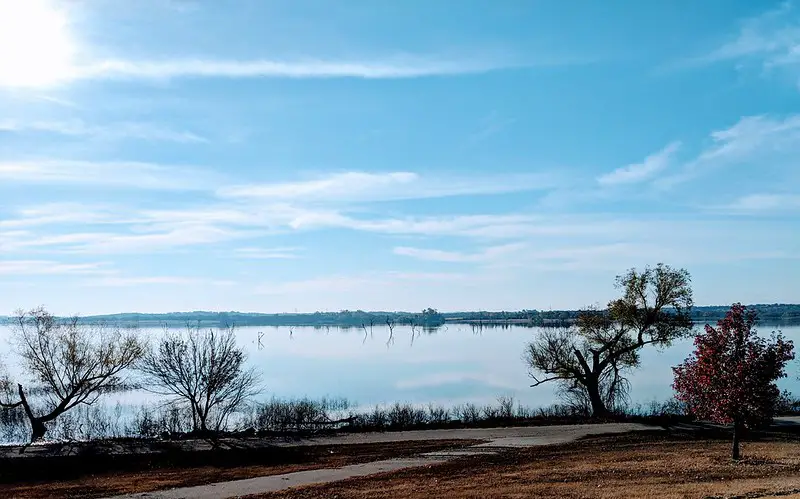 Benbrook Lake is a large lake south of Fort Worth, and operated by the U.S. Army Corps of Engineers, with two main birding hotspots. Migratory shorebirds, sparrows, and hawks make this lake a high quality destination.
North Holiday Park on Benbrook Lake
Where: 400 Lakeview Drive, Benbrook, TX 76126
Hours: 6am – 9pm
Cost: $5 per vehicle day-use pass via a pay station.
Detailed directions at the North Holiday Park website.
Winter is the best time to see shorebirds at Benbrook Lake. On the water's edge, look for mixed species such as sandpipers, Osprey, Marbled Godwit, Forster's Tern, and Bonaparte's and Franklin's Gull. 
Some birds hang out in the parking lots and grassy medians, such as American Pipit, Eastern Meadowlark, and mixed flocks of shorebirds. Birders also visit Holiday Park to try for Merlin and Peregrine Falcon.
Mustang Park on Benbrook Lake
Where: 3600 Winscott Plover Road, Fort Worth, TX 76126
Hours: 6am – 9pm
Cost: $5 per vehicle day-use pass via a pay station.
Detailed directions on Mustang Park Website
Mustang Park is on the south end of Benbrook lake, and offers shorebirds, ducks, migratory songbirds, and occasional raptors.
Look closely at the sandpipers, there may be many species within a flock! Sanderlings and least, pectoral, and buff-breasted sandpipers can be seen on the rocky edge of the water.
Blue-winged and Cinnamon Teal, Osprey, American White Pelicans, and an occasional Horned Grebe can also be found by the lake. 
On the trails, songbirds such as Painted Buntings, Vesper Sparrow, Blue-gray Gnatcatcher, Field Sparrow, and Harris's Sparrow are found within the trees or on the path itself. 
Fort Worth Nature Center and Refuge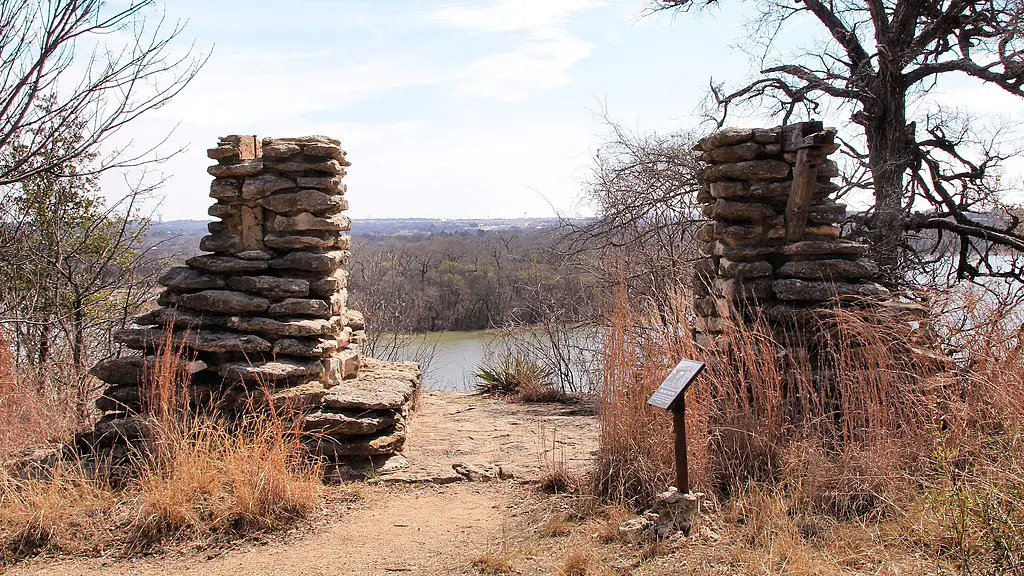 Where: 9601 Fossil Ridge Road, Fort Worth, TX 76135
Hours: 8am-5pm
Cost: $6 for adults and $2 for children
The Fort Worth Nature Center and Refuge (FWNC&R) is a large wildlife refuge composed of prairies and cross timbers savannah, and features a wide range of songbirds, shorebirds, ducks, and raptors.
The refuge is north of Fort Worth on Lake Worth, and is a great place to visit all-year round. 
Belted Kingfishers, Canvasback, Northern Pintail, American Wigeon, and many other water birds reside along the marshes, streams, and paddling trails. Don't be surprised to see small to medium sized American Alligators swimming in the marshes.
Along the wooded trails, look for Painted and Indigo buntings, Northern Parulas, Barred Owls, Pine Warblers, Fox Sparrows, and White-throated Sparrows. More sparrows and songbirds can be found near the herd of bison, off of Buffalo Road.
Some rare species at the FWNC&R include the Prothonotary Warbler and Pileated Woodpecker, which is often heard before it is seen. Trail maps and driving directions can be found on the FWNC&R website.
Colleyville Nature Center
Where: 100 Mill Wood Dr, Colleyville, TX 76034
Hours: 6:30am-9:30pm
Cost: Free
The Colleyville Nature Center is a beautiful, wooded park nestled within a neighborhood. It's located northeast of Fort Worth, and is a popular stop-over site for migratory warblers. 
During fall and spring migration, many colorful species can be seen at the Colleyville Nature Center. Warblers seem to gravitate towards the tree mottes next to the Long Pond. Listen for the sounds of backyard birds, such as a chickadee call, and you may find a warbler hanging out with them!
Migratory birds found at Colleyville Nature Center early to mid May:
Yellow Warbler
Wilson's Warbler
Nashville Warbler
Canada Warbler
Black-and-white Warbler
Bell's Vireo
Common Yellowthroat
Great Crested Flycatcher
Black-throated Green Warbler
Warbling Vireo
The Friends of Colleyville Facebook group has named a portion of the park "Owl Woods", due to the Eastern Screech-Owls and resident Barred Owls that raise chicks within a large tree each year. Owl Woods is located in the wooded area between the Angler's Pond and Peaceful Pond.
Before leaving Colleyville, you may want to visit Sparger Park, which is about 5 minutes from the Nature Center and often has many rare birds. The park is located at 4301 Bedford Rd, Colleyville, TX 76034.
Migratory and winter birds seen at Sparger Park:
American Redstart
Mourning Warbler
Chestnut-sided Warbler
Magnolia Warbler
Bay-breasted Warbler
Blackburnian Warbler
Orchard Oriole
Gray Catbird
Blue-headed Vireo
Golden-crowned Kinglet
Grapevine Lake

Grapevine Lake features 3 main birding hotspots:
Oak Grove Park
Meadowmere Park
Bob Jones Nature Center
Oak Grove Park on Grapevine Lake
Where: 2520 Oak Grove Loop S, Grapevine, TX 76051
Hours: 7am – 9pm
Cost: $5 per vehicle
Oak Grove Park is located right on Lake Grapevine, making it a picturesque place to go birding. Once inside the park, walk along the lake, inlets, and field area with picnic tables. 
Belted Kingfishers, Forster's Terns, Least Terns, Willet, White-faced Ibis, American Avocets, and herons will be located close to the water. 
There can be lots of diversity in sandpiper flocks, so you will want to look closely to tell the differences between Semipalmated, Least, Pectoral, and Baird's Sandpipers. If you are in need of shorebird diversity, you will find it here!
Some years, Ruddy Turnstones and Red-breasted Mergansers can be seen at the park.
The open field next to the lake supports migratory species like Savannah and White-throated Sparrows, Yellow-headed Blackbirds, Barn Swallows, and many residential Eastern Bluebirds. 
On the wooded trails look for American Redstarts, Common Yellowthroats, and other warblers such as Wilson's, Black-and-white, Yellow, Canada, and Yellow-rumped. 
Meadowmere Park on Grapevine Lake
Where: 3000 Meadowmere Lane Grapevine, Texas 76051
Hours: 8am – Dusk
Cost: $5 per vehicle
Meadowmere Park is also on Grapevine Lake, and definitely worth a visit. It is located at 3000 Meadowmere Ln, Grapevine, TX 76051.
Birds to look for at Meadowmere:
Forester's Tern
Bald Eagle
Brown Thrasher
Blue-headed Vireo
Spotted Towhee
Nashville Warbler
Gray Catbird
Bob Jones Nature Center at Grapevine Lake
Where: 355 E Bob Jones Rd, Southlake, TX 76092
Hours: 7am – 8pm
Cost: Free
Lastly, the Bob Jones Nature Center & Preserve is a beautiful spot to relax and see some stunning birds. The center has bird feeders and pollinator gardens, and is located next to Grapevine Lake.
There are plenty of backyard birds that call the center home, but migration is truly the best time to visit. Some interesting bird species to see during the spring and fall:
Yellow Warbler
Nashville Warbler
Wilson's Warbler 
Great Crested Flycatcher
Red-eyed Vireo
Yellow-breasted Chat
Painted Bunting
Golden and ruby-crowned kinglet
During September and early October,  when hummingbirds are most active before migration, you can expect to hear many squeaking and swooping around your head.  
Honorable Mentions 
Pecan Valley Park is north of Lake Benbrook, and can be another interesting stop if you are already visiting the lake.
Also, Viridian Lake and beach located near the River Legacy East Entrance has become a popular birding location despite the housing developments.