Whooping Cranes are one of the most endangered animals in North America, and spend the winter months on only a thin stretch of coastline in Texas. The good news is their numbers have slowly been rebounding in past decades, making it easier than ever to see one in the wild.
Every winter Whooping Cranes migrate from their breeding grounds in Canada to the central Texas coast, where they spend at least 5 months. Because they return to the same areas each year, finding them can be surprisingly easy if you know where to look.
The best places to see Whooping Cranes in Texas are Aransas National Wildlife Refuge and Goose Island State Park near Big Tree. They're present in strong numbers from mid-November to late March. Boat tours out of Rockport and Port Aransas are the best way to get close up views, which cost between $85 and $112 per person.
The cranes feed in shallow marshes with brackish water, with crabs being their favorite food. When searching for cranes, avoid open sandy stretches of beach. That's good habitat for small shorebirds, but you won't find any Whoopers there.
When is the Best Time to see Whooping Cranes?
Technically Whooping Cranes can be seen on the central Texas coast as early as late October some years, and as late as late April. But it's best to wait until all the cranes have flown in from Canada during the fall, and then search for them before they begin to migrate north in late March.
The best time to see Whooping Cranes in Texas is late November through mid March. This is when all ±500 cranes are expected to be on their wintering grounds along the coast, maximizing your chances of seeing one. They're active throughout the day, although mornings are best for general bird watching and wildlife viewing.
Aransas National Wildlife Refuge
This refuge is huge, with an abundance of marshy habitat that attracts cranes. Luckily, the Whooping Cranes have favorite feeding spots they constantly return to, which makes finding them much less time consuming.
The best places in Aransas NWR to search for Whooping Cranes are Heron Flats Trail and the Wildlife Observation Tower. Heron Flats typically offers closer views, so check there first. The expansive marshes seen from the observation tower are a reliable spot, but the cranes here are usually only viewable from a great distance.
Any wet grassy area in the refuge could potentially have cranes. They're sometimes also seen flying overhead, especially in the evenings. Be sure to separate them from the more common Sandhill Cranes.
Goose Island State Park
The main section of this park rarely has Whooping Cranes, so don't head for the headquarters building. In fact, you don't even have to pay to get to the good crane spot here.
The best spot to see Whooping Cranes at Goose Island State Park is in the open grassy field directly across from Big Tree. Follow signs along State Park Road 13 toward Big Tree. The cranes aren't here at all hours, but multiple will visit this field on a daily basis.
The field isn't very large, but that makes it easy to drive around and check for cranes. This is also a decent place to try for photos if you have a good zoom camera.
Seeing Whooping Cranes by Boat
Viewing Whooping Cranes by boat is by far the most exciting and memorable way to view these birds. You'll see more total cranes this way, and get great views at close range.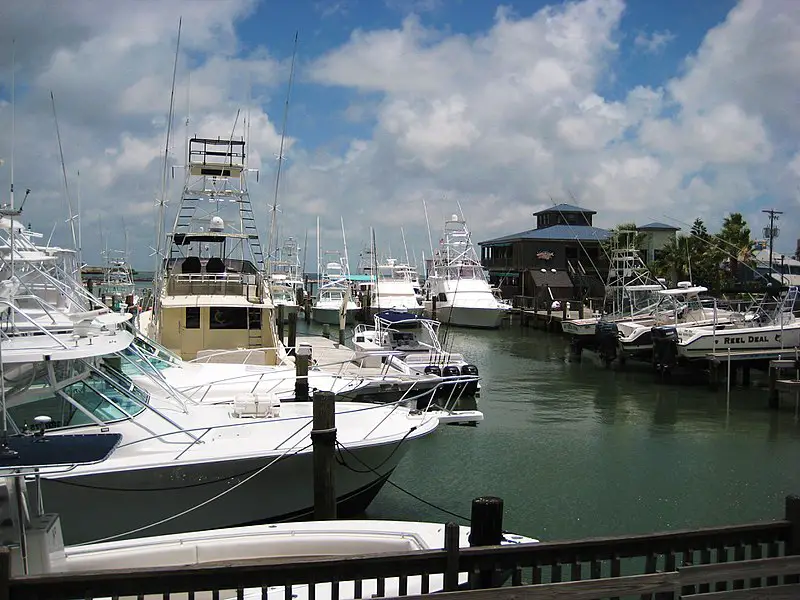 If you're serious about photographing a Whooping Crane and getting great photos, taking a boat tour is practically a must.
These are the local tours to choose from:
Rockport Adventures
$85/person
Join Captain Tommy aboard the Skimmer for a 3 hour tour. Min 10 people required.
Departs from Rockport.
Aransas Bay Birding Charters
~$112/person
Perfect for photographers and small groups. Min 4 people required. 6 people max.
Departs from Rockport.
Fisherman's Wharf
$50/person
Available January – April on every Fri. – Sun., tours last about 4 hours.
Departs from Port Aransas.
Not sure which tour to choose? Captain Tommy with Rockport Adventures has been doing Whooping Crane tours for many years and has a good reputation. 
Note that the wind over open water is always blowing, and it gets chilly. Even on warmer winter days be sure to wear layers for the boat tour. If it's a colder day then really bundle up.
What's the best weather for viewing Whooping Cranes?
The best weather to view Whooping Cranes is a partly cloudy to clear day with low wind. Temperature doesn't have a major impact on the birds' activity level, unless temperatures are near or below freezing. Avoid especially windy days if possible.
The Whooping Cranes are active in most weather conditions, unless it's raining or very windy. They hunt and search for food daily, so weather doesn't usually have a major impact on them.
Overcast days won't provide as good lighting to make the colors on the birds pop, but you'll still see them just fine.