Bald Eagles are a large, powerful apex predator that command the skies with their 7 foot wingspan. Once a rare sighting in Texas, these eagles have made a strong comeback and now nest throughout the eastern third of the state. Now they can be spotted along many Texas lakes and rivers in the winter months.
If you want the awe-inspiring experience of seeing this mega-raptor, check out the best places to see one below.

The best places to see Bald Eagles in Texas are as follows:
There are dozens of other great locations to see eagles in Texas. Below are the best locations in the Houston, Dallas, and Austin-San Antonio areas to see an eagle.

Houston
If Texas had a Bald Eagle capital, Houston would be it. Eagle numbers are higher in the greater Houston area than anywhere else in the state. There's plenty of water sources for hunting fish, and plenty of big trees for perching and nesting.
In no particular order, here are seven of the best places to see eagles around Houston.
Brazos Bend State Park
South of Sugar Land, TX – gmaps link
Most sightings are at 40 Acre Lake and Elm Lake, which are the two larger bodies of water within the park.
December through March is the time to go for eagles. Brazos Bend State Park is a fantastic place to see wildlife and makes for a great half day trip. So even if you don't get your eagle, there will be plenty to look at. 
Entrance fee is $7 per person.
Jesse H. Jones County Park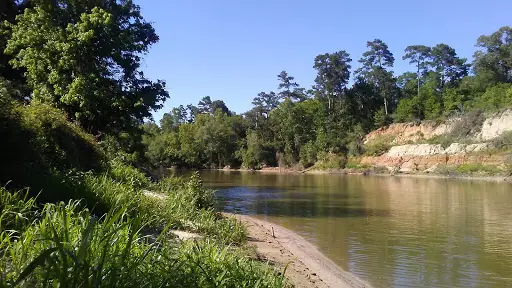 Humble, TX – gmaps link
Eagles are often seen flying along Spring Creek at the northern park boundary. Spend some time walking along trails that follow the edge of the creek.
If you can find a spot next to the water with an open view of the surrounding sky then even better. This would give you the chance to sit and wait for an eagle flying over head.
Park opens at 8am and closes at sunset. Entrance is free.
Sheldon Lake State Park
Houston, TX – gmaps link
This state park is located directly adjacent to Sheldon Lake, which is the main feature that draws in the eagles.
The John Jacob observation tower, standing at 84 feet tall, provides stellar panoramic views of Sheldon Lake and the surrounding area. This is a great spot to hang out with a pair of binoculars and look for a Bald Eagle flying or perched in a large tree near the water.

Park is open sunrise to sunset.
Entrance is free.
Cullinan Park
Sugar Land, TX – gmaps link
The main feature of this park is a small lake just north of the parking lot. The boardwalk leads to a two story observation tower that gives great views of the lake, and is a potential spot to catch an eagle flying.
There are also numerous reports of Bald Eagle sightings along Oyster Creek, which is at the southern park boundary. Walk the trail along the creek and look for a Bald Eagle perched in a tree along the creek, or flying nearby.
Park is open sunrise to sunset.
Entrance is free.
Archbishop Joseph A. Fiorenza Park
Houston, TX – gmaps link
Located along Westpark Tollway, this park features a medium sized lake with trails along the water perimeter.
It's a great place to see birds in general, and a decent number of sightings of Bald Eagles are reported each winter. Sometimes they're seen over or along the water, but just as often the eagles are seen flying at more of a distance outside the actual park boundaries. So continually scan the skies, and don't necessarily expect an eagle to do a close fly by.
Park is open 7am to 10pm.
Entrance is free.
San Jacinto Battleground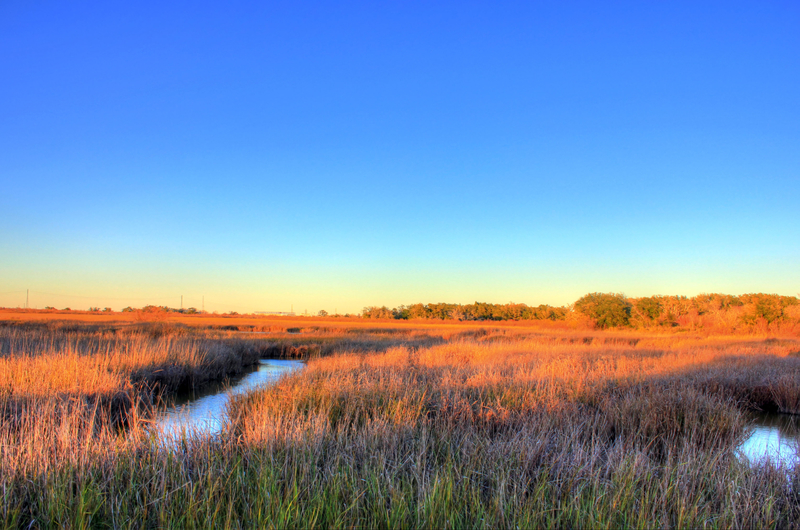 La Porte, TX – gmaps link
There's plenty to see here for both lovers of birds and of Texas history. In 1836 this was the decisive victory where Texas rebels defeated the Mexican army, resulting in Texas Independence.
Today, the marsh trail is a great place to see birds and wildlife, including Bald Eagles flying over the marsh and sometimes over the shipping channel. Check the tops of the transmission/power line towers with your binoculars, if you're lucky you'll see an eagle perched.
Park entrance is free.
Armand Bayou Nature Center
Pasadena, TX – gmaps link
This wooded and marshy nature center has it's fair share of winter and early spring sightings of Bald Eagles.
Your best chances are near and over the bayou. The Karankawa Trail leads to an overlook on the water, which is a good place to wait and watch for eagles flying or perched in a tree.
There is also a boardwalk at nearby Bay Area Park, which also provides views of the bayou. This could be a good back up spot to try if you strike out at the nature center.

Park is open 9am to 5pm Wednesday through Saturday.
Sundays are open 12pm to 5pm.
Closed Monday and Tuesday.
Entrance fee is $4.
Dallas
The Dallas area also has several great spots to see Bald Eagles. Some are away from urban areas, but others are right in the heart of the city. Here are several great places to spend a morning looking for eagles.
John Bunker Sands Wetland Center
Seagoville, TX – gmaps link
This wetland center has been the site of a nesting pair of Bald Eagles, and so they are see regularly. The boardwalk that begins at the visitor center provides a good place to scan for eagles as you walk over the water.
When you arrive, ask for information at the front desk about the best place to look for eagles. In past years there has been a nest on one of the large metal transmission towers, so be sure to check those. Remember, Bald Eagles nest in late winter and early spring.
This park has unusual hours and days that they're open and closed, which also change with the season. Be sure visit their website before driving all the way there, otherwise you may be met by a locked gate.
LLELA
Lewisville, TX – gmaps link
Lake Lewisville Environmental Learning Area is a nature preserve just below the Lake Lewisville dam. It includes the dam spillway where the East Fork Trinity River continues southward, with plenty of large trees just right for perching eagles.
Most sightings throughout this nature preserve are going to be flyovers, so keep your eyes up and scanning.
Nearby Lewisville Lake Park is also a good place to try for an eagle. It is located above the dam and gives sweeping panoramic views of the open lake.
Park opens at 7am.
Entrance fee is $5 per vehicle. 

Hagermann National Wildlife Refuge
Denison, TX – gmaps link
Although Hagermann National Wildlife Refuge is well north of Dallas, the incredible opportunities for wildlife viewing are worth the drive. Famous for the Snow Goose flocks that number in the thousands in the winter, Hagermann is also a reliable location to see a Bald Eagle.
Located right on Lake Texoma, this large body of water provides spacious hunting grounds and plenty of good nesting habitat.
When you visit, spend lots of time along Wildlife Drive, which gives the best views of the lake inlet. Along Wildlife Drive is where eagles are spotted the most often.
Take your time, drive slow, and make lots of stops. Early to mid morning is typically the best time be out, because that's when the eagles are actively moving around and hunting.

Refuge is open sunrise to sunset.
Entrance is free.

Benbrook Lake
Ft. Worth, TX – gmaps link
This one is on the list for all the Ft. Worth and western DFW area residents who want to see an eagle a little closer to home.
Most sightings here are from North Holiday Park, although Bald Eagles have also been spotted from Mustang Park and Holiday Park at the more southern areas of the lake. Note that all of these parks are pay-to-enter.
The only free access to this lake is at Longhorn Park at the northeast corner of the lake at the dam. Unfortunately there are few reported sightings at Longhorn Park.
Parks are open sunrise to sunset.
Entrance fee is $5, except at Longhorn park where entrance is free.

Austin and San Antonio
Central Texas just doesn't have the abundant habitat for eagles that our friends in Houston and Dallas have. But that doesn't mean there's no eagles around, it just means you have to know exactly where to look.
Webberville Park
Webberville, TX – gmaps link
Located just east of Austin, Webberville Park is right along the Colorado River and has been the nesting site for a pair of Bald Eagles for many years now.
Views of the river are provided by a small boardwalk overhanging the water, as well as a nearby boat ramp. Spend enough time at this park early to mid-morning from December to early April and you may see an eagle flying along the river or soaring overhead.

Park is open sunrise to sunset.
Park entrance is free.
See the full Webberville Hotspot Birding Guide page here.

Lake Buchannan
Burnet, TX – gmaps link
This one is a little different from other locations on this list. Multiple eagles can be seen on this lake each winter, and the best way to see them is by boat. So although you'll need to pay about $40 for a 2-3 hour boat ride, this is probably the most fun way to see a Bald Eagle in Texas, and worth it if the price isn't an issue.
There are two companies that offer boar rides: Vanishing Texas River Cruises, and Canyon of the Eagle Resort. Make sure you reserve your seat at least a week ahead of time.

Braunig Lake
San Antonio, TX – gmaps link
Ok San Antonio, here's your best chance at a Bald Eagle.
Braunig Lake Park, on the east side of the lake, always gets a handful of eagle reports each year. Show up early and spend the full morning walking the lake shore while scanning the water, treeline, and sky for eagles. 
January seems to be the best month to try, but any time in December through March may work. Eagles are more scarce here than at any other location on this list, but again, it's your best chance without making a long drive to Bourne City Lake, Canyon Lake, or even Webberville Park east of Austin.
Park opens at 6am and closes around sunset.
Entrance fee is $8 per person.

Enough Reading, Time to See an Eagle!
Seeing a Bald Eagle in Texas is never a guarantee, but when you do, it's an unforgettable experience.
The locations listed here are certainly not a comprehensive list for a state as big as Texas. We didn't even touch on rural east Texas and the Gulf Coast.
But it's a great place to start for those near a large urban area, and the locations with the highest numbers of Bald Eagle sightings in recent years are all here.
Now that you're armed with information, grab your binoculars, hit the road, and go witness one of the largest and most powerful birds in America!